Recreational pot will test workplace policies
Breana Noble
The Detroit News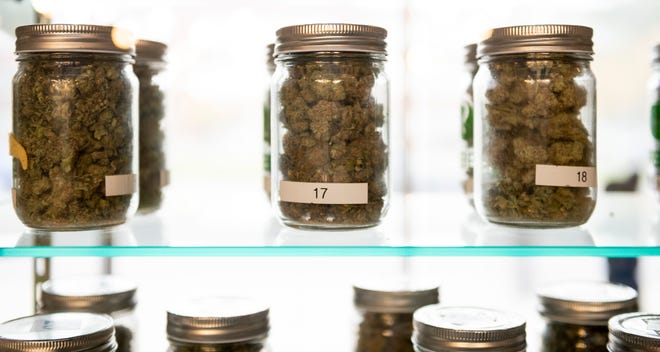 Major employers including Detroit's Big Three automakers, DTE Energy Co. and the city of Detroit say despite the passage of Proposal 1 to legalize recreational marijuana in Michigan, they will maintain drug-free workplaces. 
With voters approving recreational marijuana in Michigan this month, employers are reviewing their drug policies and rules in anticipation of legalization going into effect. Although the proposal allows companies to ban cannabis use at work, the technology has not kept up with public policy.
No instant drug tests are available for marijuana. And the tests that are commonly used can detect evidence of marijuana use in people's bodies weeks after their last use. While some policies ban marijuana use only while workers are on the job, current testing make it difficult to determine when users were last high.
"There's no on-demand tests to tell you about impairment," said Wendy Block, vice president of business advocacy for the Michigan Chamber of Commerce, which opposed the proposal. "So do you adopt a drug-free policy, or do you look the other way? It's really a worksite-by-worksite decision that will be made, and it should be made before the law goes into effect in early December."
The Michigan Board of State Canvassers has until Nov. 26 to certify the initiative's passage. Legalization would go into effect 10 days after that, the latest date being Dec. 6.
Josh Hovey, a spokesman for the Coalition to Regulate Marijuana Like Alcohol that led the legalization campaign, said the organization met with the Michigan Chamber of Commerce and Small Business Association of Michigan to include wording that would protect employers' ability to enforce their drug policies.
"Having now legalized marijuana, people still have to be responsible adults," Hovey said. "Do you get tested when you apply for the job? You need to make sure you haven't used in a month or two. Does your job test randomly? You probably shouldn't consume at all. It's unfortunate the science hasn't evolved yet. Until we have a better test, you need to be responsible."
While some local companies have said they are not changing their drug-free policies, other businesses have no flexibility at all. Companies such as those in the transportation industry are required by federal law to test employees. Federal contractors and many federal grant recipients also must maintain drug-free workplaces.
It's also unclear how legalization could affect workers compensation insurance. Sara Jodka, an attorney at Detroit law firm Dickinson Wright PLC, said some insurers provide an incentive to drug-free workplaces by reducing company premiums.
Shrinking labor pool
The labor market, however, is tightening. Michigan's unemployment rate fell to 3.9 percent in October, the lowest since August 2000. And the legalization of marijuana, some companies fear, could shrink their labor pool even further.
Manufacturing already has difficulty finding workers who test clean, said Delaney McKinley, senior director of governmental affairs for the Michigan Manufacturing Association. McKinley said most companies are waiting to see what happens with legalization, though a few have mentioned possibly loosening restrictions for non-safety-sensitive positions. The association plans to collect and share best practices.
"Everyone is kind of flying the plane as it's being built," McKinley said. "We're in a tight labor moment, and there's already a shortage of talent. Workers are having a difficult time passing drug tests. I hear it frequently. There are concerns that will be exacerbated by legal marijuana."
Justin Winslow, CEO of the Michigan Restaurant and Lodging Association, said labor shortages are a concern for the restaurant and hospitality industry. He said many in the industry often transition into the marijuana business in states such as Colorado that have legalized recreational cannabis.
Additionally, he said restaurants owners are concerned over the liability they may hold for patrons under the influence of marijuana. The proposal passed in Michigan does not stipulate if restaurants can serve as dispensaries and sell cannabis-infused edibles.
The association, Winslow said, is planning a legal symposium in 2019 to educate its members on marijuana and its regulation.
"It's going to impact this industry, and it's going to impact it disproportionately," he said. "We're going to be out in front of that."
Gray areas
Since Michigan legalized medical marijuana 10 years ago, few companies have altered their drug policies, and there are few legal protections in Michigan for workers who use it for legitimate therapeutic purposes.
The U.S. Court of Appeals ruled in favor of Walmart in 2012, after Joseph Casias, a medical marijuana cardholder from Battle Creek who used cannabis to treat sinus cancer and a brain tumor, lost his job because of a positive drug test after a workplace injury in 2009. Casias said he never used marijuana while working, but the court ruled the state's medical marijuana law could not dictate the actions of a private employer. Later, the Michigan Court of Appeals ruled medical marijuana users still can receive state unemployment benefits.
In October, however, the U.S. District Court for Connecticut ruled in favor of a medical marijuana-using applicant who had her job offer withdrawn after a positive drug test. The court determined federal law regulating federal contractors does not prohibit marijuana use outside of the workplace and that the employer violated an anti-discrimination clause in Connecticut's medical marijuana law. State courts in Massachusetts and Rhode Island also have ruled in favor of medical marijuana-using employees who lost their jobs.
"There are some gray areas," Block said of marijuana law in Michigan. "I think there will be a lot of litigation that is to follow."
Days before the election, the Management & Unions Serving Together, a nonprofit for labor unions and contractor association for programming to keep worksites safe and efficient, released a statement encouraging voters to reject Proposal 1. The group conducts random drug tests and more than 31,000 annual drug screenings for the construction industry.
Pat Devlin, the secretary and treasurer of the Michigan Building & Construction Trades Council and MUST labor co-chair, said about 2.1 percent of tests are positive. Those who test positive are penalized, unable to work for at least 30 days, and then are tested again. If they are clear, they can return to work. MUST also trains safety supervisors on project sites and offers an employee assistance program for those with substance abuse problems.
"We're in the construction industry," Devlin said. "They're subjected to high, hot and dirty conditions. I hope we can maintain the level of safety standards that this drug-testing program has brought about. People cannot come onto our project site under the influence."
New Jersey-based Quest Diagnostics analyzes millions of workplace drug tests every year. Its annual drug-testing index showed that in 2017, 2.8 percent tested positive for marijuana in Michigan compared to 2 percent nationally. For comparison, Colorado, which legalized recreational marijuana in 2012, had a positive rate of 2.5 percent.
Barry Sample, Quest's senior director of science and technology, said states with recreational marijuana have not seen positive drug screenings spike following legalization.
Those states, however, have seen reductions in employers requesting marijuana tests. Nationally, slightly less than 99 percent of employers test. In Nevada, where sales of legal recreational pot began in July 2017, only 91 percent test.
"One reason why employers' behavior isn't changing appreciably," Sample said, "is most of the states that have legalized recreational use do not have explicit protections for employees that decide to use marijuana recreationally."
Assessing impairment
But a lack of an immediate test for marijuana like a breathalyzer could make it difficult for companies to assess impairment. Jodka, the lawyer, said observable characteristics for now will be a leading determination of impairment.
"Employers will need to rely on knowledge and instinct to determine whether they need to remove a person from employment that day," she said. "People have to change the way they look at this particular substance. It's different than other drugs in the workplace."
Most workplaces use urine tests, which report the presence of marijuana. Tests using blood can measure the level of marijuana in a person's system, but Sample said there is no legal or scientific consensus for what level signifies impairment. These tests also are more expensive and take longer to evaluate.
Marijuana also differs from alcohol in that it stays in users' systems for longer. While sharing a joint with a friend on a weekend could clear up for a urine test by Monday, Sample said, daily users may have traces of the drug in their system for up to 30 days afterward. It can be up to 90 days for hair tests.
Therefore, a positive test result does not necessarily mean an individual consumed marijuana on the job.
"A business can't regulate its employee away from the job," said Bruce Miller, a partner at Miller Cohen PLC, a Detroit employment law firm. "Then you have an argument as to how this happened and have a potential defense. Now, how that would come out is not guaranteed. It's better not to do anything that puts you at risk."
bnoble@detroitnews.com