A fresh take on Thanksgiving: Pricier, free-range turkeys
John L. Russell and Breana Noble
The Detroit News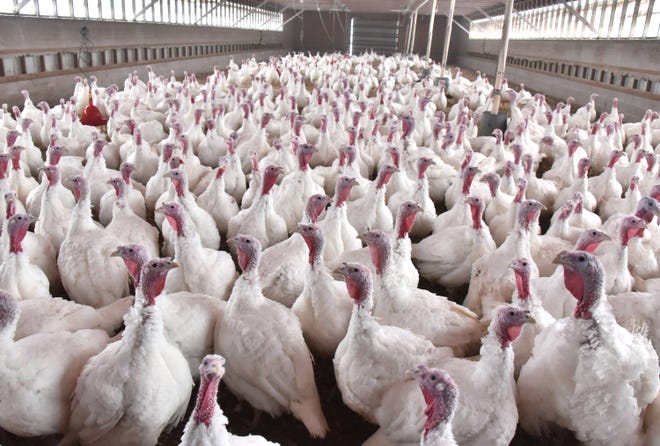 The priciest of birds are being gobbled up this Thanksgiving.
Turkeys that are free-range, never frozen, all-natural and organic are growing in demand despite often costing several dollars more per pound compared to their frozen relatives, retailers in Michigan say.
"In the past five years, fresh turkey sales have quadrupled, if not more for us," said Jacob Garmo, owner of Village Market in Grosse Pointe Farms. "When it's fed all-natural foods, and there's no byproducts, fillers or cereals, it tastes much better, much juicier and tender. They're more flavorful."
Village Market expects to sell 900 fresh Amish turkeys for this holiday at $2.79 per pound, while its organic turkeys from Pennsylvania-based Bell & Evans, known in the industry as the cream of the crop, go for $6.99 per pound, which would push the price of a 20-pound turkey to $140. Garmo said the store expects to sell up to 125 of those. By comparison, Meijer's Grade A Frozen turkey is on sale this week for $0.37 per pound.
A turkey dinner has been part of the autumn tradition since the first Thanksgiving meal was held by English colonists in 1621 when Pilgrims and Wampanoag Indians gathered to celebrate a successful harvest in the Plymouth colony. Since that first dinner, the cost of the food has mostly risen along with the taste and quality of the turkey.
Market pressure and the increased interest in GMO-free, pasture-fed turkeys has caused the cost of raising a certified bird to climb over the years. The birds are housed in barns that are temperature-controlled and fed a special more expensive feed of corn to ensure they are non-GMO (genetically modified organism) certified. 
The forecast for 2018 estimates 240 million turkeys nationwide will be produced, with Minnesota leading the way with 42.5 million birds. Michigan is estimated to raise 5.4 million this year from 18 producers, up 6 percent over 2017, according to the U.S. Department of Agriculture.   
The average cost of a turkey meal for 10 people this year is $48.90, down $0.22 from 2017, according to the 33rd annual survey from the American Farm Bureau Federation. The average cost of a 16-pound bird is $1.36 a pound, down from $1.40 a pound four years ago, said John Newton, chief economist for the federation.
At Holiday Market in Royal Oak, store director Craig Mangold said the store will sell around 1,500 fresh turkeys at $2.69 per pound compared to 200 frozen turkeys that sell for $1.89 per pound. Every year, he said the store sells more fresh birds and fewer frozen.
"It's easy to process and freeze them," Mangold said. "They stay good for quite some time, but there's a certain window for when you can sell fresh. The time window makes them more expensive."
Garmo speculated the increase in demand for fresh turkeys comes from a greater trend he sees from his customers.
"People are switching to all-natural, organic foods, not just in turkeys, but in produce and meat all year round," he said. "They're all for the grass-fed and especially local options. That's a very popular thing for us."
Knowing where your food comes from is a trend of that turkey companies are attempting to take advantage. Hormel Foods' Jennie-O and Cargill's Honeysuckle White turkeys this year are including codes on their turkeys that customers plug into their turkey trackers to find from where the bird came and learn about the farmers who raised it. A majority of those turkeys come from Minnesota and Wisconsin.
In Michigan, Rick and Sue Duerksen have raised turkeys on their rural Antrim County farm north of Mancelona sine 1979. Their "farm-to-fork" operation will raise 5,200 birds on 16 of their 44 acres. 
The farm rotates the bird pastures so the turkeys are always in a clean and healthy environment. 
"We raise them in an environment with pastures for grazing and high-quality feed for their health," Rick Duerksen said. 
The family is proud of their product, and that pride is backed up by many repeat customers, some of whom have left kind messages for the family on their social media pages.
"We really love what we do," Sue Duerksen said. "Rick and I feel blessed to be able to provide healthy, quality turkeys. It simply was meant to be that we are farmers."
Keeping a bird affordable, fresh and tasty is the goal of the Duerksens. They feel the trend toward birds that are chemical-free, pasture-raised with no growth hormones is becoming the standard for turkey.
The birds are put on ice and delivered to stores and markets from Petoskey to Charlevoix, Traverse City, South Lyon, Brighton and two stores in Ann Arbor for Thanksgiving. The entire flock of turkeys for Thanksgiving has already sold ahead of the holiday.
Roperti's Turkey Farm in Livonia will process and sell 4,500 turkeys this season, according to Ferida Roperti.
"How you feed a bird is how it's going to taste," Roperti said. "Corn prices are up, but so is the quality of the bird. The work is exhausting but very rewarding."
The family began raising birds 70 years ago when their farm was out in the country. Today, they are surrounded by homes and businesses but remain steadfast as a turkey farm.
"There's a world of difference in turkey and the way they are raised," Roperti said. "It's all family here. Our reputation is everything."
Meijer stores throughout the Midwest expect to sell 850,000 holiday turkeys this year, according to Christina Fecher, public relations manager.
"Our customers have different preferences, and we do our best to provide the best value for their need," Fecher said.
The stores offer a wide price range for various brands of turkey, even offering pre-made turkey dinners at their deli, expecting a 15 percent increase in sales for those who do not wish to cook.
Anne Hogarth of Traverse City will serve a 24-pound frozen turkey on Thursday.
"I get a frozen bird a week before to avoid the crowds and place it in the refrigerator to thaw," Hogarth said. "... We always buy a large bird; we love leftovers." 
John L. Russell is a writer and photojournalist from Traverse City.