The mighty Dodge Demon by the numbers
Henry Payne, The Detroit News
We came. We saw. It conquered.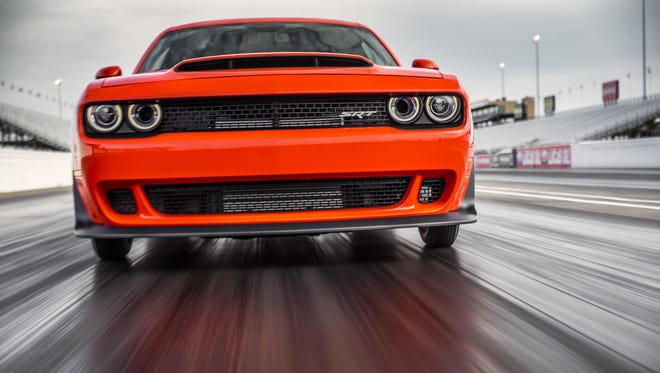 For 12 tantalizing weeks before the New York Auto Show last April, Dodge teased its Challenger SRT Demon. On the show's opening night, the 840-horsepower brute was unveiled as the fastest production car ever produced, claiming an unheard of 9.65-second quarter-mile time at 140 mph.
This week the wraps came off media first-drive impressions of the Demon at Indianapolis's Lucas Oil Raceway, where it proved as breathtaking behind the wheel as its gaudy stats had suggested. Face-flattening, 1.8-G launch forces. Demonic shrieking from inner headlight air intakes. Three-foot-long wheelies.
And still we want more. The Demon lives large and has the numbers to prove it.
To help us wrap our heads around the Demon's world, Dodge's mad genius engineer Chris Cowland and his merry crew shared a few more numbers.
■Demon has a 200 mph speedometer, but is governed at a top speed of 168-mph lest the street-legal, radial racing tires explode from the heat generated by sub-10-second quarter-mile times.
■Just 800 feet off the line (7.35 seconds down the drag strip), the hungry, supercharged, 6.2-liter V-8 will have sucked the equivalent of all of the air out of the Demon's cabin. That's 2,973 liters of air (at a record rate of 32,564 liters per minute). When Dodge's unholy warrior crosses the quarter-mile it will have consumer 4,900 liters.
■To up the ante over the insane, 707-horse Dodge Challenger SRT Hellcat, the bonkers Demon underwent 25 major component upgrades including a larger supercharger (2.7 liters vs. 2.4 liters) and a higher redline (6,500 rpm vs. 6,200 rpm).
■In order to produce 840 horsepower, Demon was outfitted with high-flow fuel injectors (that's 101 pounds per square-inch — or 27 percent more than the 707-horse Hellcat's 80 PSI). At full power, Demon is drinking 1.36 gallons-per-minute of high-octane unleaded gasoline — or nearly the same amount of liquid (two gallons per minute) that comes out of your shower head.
■ So powerful was the Demon's supercharged V-8 that only a NASCAR-rated dynamometer could hold it for testing.
■Each piston downstroke — which occurs 50 times a second — is delivered with the compressive force of 11.1 tons from the cylinder chamber.
■How do you get 11.1 tons of compressive force? Ram supercharged air and fuel into a combustion chamber and detonate it with a spark plug, of course – an explosion that creates a peak combustion temperature of 4,500 degrees. That's almost half the temperature of the sun's surface.
■Isn't that enough heat to melt the aluminum cylinder head? In theory, yes, since aluminum (depending on alloy) melts at 1,200-1,300 degrees. Fortunately, that heat is quickly dissipated — to crankshaft power, the exhaust, engine structure and heat transfer into surrounding coolant. As a result, the head stays at around 480 degrees.
■Naturally, Cowland's team painted the V-8 cylinder block "Demon Red."
■Demon is the first-ever production car to lift its front wheels — the result of a 2,576-pound weight transfer at launch to the rear which carries the fronts for a Guinness World Record wheelie of 35 inches long.
■On 91-octane pump gas, the Demon produces 808 horsepower and 717 pound-feet of torque. Add the available engine controller (found in the $1 Demon crate full of drag goodies) — calibrated for 100-plus, unleaded, high-octane fuel — and you get the full 840 horse/770 torque numbers.
■The Demon wears 12.6-inch-wide Nitto drag racing tires on all four corners (for optimum quarter-mile performance, Dodge recommends replacing the fronts with skinny "rollers" — also in the crate — for lower roll-resistance). An IndyCar's race tires measure 10 inches wide in front and 14 inches in the rear.
■Atop the Demon's hood is the largest functional hood scoop — with an opening 45.2 square inches — in production today.
■To save 113 pounds of weight, the front and rear passenger seats were removed (they can be optioned back for $1 each).
■To save 4 pounds, Demon uses a manual tilt/telescope steering column.
■For all its steroid-pumped power, the $86,090 Demon still comes with Fiat-Chrysler's standard five-year/60,000-mile limited powertrain coverage.
■Dodge will make 3,000 Demons for the U.S. and 300 for Canada. Deliveries begin around Halloween.
Henry Payne is auto critic for The Detroit News. Find him at hpayne@detroitnews.com or Twitter @HenryEPayne.