Ford: We won't abandon affordable, entry-level vehicles
Ian Thibodeau
The Detroit News
Some dealers are concerned that Ford Motor Co.'s decision to cut back its lineup of sedans and subcompacts will leave their lots without affordable, entry-level vehicles.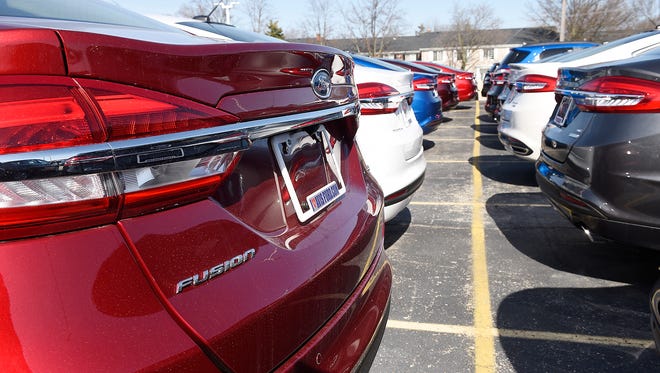 Tim Hovik, owner of SanTan Ford near Phoenix, is waiting to see what the automaker will come up with to fill the gaps after it drops the Fusion, Fiesta, Taurus, C-Max and Focus sedan from the U.S. market.
He said his dealership sold a "ton" of Fusion sedans.
"You still need an entry-level vehicle," he said. "In the past we've always thought of that vehicle as a (sedan). It doesn't necessarily have to be a car. There are still an awful lot of car customers, but not everybody in the car segment wanted a car. I think you're going to see buyers look at price points instead of if the vehicle is a sedan."
Within a few years, the only true car Ford sells in the U.S. will be the Mustang. An updated Chinese-built Focus to be introduced in 2019 – the Focus Active – will be a crossover.
The decision comes as Ford CEO Jim Hackett pushes for 90 percent of the vehicles sold in the U.S. by 2020 to be profit-rich trucks, SUVs or commercial vehicles. The move is a stark contrast to former CEO Alan Mulally's mid-2000s decision to lean on an all-new Taurus sedan to drive the company through the Great Recession.
Ford says U.S. consumers no longer want sedans. Jim Farley, Ford president of global markets, told The Detroit News on Thursday that doesn't mean the Blue Oval won't have affordable, fuel-efficient options.
"Affordability is really always a part of our brand promise," Farley said in a telephone interview. "The price point that's affordable to most Americans is still important. Our ambition is to grow (our lineup) and hit all the price points. The only thing that's changing is how they're going to look."
Farley and others within Ford pointed to the all-new EcoSport compact SUV for one affordable option. The 2018 base model starts at $19,995. Ford has not announced pricing for the Focus Active or the as-yet unnamed small off-road SUV the company announced in March it would debut within two years, but those vehicles will fill gaps at the lower end of the price spectrum, the company has said.
Compare the EcoSport's price to the 2018 Fiesta, which starts at $14,205, or the current Focus at $17,950. The Fusion and Taurus can be had for $22,215 and $27,690, respectively.
The SUVs and trucks that Ford sees as its bread-and-butter have higher starting prices: Ford's smallest SUV, the Escape, starts at $23,940; the F-150 pickup starts at $27,705.
Absence of entry-level vehicles would hurt Ford in the long run, experts and dealers said. Low-priced vehicles get buyers in the door, and often get people in the "pipeline": If your first vehicle is a Ford, there's a good chance your next one will be, too. That's raising some questions for Hovik and others.
Farley said the changes serve to refresh the lineup, not permanently eliminate vehicle options. Tastes change every 10 to 15 years, he said. The station wagon lost favor to the minivan, which eventually lost popularity to the sedan. Now, people want crossovers and SUVs, he said.
"They want the interior room, that command seating," Farley said. "In the past, they've given up fuel economy, and that's going away now."
In addition to new SUVs, Farley said there will be more as-yet unannounced models that fill in gaps left by sedans in Ford's future lineup. There's a chance the Fusion could be redesigned with a new silhouette, The Detroit News previously reported.
"We have some really great ideas on how to give Fusion customers a great new product," Farley said.
The company is confident that new transmissions, hybrid technology, vehicle design and overall increases in fuel economy will protect against spikes in gas prices.
"We will have a variety of models that will have sedan or better-than-sedan fuel economy going forward," Farley said. "But they're going to look and feel different."
The company says sedans will be replaced by car-sized crossovers that look totally different from what Ford currently sells. Ford has room to experiment in that segment of the market, according to Stephanie Brinley, analyst with IHS Markit, a London-based automotive industry analysis company.
"They have a lot of room to work within that space," Brinley said. "This could mean that you see things like a more graceful version of a (Honda) Crosstour. (The car segment) is still an important part of volume. Ford is not doing this hoping it sells fewer vehicles."
ithibodeau@detroitnews.com
Twitter: @Ian_Thibodeau