Ford invests $500M in Rivian; companies plan electric vehicle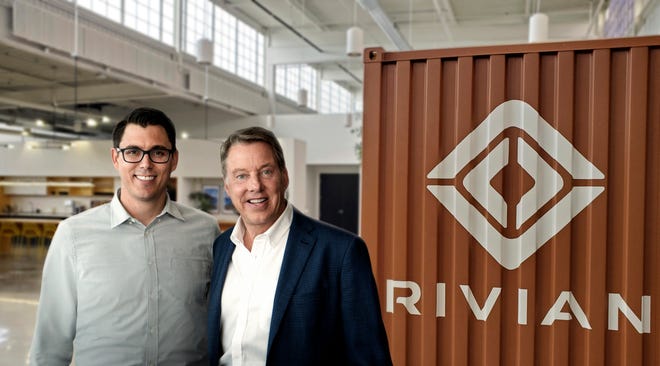 Ford Motor Co. is investing $500 million in Plymouth-based electric vehicle start-up Rivian Automotive LLC to co-develop an all-new battery electric vehicle for Ford's portfolio.
Ford leadership and Rivian founder RJ Scaringe said the partnership benefits both companies. Ford gets to use Rivian's "skateboard" technology as a base for an all-new, unnamed vehicle, and Rivian gets access to Ford's manufacturing expertise and experience to cut weight from vehicles.
The partnership, touted as saving both companies money on developing an all-new vehicle, is the latest partnership Ford has reached as part of CEO Jim Hackett's "redesign" of the Dearborn automaker. It is partnering with Volkswagen AG to build a truck for sale outside the United States, is partnering with the Mahindra Group of India to develop vehicles for sale there, and it invested in Argo AI, a Pittsburgh-based autonomous-vehicle partner for engineering self-driving cars.
As part of the Ford's latest investment, Joe Hinrichs, Ford president of automotive, will join Rivian's seven-seat board, though the privately held Rivian remains an independent company. The news comes less than two weeks after Bloomberg reported talks between Rivian and GM had crumbled.
"We're very excited to partner with Rivian," Hackett said, touting Rivian's fresh approach to building vehicles. A fan of bucking tradition to drive innovation, Hackett credited Rivian with having "a clean-sheet approach. They were just inventing."
Rivian aims to launch a five-passenger electric R1T pickup and a seven-passenger R1S SUV with a more-than 400-mile range and off-road capability in late 2020. The Plymouth-based startup made waves late last year when it unveiled the sleek products — hardly anyone had heard of Rivian. The company didn't even have signs on its buildings last November. 
Last week at the New York International Auto Show, the start-up's small stand on the showroom floor was packed with people during media days. Rivian in February had announced it had secured a $700 million cash injection led by Amazon.com Inc., a partner with potential opportunities for Ford, too.
The Ford-Rivian partnership would explore other areas of common interest to both automakers, though the leadership from both companies declined to expand beyond Wednesday's announcement. The Rivian-Ford product — initially targeting the North American market — would be a Ford nameplate using Rivian's underpinnings, specifically its modular "skateboard" EV architecture. 
Ford is planning to launch its own "Mustang-inspired" battery electric vehicle for 2020, followed by a slew of electrification efforts that executives had said would include a battery-electric F-150. Ford plans to spend $11 billion on electric vehicles over the next few years.
The Rivian investment, and the product that would come from it, would augment Ford's planned EV push — not fill a gap in the planned lineup. The Rivian product would be an all-new nameplate, and development of the electric F-150 is still independently underway, Hinrichs said. 
Scaringe said the Ford deal doesn't require exclusivity. Rivian could partner with another automaker later on, but at the time has no plans to do so. Part of what made Ford appealing was an alignment on goals and a vision for the future, and the fact that Ford Executive Chairman Bill Ford has been talking about making more environmentally friendly vehicles for more than a decade. 
Ford showed evidence it could "actually use our skateboard," Scaringe said. "There is a lot to learn from companies like Ford."
Hackett and Hinrichs said the Rivian partnership doesn't come in place of a potential partnership with Germany's Volkswagen AG on autonomous or electric vehicles. Ford and VW have been in formal discussions for more than a year on a possible partnership. The automakers announced in January plans to partner on a midsize pickup and commercial vehicles outside the U.S.
The news comes a day before Ford plans to report its first quarter earnings results Thursday afternoon. Analysts have said the results and conference call could be the company's most important in years, as it comes at a time when Hackett must show evidence he's driving results after nearly two years as CEO.
Two weeks ago, Ford announced it would shuffle the executive ranks again following the retirement of Marcy Klevorn, currently Ford's president of mobility. Jim Farley, currently president of global markets, and Hinrichs, currently president of global operations, would become the company's only two presidents May 1, and have their roles shifted.
Former Amazon, Inc. executive Tim Stone also joins the company June 1 as its new chief financial officer, replacing Bob Shanks, who will retire later this year.
Hackett said the Rivian partnership helps Ford stay ahead as automakers move to electrify more vehicles in their respective lineups: "This is going to happen. It's just the kind of things that the tipping point approaches and if you wait too long, you can't recover."
ithibodeau@detroitnews.com
Twitter: @Ian_Thibodeau