Lincoln, Rivian cancel plans to co-develop EV because of pandemic
Ford Motor Co. and Plymouth-based electric vehicle startup Rivian Automotive LLC have canceled plans to develop a new electric vehicle for the Lincoln luxury brand because of the COVID-19 outbreak, the companies told dealers Tuesday.
The SUV would have been Lincoln's first fully electric vehicle. But with plants likely to be shut down for about two months and many dealer showrooms closed, automakers are looking for ways to conserve on costs, forcing them to halt and delay some projects.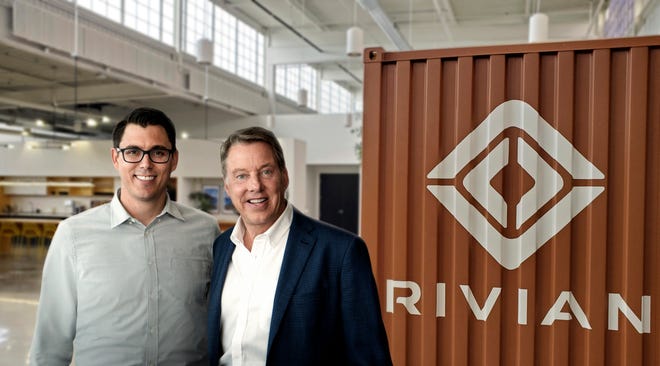 "Lincoln essentially has decided that it was going to take its own approach to electrification, but it remains fully committed to electrification for Lincoln customers," Ford Chief Financial Officer Tim Stone said during a conference call Tuesday. "And we're similarly committed to Rivian as a partner and we will continue to look for opportunities to partner with Rivian on non-Lincoln product."
The project announced in January was the result of a $500 million investment Ford made into Rivian last year. Their partnership remains strong, both companies said, and they continue to work on an alternative vehicle based on Rivian's architecture.
"There's less demand for vehicle sales overall, so it's harder to make the case for premium EVs, especially in an environment where fuel is cheap," said Sam Abuelsamid, an analyst for Navigant Research who predicts other electric vehicle programs will see delays and cancellations, too.
Like established automakers, Rivian has said the COVID-induced slowdown will impact its product timing. It planned to begin delivering its $69,000-plus R1T pickup this fall, but now will do so in 2021 due to the shutdown of its Normal, Illinois, plant. It also is producing 100,000 vans for Amazon.com Inc. by 2030.
"We are focusing on our core consumer and commercial products," Rivian spokeswoman Amy Mast said. "We plan to continue to work together in the future. Ford is a wonderful partner."
The project had been highlighted as an opportunity for Ford in China's increasingly competitive market. The Chinese government subsidizes electric vehicles, and Lincoln had found a market hungry for plush SUVs there. But overall vehicle sales in China were down two consecutive years in 2019 and the COVID-19 outbreak worsened the situation.
"Ford probably took a look at where Lincoln is in the Chinese market and found there wasn't going to be enough volume to justify this vehicle right now," Abuelsamid said.
The Lincoln-Rivian SUV is one of the only publicly announced products to be canceled because of the virus. Ford, however, delayed the March debut of the Bronco off-road SUV. Its engineers have continued to ensure progress even from home on the Mustang Mach-E SUV whose deliveries are expected to begin this fall.
Meanwhile, General Motors Co., which made a big showing of its electric vehicle plans earlier this year, has said it isn't relenting on its near-term plans for them. The April debut of the Cadillac Lyriq SUV, however, was postponed, and a refresh of the Chevrolet Bolt EV car has been moved to the 2022 model year. It is unclear if the virus will affect the planned debut of the electric GMC Hummer truck scheduled for next month.
Fiat Chrysler Automobiles NV has said some of its product plans are facing delaying because of the outbreak. In the next year, it plans to launch several new Jeep models with plug-in hybrid variations.
bnoble@detroitnews.com
Twitter: @BreanaCNoble
khall@detroitnews.com
Twitter: @bykaleahall