10 of 2015's best new Metro Detroit restaurants
Molly Abraham
This was truly a banner year for restaurants. Impressive new places joined the scene at a rapid pace with openings seemingly every few weeks. As 2015 comes to a close, here are 10 that deserve a look in the coming year. They are listed in no particular order, and each is very much worth a visit: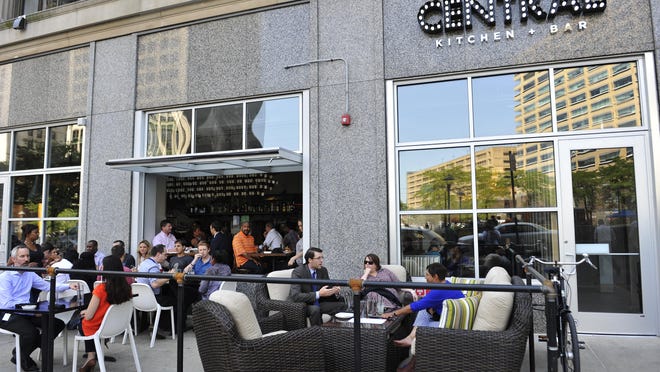 Central Kitchen & Bar, 660 Woodward, Detroit; (313) 963-9000.centraldetroit.com
The space on the first floor of the First National Building once housed a bank, but after a complete re-do — one that respects the vintage details of this Albert Kahn building — it emerged as a lively restaurant with a sidewalk café adjacent to Campus Martius and a dining room and bar done up in soft shades of gray and white under a mix of industrial light fixtures including some reclaimed searchlights. Just one fixture departs from the theme — a glittering crystal chandelier that is a stunning contrast to all the metal. The setting is comfortably unpretentious and so is the nicely edited menu offering contemporary American favorites including buttermilk fried chicken, tacos, shrimp and grits, and calamari among other dishes, most of which are available at lunch and dinner. The kitchen where executive chef Christina Stanko presides over her busy crew is veiled by greenhouse-style glass. The wine list includes some 30 selections by the glass, along with a number of beers on tap and craft cocktails.
La Dulce,115 S. Main, Royal Oak; (248) 268-1719.ladulce.com
Brothers Luis and Juan Negrete, the proprietors of Royal Oak's most distinctive new restaurant, offer an array of tapas as small as arberquina olives and as large as platters of Galician clams and rustic bread, as familiar as gazpacho and as exotic as baby eels. Small couches covered in digitally printed linen fabric are pulled up to glass-topped coffee tables under chandeliers made of white china teacups and saucers. Open shelving (estanteria, as it is known in Spain) defines the rooms and reaches almost to the ceiling. Juan Negrete, the chef, can pop out of the open kitchen to get a jar of olives or a tin of olive oil from the array of items on the estanteria. The white-tiled bar is stand-up only. Patrons start there with a drink, but must have a table before ordering tapas. This is a place with a distinctive personality.
Townhouse Detroit,500 Woodward at Congress, Detroit; (313) 723-1000.eatattownhouse.com
With the retractable glass roof over its atrium, a menu that runs the gamut from sushi to elk tenderloin, and a dining room with seating that ranges from cushy white couches to club chair-style bar stools at the horseshoe-shaped bar, there's just one word for the Townhouse — spectacular. Chef Brennan Calnin presides over a big staff and an extensive menu for proprietor Jeremy Sasson. Offshoots are the sushi bar — called the seafood pantry — and a rolling dim sum cart. Diners may choose to snack on sharable items or go for a main plate. One of the stand-outs is the 10-ounce house burger made with a blend of dry-aged beef cuts, topped with bourbon glazed onions and white cheddar and served on a brioche bun. Burgers are accompanied by the standard house fries, but most people upgrade with thin cut truffle fries, sprinkled with white truffle oil and gremolata (minced parsley, lemon peel and garlic). The crisp fries can be spotted on almost every one of the butcher-block style tables.
Mabel Gray,23825 John R, Hazel Park; (248) 398-4300.mabelgraykitchen.com
The offbeat location of this 43-seat restaurant with its open kitchen where chef/co-proprietor James Rigato presides over the menu is part of its charm. The cuisine is based on fresh ingredients and is typified by such dishes as brook trout with Manila clams, and Spanish meatballs, but the menu is re-written daily with new dishes popping up with regularity, depending on available ingredients. There's also an eight-plate tasting menu, an ideal way to get a feeling for Rigato's food philosophy. This unpretentious, yet ambitious spot has been a major hit since opening in the fall and the popularity is well-deserved.
The Huron Room,2547 Bagley at 18th, Detroit (313) 245-3325.huronroom.com
Named for the mural of the Huron Lightship that covers the back wall of the nautically themed room, the menu follows suit with a list of Great Lakes fish served as fish & chips, in sandwiches or as the filling for tacos, with diners selecting their preferred species from a list of six. The kitchen has ambitions. Ketchup is housemade and so is the spicy dipping sauce. Although fish & chips is the star of the show, there are other choices, starting with a list of bite-sized appetizers presented on wooden skewers. There are also a few nonfish entrees, ranging from patty melts to grilled game hens. Liquor, beer and wine are all home grown. The brains behind the scenes include chef Les Molnar, who came up with the creative menu, and proprietors Jacques and Christine Driscoll.
Chartreuse Kitchen & Cocktails,The Park Shelton, 15 E. Kirby, Detroit; (313) 818-3915.chartreuseKC.com
A next-door neighbor of the Detroit Institute of Arts, Chartreuse delivers the requisite extras. The restaurant occupies space in a building that, when constructed in the '20s, served as the hotel where Diego Rivera and Frida Kahlo lived while Rivera was working on his DIA murals. The hotel restaurant at the time was called The Green Room. It isn't recorded just what shade of green dominated the Green Room, but it's highly unlikely that it was anything resembling the sharp, almost shocking shade that now sets the scene for the contemporary decor and menu at Chartreuse. It's the love-it or hate-it color of the French liqueur that now serves as a backdrop for the fresh, farm-to-table fare being turned out by executive chef Douglas Hewitt Jr. and proprietor Sandy Levine. Almost everything on the list of just 16 dishes is sharable. Despite its brevity, the menu offers a nice balance between meat, fish and seafood, and vegetables.
Vertical,1538 Centre, Detroit; (313) 732-9463.verticaldetroit.com
The name refers to the wine flights — tastings of three vintages of the same wine — that are one of the appealing features at this restaurant/wine shop. But there's more than wine to be discovered here, including an interesting menu in the hands of chef Alex Knezevic and an array of craft cocktails served in a setting that combines old and new on the ground floor of the circa-1913 structure that is now the Ashley Apartments. While there are a number of small-plate options, such wine-compatible dishes as housemade foccacia, smoked salmon with a baguette and a selection of pates, there is sturdier stuff, as well, including chevre/pistachio crusted lamb chops accompanied by heirloom carrots and orzo, dishes that may be shared.
Cantoro Trattoria,15550 N. Haggerty, Plymouth; (734) 667-1199.cantoromarket.com
When proprietors Mario Fallone and his sons, Michael and John, decided to add a restaurant to their Plymouth market, they started with the thought of opening a little spot where patrons could relax with a cup of coffee. That idea expanded quickly, becoming a four-star Italian restaurant. The new attraction includes an elegant Faema espresso machine that cost more than a luxury car, tables with white linens and an outstanding menu from executive chef Anthony Calabrese. He and his staff make everything in-house from the crusty bread and the pastas to the gelato and tiramisu. The stylishly contemporary dining room and bar are separate from the market's shoppers and their carts. Eighty diners may be seated indoors and the capacity is doubled in warm weather with tables on the patio. Food choices include classics, such as prosciutto and melon, veal scallopini and Margherita pizzas, one of 20 thin-crusted pizzas made in a wood-burning oven. The wine list lives up to the cuisine. Sommelier Michael Larranaga keeps it fresh by adding new wines regularly to an array that includes many Italian wines and what he calls "the rest of the world."
Mandaloun Bistro,30100 Telegraph, Bingham Farms; (248) 723-7960.mandalounbistro.com
Northern Lebanese fare is often served in storefront settings, but this attractive spot adds a sophisticated décor to the cuisine. The fare is subtle, understated, and meticulously presented to linen-covered tables in a room that is all soft gray, white and black. Dishes from the kitchen of chef Malake Bitar, who uses family recipes, include a delicate chicken kafta, sautéed lamb tongue, lamb chops and pristinely fresh salads, as well as the expected trio of hummus, baba ganouge and tabouli. The bar offers Lebanese wines, as well as a nice selection from other countries. Dessert pastries are memorable.
Pho Lucky,3111 Woodward at Charlotte, Detroit; (313) 338-3895.pholucky.net
The third of the Vietnamese restaurants opened by Cong Nguyen and his family brought the fare of their country to midtown Detroit. The menu is brief and focused, with everything on the menu authentically Vietnamese. First, of course, is the national dish — pho tai chin bo vien, to give it its exact title — better known simply as pho, a deep bowl of mildly spicy broth with thinly sliced eye round steak, beef brisket, tiny meatballs and vermicelli noodles in its depths. There are a number of other pho variations — one that includes only meatballs, another with just round steak. A few other dishes, called rice plates, include grilled chicken breast or pork. The space has a number of seating arrangements, including a corner furnished with rough-hewn picnic tables and small stools, meant to offer a hint of what street dining is like in Vietnam. Service is friendly and warm, and it's clear the family enjoys introducing the cuisine to a new audience.