Ruben Studdard: Detroit music was a big part of life
Patrick Dunn
Special to The Detroit News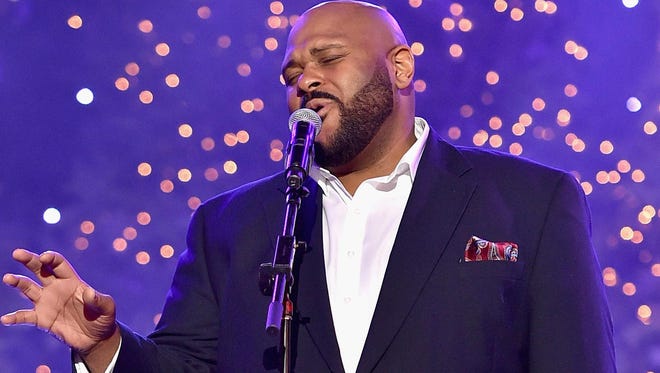 R&B vocalist and "American Idol" winner Ruben Studdard didn't grow up in Detroit, but he says he and his fellow Birmingham, Alabama, residents still feel an intense kinship to Motown and its music.
Studdard will headline Detroit Public Television's third annual "Detroit Performs Live" concert at the Fillmore Detroit on Friday. The event is a tribute to Detroit music that will also broadcast live on DPTV and online.
It features a variety of acts either based in or related to the Detroit area, including folk singer Ethan Daniel Davidson, Jill Jack, Lady Sunshine, Tom Butwin, Alexander Zonjic, and the Miracles Revue.
In that sense, Studdard might seem like the odd man out. But the singer says he's been steeped in the Motown tradition since his parents introduced him to Stevie Wonder, Marvin Gaye, and the Temptations as a child.
Studdard recently performed in a tribute to the Temptations, honoring Alabama's bicentennial and original Temptations members Eddie Kendricks and Paul Williams, who grew up in the Birmingham neighborhood of Ensley.
"We feel connected to that story," Studdard says. "Alabamians were part of the upswing of Motown and its musical journey."
Studdard, a self-described music historian, fulfilled a longtime goal earlier this year when he visited the Motown Museum for the first time. He says he'd endeavored to stop by during previous stays in Detroit, but his schedule had never before aligned with the museum's hours.
"It was really fascinating, getting the opportunity to really stand in the place where so many amazing records and American pop culture were crafted in this one house in the middle of Detroit," Studdard says.
Studdard's embrace of the Motown sound is evident in his own old-school R&B, soul and gospel stylings, and he expresses appreciation that Detroit will be embracing him back this weekend.
"It's really an honor that people respect my singing ability enough to want to put me on something honoring Motown music and the Detroit sound," he says. "For some reason people feel like I put them in the mind of older artists. For me, that's just a compliment."
For Studdard's next big project, he'll be turning to the inspiration of another music legend: Luther Vandross. Studdard describes his forthcoming studio album, tentatively set for release around Valentine's Day, as "Luther-esque."
And he'll be following it up with a full-blown Vandross tribute tour starting in April.
Like his appreciation for Motown, Studdard's love for Vandross stretches back to childhood, when Vandross was one of Studdard's mother's favorite singers. As a professional musician, Studdard has covered multiple Vandross songs. "A lot of people compare me to him, vocally," Studdard says. "But his voice just was amazing … I'm glad that I'm going to get the opportunity to put (Vandross' music) onstage and to give people the opportunity to see his show if they hadn't had the opportunity to see it before."
Patrick Dunn is an Ann Arbor-based freelance writer.
Third Annual Detroit Performs Live Concert
8 p.m. Friday
Fillmore Detroit
2115 Woodward, Detroit
Tickets $25-$80; VIP packages $360-$1,250
detroitperforms.org/live
Concert will also be broadcast live on Detroit Public Television and at detroitperforms.org