Flint excavates lead, iron water pipelines a year ahead of schedule

Leonard N. Fleming
The Detroit News
CORRECTION: This story has been updated to reflect that Flint has replaced about 7,000 lead and galvanized steel service lines out of a 18,300 that it has excavated. An earlier version of this story incorrectly indicated all those excavated had been replaced.
Flint Mayor Karen Weaver is set to announce Tuesday that city officials have excavated all of the lead and iron pipelines it targeted one year ahead of time in a city still stung by the aftermath of the contaminated water crisis and distrust of government.
The mayor will hold a 10 a.m. news conference to laud the city's efforts to excavate 18,313 galvanized or lead pipes through Nov. 30, with about 7,000 lines getting replaced. Weaver's FAST START project began in 2016 and was first anticipated to be finished in late 2019.
Flint officials have hailed the program as having the fastest timeline to replace pipes in the nation. A similar program in Lansing took 12 years.
More: State shrugs at Flint's pipe replacement achievement, says more work ahead in 2019
But one city councilman noted the replacement program doesn't include homes with inactive or past-due water accounts. 
The announcement comes after the city switched its water source from the Detroit system to the Flint River in April 2014 and failed to treat the river water with corrosion-control chemicals based on advice from state water regulators. In 2014-2015, at least 12 people died and 79 others were sickened by Legionnaires' disease that some experts have linked to the water switch and state officials have insisted is mostly linked to issues at one Flint hospital. 
"We have been ahead of schedule from the very beginning. Public health and public trust has been priority one and we have never wavered from our mission to provide safe, clean drinking water to every resident in the city of Flint," Weaver told The Detroit News.
"Moving forward, we will continue our fight to make Flint whole. We have made a lot of progress in these last two years, and I do not plan on slowing down.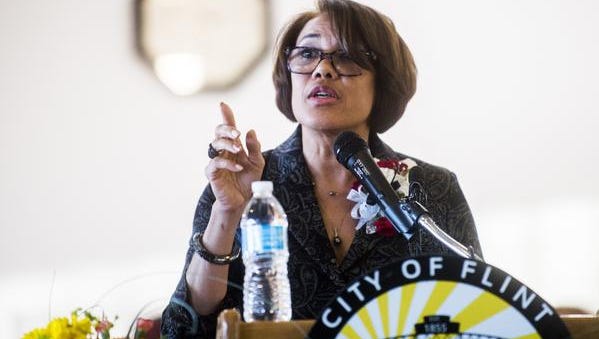 "We will continue to make our case for in home fixtures and appliances that were damaged as a result of this crisis, to be fixed. We will continue to cry out for justice and that those who are responsible for this tragedy be held accountable, no matter the person."
Flint residents are still advised against using the city's tap water even though testing has showed lead levels have receded below federal action standards for about two years. Experts have said they wouldn't suggest letting residents resume consuming the city's tap water until after all of the corrosion-weakened lead and iron water service lines were replaced.
The Flint crisis took on national prominence and shame, prompting Michigan Attorney General Bill Schuette to file criminal charges against members of Gov. Rick Snyder's administration, including involuntary manslaughter, and water regulators with the state's Department of Environmental Quality. Two emergency managers appointed by Snyder have also been criminally charged.
The water crisis has resulted in a lack of trust of government officials and even water quality experts that some Flint officials said may take a generation or two to fix.
The pipe excavation and replacement is "a monumental achievement for the city of Flint and state of Michigan," said Virginia Tech water expert Marc Edwards, whose research team helped discover unhealthy high lead levels in Flint homes in the summer of 2015.
"That said, it is unrealistic to expect that achieving this milestone will win hearts, minds or trust," said Edwards, who also dug up documents showing that state leaders knew in the summer of 2015 there was lead contamination in Flint's water.
Weaver agreed with the assessment.
"Since 2014 the residents have struggled with ... not being able to trust the water and the government, understandably," she said. "My administration has remained transparent, vocal and accessible since I was elected in 2015, and I know that this has helped to establish trust.
"We work diligently to show up for the residents of Flint and to let them know that this is not business as usual and their health will not be taken lightly, nor will cost be prioritized over lives."
The pipeline replacement was funded with federal money approved for Michigan in late 2016 as well as from part of the state's $97 million settlement of a federal lawsuit filed by the Concerned Pastors for Social Action group in Flint.
By comparison, the city of Lansing took 12 years and $44.3 million to replace its more than 12,000 lead service lines. In 2016, Lansing joined Madison, Wisconsin, as the only cities in the United States to completely replace their lead pipelines.
At that time, experts feared Flint could take longer than the time it took Lansing to replace its water lines.
Block by block, residents have seen excavation crews descend on their neighborhoods with earth-moving equipment to dig up the pipes. The city had been slow to fix the sidewalks and yards as part of the excavation but contends it is making headway.
The pipe replacement touted by Weaver does not include households that lack an active water account — something Councilman Eric Mays said he thinks should have been done from the beginning. And Mays said he would like to see more phases included to make sure every home in Flint has their pipes replaced.
The standard for replacement may have been met for the Concerned Pastors group, he said, "but that's not the standard that I look at. I look at each home. I know that there needs to be more excavating."
Homes where residents still owed money on their water bills were skipped by excavation crews, Mays said.
""I'd like to look at houses that are inhabited," the councilman said. "If the contractor was on that street in September and then (residents) get their money together and they get their water cut back on in October and people left that street, then they didn't get service." 
There were five construction companies working on the project. Crews kept discovering more copper-to-copper lines leading to residential homes, especially as they ventured away from the city's core, officials have said.
Democratic Gov.-elect Gretchen Whitmer has promised to restore bottled water delivery to Flint, which was suspended by Gov. Rick Snyder in April because water testing results. She also said her highest priority would be to continue replacing lead service lines in the city.
The Snyder administration has spent hundreds of millions of dollars, buoyed by federal aid, on providing free water filters, water testing, as well as education, health and economic development programs to remediate the effects of lead contamination. 
Regardless, the toughest job for the incoming governor will be to "earn back the trust of the people that she works for because of the people before," Whitmer said during the gubernatorial campaign.
lfleming@detroitnews.com
(313) 222-2620
Twitter:@leonardnfleming