Judge shutters drug-riddled Victory Inn in Detroit
Robert Snell
The Detroit News
Detroit — A judge Friday shuttered a motel raided by federal agents, calling it a public nuisance plagued by prostitution, human trafficking, drugs and violent crime.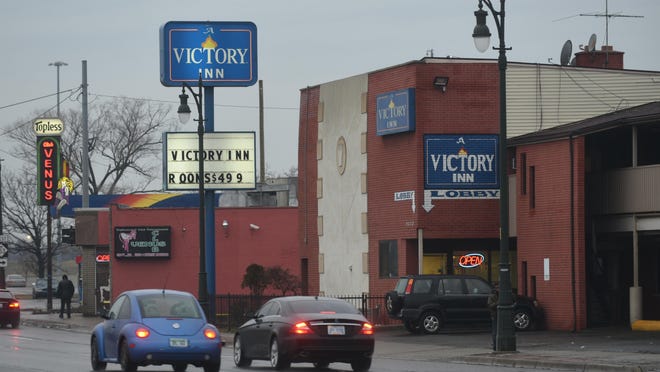 Wayne County Circuit Judge Robert Colombo Jr. ordered Victory Inn on Michigan Avenue east of Wyoming closed for one year and said it was impossible ownership was unaware of widespread criminal activity. The judge also ordered the furniture and fixtures be removed from the two-story, 42-room business.
The judge's order comes two weeks after Homeland Security Investigations agents raided the $55-a-night motel and rescued 14 victims of human trafficking. Two men have been charged in federal court amid the ongoing investigation.
"I don't have any sympathy for the owner ... when this kind of conduct is permitted to happen over a long period of time and no one takes any action," Colombo said. "The motive was to make money. This is not a motel that a visitor to Detroit would normally look to stay at."
Lawyer Steven Kiousis, who represents owner Star Lodge LLC, was unsure if his client would appeal. He unsuccessfully asked the judge to give ownership six months to hire security, replace employees and make improvements to prevent criminal activity at the motel.
The judge's order, in response to a complaint filed by the city, likely will be a death sentence for Victory Inn, leaving it vulnerable to scrappers in a city plagued by blight, said lawyer Roy Sgroi, who represents the mortgage holder, BLX Capital LLC.
Federal investigators portrayed Victory Inn as "den of iniquity," where cocaine, heroin and flesh were sold with help from motel staff.
In 2016, the Detroit Police Department made 115 runs to the motel, which was the site of two shootings, several aggravated assaults and two homicides linked to motel guests.
On Jan. 12, about 200 law-enforcement personnel raided the motel following a four-month investigation that alleges a team of pimps and drug dealers had overtaken the inn.
"This building is a nuisance," city lawyer Charles Raimi told the judge. "In view of the notorious, the rampant, flagrant criminal activity, the only remedy is to close this building."
rsnell@detnews.com
(313) 222-2486