I-94 between Conner, I-75 to close for weekend
Charles E. Ramirez
The Detroit News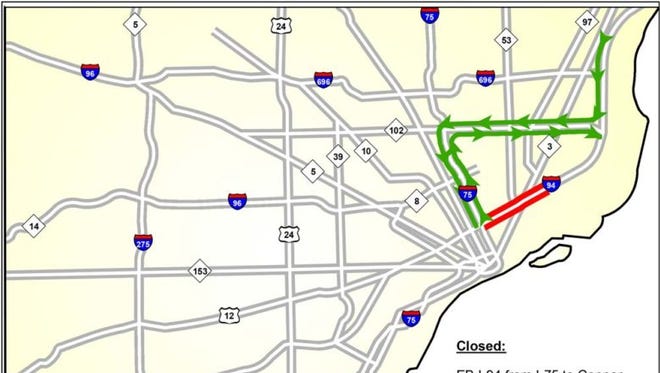 It may be another challenging weekend to drive downtown from the east side this weekend.
Both eastbound and westbound Interstate 94 between Conner Avenue and I-75 in Detroit will be closed down from Friday night through Monday morning, the Michigan Department of Transportation says.
The second half of the Gratiot Avenue bridge over I-94 is being demolished and the beams for the Chene Street overpass are being set, the organization said. 
MDOT plans to close the westbound I-94 lanes between Conner and I-75 at 8:30 p.m. and the eastbound lanes at 9 p.m. All lanes of the freeway are scheduled to reopen at 5 a.m. Monday.
All ramps along the 4-mile stretch of freeway will closed as well. In addition, crews will begin closing entrance ramps to westbound I-94 from Nine Mile in St. Clair Shores to Chalmers Street in Detroit at 7 p.m. Friday, officials said.
Westbound I-94 traffic will be rerouted to westbound Eight Mile to southbound I-75 and back to I-94. Eastbound I-94 traffic will be rerouted to northbound I-75 to eastbound Eight Mile and back to eastbound I-94.
This weekend's weather forecast is expected to be sunny with temperatures in the high 70s, according to the National Weather Service's White Lake Township office.
Last month, MDOT closed the same stretch of I-94 to enable crews to set the bridge beams of the Gratiot Avenue overpass and perform foundation work at the Chene Street overpass.
The work is part of the agency's I-94 Modernization Project, an effort to rebuild 6.7 miles of the freeway and 18 bridges between the I-94/I-96 interchange and east of Conner Avenue.
cramirez@detroitnews.com
Twitter: @CharlesERamirez