Eternal soul: Aretha was a singular talent who wowed the world
Susan Whitall
Special to The Detroit News
The death of Aretha Franklin is a huge loss for her family — sons Clarence, Edward, Teddy and Kecalf, and her grandchildren — but also for the city of Detroit, her fans worldwide and the music industry, where her status as a legend has been secure for decades. 
She became the undisputed Queen of Soul after a string of hits recorded for Atlantic Records in the late 1960s that included "I Never Loved a Man (The Way I Loved You)," "Respect" and "Chain of Fools."
Franklin was no less than "the greatest female voice of her generation," according to music critic/historian Dave Marsh. She earned 18 Grammy awards, and in 1987 was the first female artist inducted into the Rock and Roll Hall of Fame. Rolling Stone put her on top of the list of the best singers of all time in 2008.
The legendary John Hammond, who signed Franklin to Columbia Records in 1960, said Aretha Franklin's was the best voice he'd heard in 20 years. 
In the music world, The Queen of Soul came to symbolize Detroit as much as General Motors, Ford or Chrysler.
She was the essence of Detroit to her core, but she was not a native of the Motor City. 
Aretha Louise Franklin was born March 25, 1942, in Memphis, Tennessee, to a struggling young Baptist minister, the Rev. C.L. Franklin, and his wife, Barbara Siggers Franklin. She was the third of four children born to the couple; the others were Erma, (1939); Cecil (1940); and Carolyn (1943). Her mother's son Vaughn, from an earlier relationship, was part of the family, too.
The Franklins moved to Detroit in 1942, when C.L. took a position as pastor of New Bethel Baptist Church, located in a converted bowling alley at Hastings Street. Aretha was 3.
Hastings Street was the center of the city's lively east-side black entertainment district, Paradise Valley. Rev. Franklin quickly became a star, singing and preaching with such fervor that when record shop owner Joe Von Battle played one of his records through loudspeakers onto Hastings, it drew as much of a crowd as any pop star's record. 
The Franklin's marriage foundered, and Aretha suffered an early loss when her mother Barbara moved to Buffalo, New York in 1948, to be close to her parents. She took Vaughn with her but left Erma, Cecil, 6-year-old Aretha and Carolyn in their father's care. 
As an adult, Aretha was sensitive about the way her mother's departure was framed, insisting that she hadn't abandoned them. She and her siblings visited Buffalo often in the summer, and Barbara came to Detroit to see them often as well. 
But with their father often away from the house, it fell to housekeepers and the children's grandmother Rachel, Big Mama, to take care of them. Clearly Aretha was drawn to the maternal warmth she found from family friends, such as gospel greats Clara Ward and Mahalia Jackson. Both were frequent visitors to the Franklin home, where Jackson would stir up a pot of greens in the kitchen and shower Aretha with attention and career advice. Ward was particularly close to C.L., and Aretha confessed in her memoir that she hoped they would marry — but it wasn't to be.
Still, it was Clara Ward's soaring gospel voice that showed Aretha the way, and convinced her that she could and would sing in the church, too.
The Franklins first lived on Boston Boulevard, on the corner of Oakland. Aretha spoke fondly of her 1950s childhood; hanging out with friends at various North End hotspots. 
"There was no place like the North End," she wrote in her 1998 autobiography, "From These Roots," written with David Ritz. There was the Echo Theatre, where she swooned to the classic French song "La Vie en Rose" in a movie, and loved to spin on the seats at Mrs. Wiggins' sweetshop on the corner of Oakland and Belmont. Brother Cecil's best friend Smokey Robinson lived just down the street, on Belmont. 
Aretha attended Alger Elementary School and then, Hutchins Junior High, where she learned how to sing harmony in the glee club. She loved roller skating at the Arcadia Roller Rink and enjoyed Boston coolers at the Vernor's store on Woodward. Cecil was a jazz buff, but Erma and Aretha loved rhythm and blues, whether it was their fellow Detroiter Little Willie John crooning "Talk to Me, Talk to Me" (a song Aretha covered later) or Harvey and the Moonglows chanting the "Ten Commandments of Love." 
Erma and Aretha would sneak off to catch Jackie Wilson or Little Willie John at the Warfield Theater, prompting their exasperated father to lock them out when they returned home late.
It was a devastating blow when Aretha's mother died in 1952, when she was 10. Her sister Erma told biographer Ritz that Aretha seemed to suffer the most from the loss of her mother. 
The free-spirted fun of childhood was interrupted again, when Aretha became pregnant in 1954 by a boy she'd met at the Arcadia — referred to as simply "Romeo" in her memoir. Aretha and "Romeo" would skate to romantic ballads such as "Teach Me Tonight" and slow dance in friends' basements. When her pregnancy started to show, a concerned C.L. took her to the doctor. But her father wasn't scolding or judgmental about her condition, Aretha wrote in "From These Roots." He was "a realist…he expected me to face the reality of having a child." She and "Romeo" discussed getting married "for a Detroit minute," but that idea was quickly abandoned, as her father "would kill him," Aretha mused. He had big plans for his middle daughter.
Featured soloist at age 12
Like her sisters, Aretha had a passion for music; but hers was a particular gift, even her competitive sisters acknowledged. By the age of 10 she was constantly singing and had taught herself to play the piano by ear. 
By then the family was living in a handsome home on LaSalle Boulevard.
Two years later, Franklin was one of New Bethel Baptist Church's three featured soloists. Her arresting voice and presence led to her going on the road with her father's gospel show. She would never take up formal education again, although she would have benefited from college, and was an avid reader.
The combination of C.L. Franklin's stirring oratory and the voice of his daughter, a youthful cross between Clara Ward and a young Mahalia Jackson, was an irresistible draw.
After Aretha's first son was born — named Clarence, after her father — because her grandmother Rachel, Big Mama, lived with the family, she was able to resume touring with her father. At 16, she fell once again for the charms of a roller rink heartthrob — this time she referred to the boy as "Casanova." Her father was disappointed, but briskly efficient, advising her that she needed to be responsible and take care of her children. She named the baby Eddie, after his father — the most she would reveal of his name. Like Clarence, Eddie would go by her last name, Franklin. 
On the road with her urbane, sophisticated father, Franklin got to experience the chitlin circuit of the '50s firsthand, enjoying the rhythm and blues scene at such places as New Orleans' Dew Drop Inn. But she found the grind of the road very hard.
"We'd drive thousands and thousands of miles," she told biographer Mark Bego. "I've been to California from Detroit about four times through the desert. Never again! Never again! That's the way people traveled back then. Baby, those steep mountains with no railing!"
She made her first recording at 14, a gospel album recorded at one of her father's gospel shows in Oakland, California. The record came out in 1956 on Checker Records and was notable for her transcendent rendition of "Precious Lord."
Both Erma and Carolyn were professional singers as well. Erma toured with singer Lloyd Price, and recorded the original version of "Piece of My Heart," which became Janis Joplin's best-known song. Both sisters sang backup for Aretha from time to time. Carolyn was also a talented songwriter, penning "Ain't No Way" and "Angel," and helped her sister come up with the famous "Sock it to me" line in "Respect."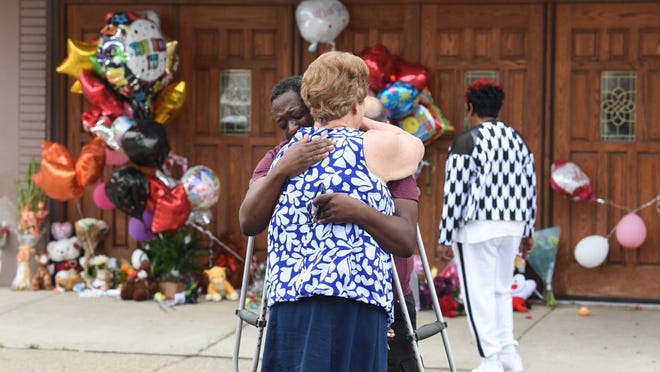 The sisters were rivals over boyfriends (Erma dated Dennis Edwards of the Temptations before Aretha did) as well as music. According to biographer Ritz, Carolyn once told him that Aretha tried to steer her away from singing, and more toward songwriting. (Carolyn signed with RCA anyway and recorded an album, "Baby Dynamite," although she only had middling success).
Meanwhile, as his star as the country's preeminent "soul preacher" rose, the Rev. C.L. Franklin was also building a reputation in politics and civil rights. It was Franklin who invited the Rev. Martin Luther King Jr. to Detroit for the June 1963 Walk to Freedom March—meant to commemorate the 20-year anniversary of the 1943 Detroit race riots. King, Franklin and UAW President Walter Reuther led 125,000 people in a march down Woodward Ave.
Aretha was also close to Dr. King and would often sing "Precious Lord," the civil rights leader's favorite song, at his request (she sang it for him at Cobo Hall on Feb. 16, 1968, at "Aretha Franklin Day," which was announced by Detroit Mayor Jerome P. Cavanagh). 
No Motown for Aretha
Some wonder why Franklin was never a Motown artist. But the timeline, of course, wasn't in Berry Gordy's favor. In 1958, Gordy was still barely scratching out a living writing songs with partner Billy "Roquel" Davis. The two had heard Aretha sing, and they came up with a plan to write songs for the teenager and get her signed to Chess Records as an R&B artist. Her father thought she was too young and passed. Instead, older sister Erma Franklin became one of Gordy and Davis' regular demonstration singers until she went out on the road as part of R&B singer Lloyd Price's show. 
By 1959-'60, when Aretha's father thought she was ready to sign a recording contract, Gordy had launched Motown but it was still a small-time operation, located in the house on West Grand Boulevard, where he was still building a studio. Franklin wanted to see what the big labels in New York thought of his "child genius" daughter before committing to a local label.
The big labels were impressed. Aretha was signed to the crown jewel, Columbia Records, at age 19 in 1960. 
She was able to leave her two sons in the hands of her grandmother Rachel and move to New York, where she was put through her paces, taking dance lessons, meeting with producers and learning everything about the city.
When her father visited her in New York they would hit the town, and go to clubs like the Village Vanguard and Village Gate to check out jazz greats such as Horace Silver, Charles Mingus and John Coltrane.
For Aretha, nothing but R-E-S-P-E-C-T
While her vocal talents were held in high esteem, her career during those Columbia years lacked a coherent focus. Aretha would tour with R&B acts like her friend Sam Cooke, but she would also be on jazz bills with artists such as Horace Silver. One of her best albums from the Columbia years is "Unforgettable," a 1964 tribute album to Dinah Washington, the great Queen of the Blues who had died in December 1963 in Detroit. (Aretha had great admiration for Washington's vocal abilities and personal style — she was amused when the Queen of the Jukeboxes advised her to keep her shoes in better order in her dressing room).
It took Atlantic Records, and producer Jerry Wexler to harness Franklin's great talent into commercial success. She signed with the label in 1967 and the release of her first album "I Never Loved A Man The Way I Loved You" (no parentheses in the album title, only on the song) the following year was explosive. 
Enduring hits of the 1960s
There was an earthy realness to Franklin that anchored her soaring, five-octave voice, and Wexler had discovered the right template that would show it off. He had Aretha play songs on the piano, and would structure the arrangement around her gospel-tinged playing and singing. Her Atlantic recordings have the soulful immediacy of gospel, but are seated firmly in a contemporary R&B setting.
Her version of Otis Redding's song "Respect" became an enormous hit in 1967, and an anthem for both the Civil Rights movement and the women's movement. Watching her soar to the top of the charts with his song, Redding cheerfully admitted, "That girl took my song away from me."
Her other Atlantic hits; "Chain of Fools," "(You Make Me Feel Like A) Natural Woman," "I've Never Loved a Man The Way I Love You," and "Dr. Feelgood," to name a few, were some of the most enduring hits of the 1960s. 
Aretha Franklin's essential recordings
Aretha Franklin's greatest live performances
Complicated personal life
Aretha's personal life was complicated. After her two teenage pregnancies — the results of which she insisted, were blessings — she was married to Ted White in 1961. Their son Teddy was her guitarist for some 20 years off and on, starting in the 1980's.
The marriage to White was reported to be turbulent, although Aretha resented the press reports about her troubles, particularly a Time magazine story. After they divorced, Aretha had a son, Kecalf, in 1970 with boyfriend Ken Cunningham.
After a brief but intense relationship with Dennis Edwards of the Temptations — it led to Aretha writing the romantic song "Daydreaming" — in 1978 she married Glynn Turman, an actor — and was living in Los Angeles. (Her marriage to Turman ended in 1984, and Aretha returned to Detroit).
Even as her Atlantic years were winding down, Franklin was recording some of her best music. 
Her contract with Atlantic was ending, so she called former Columbia Records chief Clive Davis, who had just established a new record company, Arista. 
"She was working with producers who didn't quite have the right handle on the material," Davis told Billboard in 2016. "I went to her house in Los Angeles, and she cooked dinner for me. We spent the evening getting to know each other, and establishing the bond that we have."
Davis was known for hovering over his female artists, making sure everything was just so, and fussing over the right material for them to record. One hit record he set up for Aretha was the duet "I Knew You Were Waiting (for Me)," with George Michael. Michael had begged the record mogul to get him together with her.
"Aretha had never heard of George Michael when I introduced the idea. They made the record. It went to the top of the charts all over the world [in 1987]. It just worked out perfectly. It was a win-win for both artists."
Along with Davis nurturing her career at Arista, Aretha's cameo appearance in 1980 in the first Blues Brothers film, singing "Think" with potent, grown woman attitude, helped refresh her career and image as well.
The 1980's were her pop years; she happily turned out hits such as "Freeway of Love" and "Who's Zoomin' Who," as well as collaborating with some of her favorites, such as George Benson ("Love All the Hurt Away" in 1981).
Return to form
In the '90s Franklin continued to be a vital force, as artists such as Lauryn Hill wrote music for her to record ("A Rose is Still a Rose"). She filled in singing an operatic aria on live TV for the ailing Luciano Pavarotti with casual aplomb, and after a life-changing illness in 2010, she came back In concert in 2011, surprising audiences with a re-energized voice that harked back to her glory years. She even made President Obama cry at the Kennedy Center Honors in 2015.
For some years she reportedly was on the outs with Clive Davis, but all that melted away when she reunited with her former record boss for her album "Aretha Franklin Sings the Great Diva Classics," in 2014, an album of covers that Davis masterminded.
It was a welcome return to form, after some false starts when she tried to release her own material on Aretha's Records, in part because she finally had someone she trusted helping steer her a bit, again.
One of the notable cover versions she did for that album was Adele's "Rolling in the Deep," a song with a message of persisting despite an abusive relationship, that clearly connected with her deeply.
Still, Aretha's personal challenges, whether the early loss of her mother or her romantic ups and downs, may have helped her tap into a human, universal pain, but she was not the haunted, sad "our lady of sorrows" described by many.
She could be feisty, and sometimes had beefs with other female singers for reasons the other party couldn't fathom. Her deep friendships with Cissy Houston (mother of Whitney) and Dionne Warwick appeared to have high and low points.
Bettye LaVette, another product of Detroit's North End, once remarked that if Aretha pretended not to know her at the Kennedy Center that year, there would be "a Detroit moment" between them.
Far from being a tragic figure, Aretha enjoyed her family, loved parties and fun, and was known to invite hundreds to her famous birthday and holiday parties, some in venues as large as the Somerset Collection in Troy. She was an avid and accomplished cook, and had a keen, lifelong interest in fashion and interior design.
Franklin's own words to The Detroit News on the occasion of Ray Charles' death, could stand as a description of her own art. "I heard someone say that he created soul, da da da da … My response was, he didn't create soul. You can't create soul. That's who he was." 
Susan Whitall is an author and longtime writer and contributor to The Detroit News.
SEE MORE: Complete coverage of Aretha Franklin