Fans, officials say farewell to 'the voice of Detroit'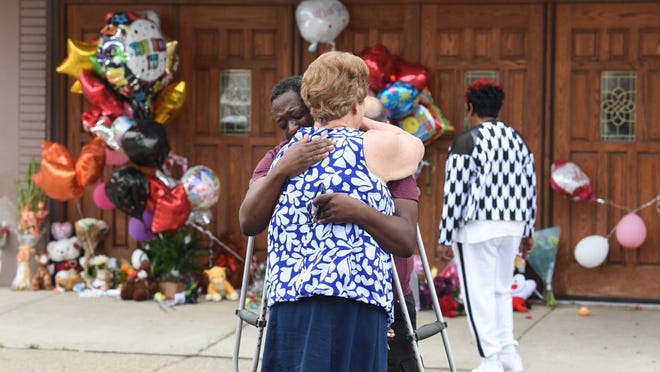 Tributes poured in Thursday for the Queen of Soul across Metro Detroit from fans and public officials as news spread of Aretha Franklin's death at age 76.
Franklin was honored both as a musical trailblazer and an advocate and role model for women and African-Americans.
"Today, the Queen of Soul has left this world; but her life and legacy has left us all with something we can truly feel," U.S. Rep. Brenda Lawrence, D-Southfield, said in a statement. "Aretha Franklin was soul personified and she gave us the gift of her voice, her truth and her unapologetic passion to demand compassion, love and R-E-S-P-E-C-T for women everywhere.
"An iconic entertainer, powerful civil rights leader and a beautiful spirit who I am privileged to call friend," Lawrence said. "She will be dearly missed, but never forgotten."
Salutes to Franklin also emphasized her longstanding ties to Detroit, where her father, the Rev. C.L. Franklin, was pastor of New Bethel Baptist Church.
"Aretha Franklin was known internationally as the Queen of Soul, but she was also the Voice of Detroit," Wayne County Executive Warren Evans said in a statement. "I'm deeply saddened to learn of her passing today.
"On behalf of all of Wayne County, I want to extend my thoughts and prayers to her family and friends as they reflect on Aretha's incredible life," Evans said. "I hope they can take comfort knowing that Aretha's artistry and work will be celebrated by millions of fans, from the corner of Linwood and Philadelphia to every part of the planet, for generations to come."
U.S. Rep. Debbie Dingell said Franklin's father helped her husband John Dingell in his first election. As for her relationship with Franklin, "Aretha was just a friend a to me - there if I ever needed her," she said in a statement. 
"Aretha was complicated, loving and giving. Faith was important to her and the Church never left her," Dingell said. "Her faith in Detroit and it's people is what I will remember as much as her voice."
U.S. Sen. Debbie Stabenow, D-Lansing, honored Franklin on the Senate floor, calling her "a woman whose voice and whose soul truly was larger than life."
Stabenow recounted Franklin's many accolades – 18 Grammys, the Grammy Lifetime Achievement Award, the 1994 Kennedy Center Honors Award, the first woman inducted into the Rock and Roll Hall of Fame, and the country's highest civilian honor – the Presidential Medal of Freedom. 
"Not bad for a preacher's daughter from Detroit," Stabenow said. "All those awards are important; however, they don't begin to measure just how she made us feel."
She recalled attending the 2015 Kennedy Center Honors concert saluting Carole King, where Franklin sang a "soulful rendition" of "Natural Woman," making King dance in her seat and President Barack Obama cry.  
"Her voice was remarkable – so remarkable that the Michigan Legislature declared it to be a precious natural resource in 1986," Stabenow said. 
A trickle of people began to drive by New Bethel Thursday morning after learning of Franklin's passing. 
Some played Franklin's music or honked their horns as they passed by. Others stopped briefly. Among them was Detroiter Bettina Street.
"I just love her," Street said. "It's someone special in my life is gone. She's the Queen of Soul of Detroit. Nobody can beat Aretha, her voice, the music."
Street said she met Franklin about a year ago during a concert at the church. She asked her to sign an album for her daughter and she obliged. 
"It was amazing meeting her," she said. "It was just a blessing."
"I had been praying for her," Street said. "I knew she was ill. She was very quiet. She did have a kind heart for people. I just had to ride past here."
Diana Clemons and Sennettra Allen placed stuffed animals -- a teddy bear and a rabbit -- near the door of the church to show their respect for Franklin. 
On the drive to the church, the friends said they talked about how Franklin's songs brought back memories for them.
"I grew up on this music," Clemons said. "Each record reminds me of a point in my life when I was depressed or having fun. She was the music of my life and I'm going to miss her. I've gotten records so I can hear her. It's still hard to believe. It hasn't totally sunk in."
Clemons said her heart stopped when she first heard of Franklin's failing health.
"The first thing I did was think back," she said. "Her music is my life. I'm sad now, but I thank God for her, that we had her. I will always love her. Right now it's just getting through this day." 
Clemons said she was proud of the way Franklin represented her hometown.
"She was never ashamed to say she was from Detroit," she said. "Even in our bad times, she never was ashamed to say she was from Detroit. It makes me proud to be a Detroiter."
Eric Harris, 67, stopped by New Bethel to take a photo of the church on his way to work. He had plans to use the image as part of a social media post reflecting on the singer. 
"Aretha and her music were a major part of me growing up," he said. "It's an end of an era for me. I was thinking about this a few minutes ago, about the five great artists that have passed away. I was thinking about James Brown, Luther Vandross, Prince and Michael Jackson. Now Aretha. Those are the five biggest for me that have passed away during my lifetime."
"I was proud of the fact that Aretha was a proud black woman," Harris continued. "She never forgot where she came from. She always did things for the community. Always did things for her home church over here. Just proud that she was a Detroiter."
Harris said one of the most memorable moment of Franklin was when she performed "Nessun Dorma" at the Grammy Awards in 1998 after opera legend Luciano Pavarotti fell ill. 
"That was a very powerful moment for me to have this black woman on the national stage doing something that wasn't in her comfort zone and (she) knocked it out of the park," he said.
Robert Smith Jr., pastor of New Bethel, said Franklin exhibited strong faith in her last several months. 
"Faith is what it's all about," Smith said. "Not what you know, but what you don't know, but live as if you did know. She lived in a way that she felt was going to heaven… So she was able transition in peace."
"She said 'I'm going to be all right…'" Smith continued. "She said, 'The church is going to be all right.' Faith led her to say that. She's a Christian. She loves God, she loves the church and she loves her father more than anything."
Smith said this week would have marked another annual gospel concert at the church that Franklin would give in honor of her father, C.L. Franklin. He considered Franklin the lifeblood of the church. 
Smith said he was hoping that Franklin would have lived at least another few months. 
"The important thing about life here and I think Aretha meets that criteria. The question you have to ask yourself at your death: Did I leave the world better? Is there anybody else that's better off because I lived? And of course Aretha can say that very boldly. She left the world better in a lot of ways," Smith said. 
In an interview Thursday, Lawrence recalled how she became friends with Franklin after being elected mayor of Southfield in 2001.
"She called my home, and she said, 'May I speak to the mayor?' And I said, 'This is she,'" Lawrence recalled. "She said, 'Hello, this is Aretha and I want to invite you to my holiday party.' I said, 'Wait a minute -- who'd you say you were?' She said, 'Aretha.' I was like, 'Are you saying Aretha, Queen of Soul Aretha?' She laughed and said, 'Yes.' 'I was like, Oh my God. Absolutely! Yes! Yes!'" 
Lawrence said they had been friends since, with Franklin traveling with her to Las Vegas, New York, New Jersey and other places.
"She loved politics. She loved talking about history. She had an amazing, brilliant mind on the history of politics, political figures and civil rights, which you know her father and Martin Luther King were friends and worked together in the civil rights movement," Lawrence said. 
Lawrence said something unusual about Franklin was that she handled all of her money herself.
"She did not delegate it to anyone. So, when I would travel with her for a concert, she would be paid in cash. She demanded that. And then all of her staff and all of the obligations for the performers, she would have them line up and she personally – she didn't delegate it, paid those who worked for her," Lawrence said.
The tributes to Franklin even extended to satellite radio.
At 10:20 a.m., the all-music 60s on 6 channel on SiriusXM broke in with a rare bulletin announcing Franklin's death. On dashboard screens that usually give the name of a song and its singer, a message appeared: 
"RIP Aretha Franklin
"1942-2018"
As "Natural Woman" played softly in the background, an announcer intoned, "A candle burns at 60s on 6 for Aretha Franklin."
Then came a tribute from producer Quincy Jones, with a request: He wanted to hear "Respect."
More: Aretha Franklin's essential recordings 
More: Aretha Franklin's greatest live performances
Neal Rubin contributed.
cwilliams@detroitnews.com