Aretha's life to be celebrated for days in Detroit

Oralandar Brand-Williams
The Detroit News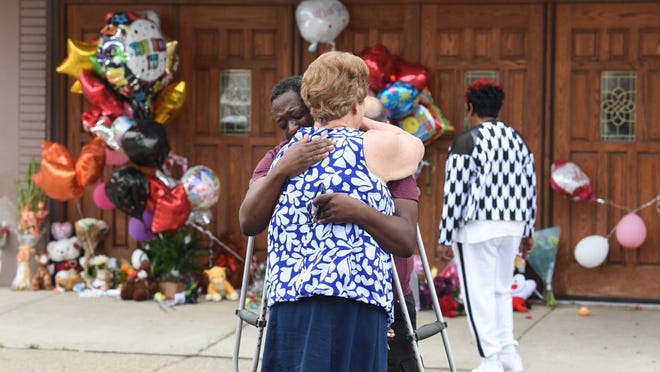 It will be a celebration of life fit for a queen.
Aretha Franklin's life and legacy will be honored here in her hometown with two days of public viewing followed by a private funeral. 
The Queen of Soul will lie in state 9 a.m. to 9 p.m. Aug. 28 and Aug. 29 at the Charles H. Wright Museum of African American History, said her publicist, Gwendolyn Quinn. The museum is at 315 E. Warren in Detroit.
A musical tribute to Franklin is planned for Aug. 30 at a location that had not been determined as of Friday.
Her funeral will be at 10 a.m. Aug. 31 at Greater Grace Temple, 23500 West Seven Mile, but it will be limited to family and friends. She will be entombed at Woodlawn Cemetery in Detroit, along with her father, the Rev. C.L. Franklin; brother Cecil Franklin; sisters Carolyn Franklin and Erma Franklin; and nephew, Thomas Garrett.
Tributes continue to pour in from around the world for Franklin, who died Thursday of pancreatic cancer at age 76. Fans have been gathering at the Detroit church where her father was a well-known pastor for decades.
On Friday, fans broke out into a singalong of one of her signature songs, "Natural Woman," as a soft rain fell on the sidewalk outside New Bethel Baptist Church on Linwood at Philadelphia Street on Detroit's west side.
Detroiter Rodney Troutman was among those outside the church celebrating Franklin's artistry.
"She's an icon here in Detroit," Troutman said. "There's no other singer with a voice like hers. It was a God-given voice no one else can top."
Troutman greeted other fans, strangers united in their love for Franklin, and embraced them as they listened to her songs.
"I came here one year and saw her in concert," Troutman said as he surveyed the flowers, balloons and other tributes people had placed outside the wooden doors of Franklin's home church.
A few miles away at Motown's Hitsville museum on West Grand Boulevard, fans signed a book expressing their sentiments over the passing of the music legend. 
Ron Patrick, a drummer from Eugene, Oregon, took pictures of a table-side memorial with a picture of Franklin.
"I'm just a huge fan," he said. "She's just huge. I'm glad I came here."
Patrick said he thought about Thursday being the anniversary of Elvis Presley's death just hours before he found out that Franklin had died. 
San Francisco resident Natra Zeryihun said she was happy to get to Detroit to pay homage to Franklin.
"We are very much sad to hear of Aretha's passing," she said. "She had a huge influence on music. I'm happy to be here to say goodbye."
Read more: Eternal soul: Aretha was a singular talent who wowed the world
Read more: Kid Rock shares 'Rock Steady' memory of Aretha Franklin
Fans were at New Bethel even before Franklin's death, reacting to news that she was under hospice care.
"The doors are jammed packed with flowers,"  said the Rev. Robert Smith, New Bethel's pastor. "It started Wednesday around 5 a.m."
Smith, who was out of town Friday, said the church has been receiving calls expressing appreciation for Franklin from around the globe, including New Zealand, German, Mexico and the Netherlands.
Billboards sprang up around Metro Detroit freeways honoring the singer, whose "Freeway of Love" was a top hit in 1985.
Franklin's musical career spanned more than 60 years and included performances for U.S. presidents and Catholic popes. Her iconic songs, such as "Respect," earned her 18 Grammy awards and the admiration of fans around the world. She had 43 top singles on the popular record charts.
Franklin was the first woman inducted into the Rock and Roll Hall of Fame in 1987.
bwilliams@detroitnews.com
(313) 222-2027