Mom: VanCallis 'stole my beautiful daughter's life'
Nicquel Terry
The Detroit News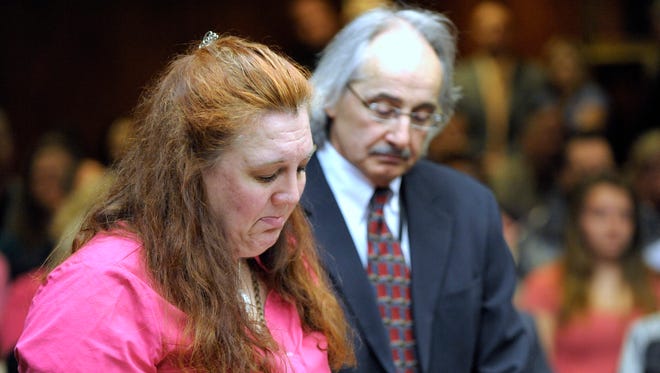 Mount Clemens — April Millsap will never get to experience the milestones most young girls anticipate in life.
"You stole her chance to experience being a wife and a mother," her mother, Jennifer Millsap, said Wednesday in Macomb County Circuit Court. "You took from us the joy of seeing her grow. I will never get to see her graduate, go to high school and college."
James VanCallis was sentenced to life in prison without parole Wednesday for the murder of 14-year-old April Millsap. His conviction came last month after a jury found him guilty on all counts of murder, kidnapping and sexual assault in the July 2014 beating death on a popular hiking trail near Armada.
Jennifer Millsap said during her speech in court that what VanCallis did was "unforgivable."
"I pity you and I hate you and I could never forgive you," she said.
She added she hopes "the four walls close in on you and choke you."
VanCallis maintained his innocence during the sentencing, saying the court did not have enough evidence to pin him to the murder. The 34-year-old St. Clair County man said witnesses could not positively identify him, his clothing or prove that it was his motorcycle on the hiking trail. His lawyer argued during his trail there was no DNA evidence linking VanCallis to the crime.
"This is a sad chain of events that somehow I am wrapped in," VanCallis said. "I don't know (April Millsap), I have never met her."
As VanCallis exited the courtroom, his mother, Brenda Pupi, yelled "James, we love you. We'll get you out. We will."
However, Macomb County Prosecutor Eric Smith said evidence and witness accounts during the trial proved beyond doubt VanCallis killed Millsap.
"The facts remain, this was a clean trial from start to finish," he told reporters. "I am very confident that James VanCallis will never see the light of day again."
Millsap's family and supporters filled the first two rows of the courtroom, some wearing pink to show solidarity. They smiled and hugged after the hearing, but quickly exited the courtroom without commenting.
Judge Mary Chrzanowski told VanCallis he will have a chance to appeal the ruling, but said she would only discuss the sentencing Wednesday.
Jurors in the trial have said they felt there was "overwhelming" evidence to convict VanCallis in the murder. They said the police's contention that a helmet was used to kill Millsap was "credible."
Most of the jurors attended the sentencing on Wednesday.
Jury foreman Doug Scott said he believed VanCallis murdered Millsap in a "fit of rage" because she turned him down.
"If he even looked at the evidence himself, he would say 'I'm guilty,' " Scott said outside of court.
Pupi told reporters after the hearing her son was "framed." She said she believes the killer is still on the loose and will strike again.
"I will put my hand to God that these officers framed my son because they had to get somebody," she said, holding her right hand up. "The people wanted someone."
nterry@detroitnews.com
313-222-6793
@NicquelTerry