Dems in 11th District congressional primary ready to boot Pelosi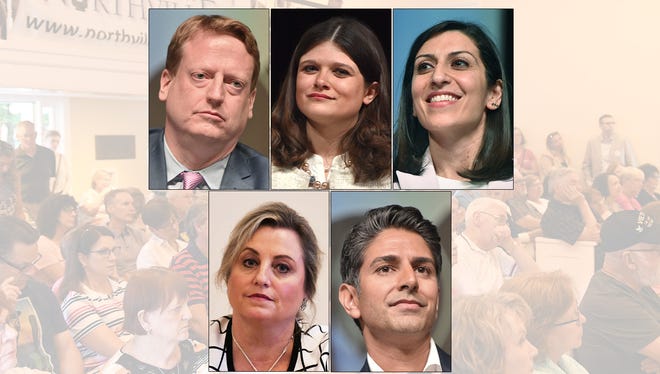 The expensive Democratic primary in Michigan's 11th District has drawn a crowded slate of candidates and over $4 million in contributions as five rivals compete for the nomination, hoping to flip the district "blue" for the first time in decades. 
The candidates are Haley Stevens, former chief of staff of the federal auto bailout task force; Suneel Gupta, a technology entrepreneur; state Rep. Tim Greimel, the former House Democratic leader; Fayrouz Saad, former immigration director for Detroit; and Nancy Skinner, a climate change activist. 
All but Skinner say they wouldn't vote for U.S. Rep. Nancy Pelosi of California as speaker if Democrats win the U.S. House this fall — an indication they feel a new generation should have a seat at the leadership table. Skinner has not said how she'd vote.
Republicans also have attacked Pelosi and Democratic candidates supporting her in past election with success.
Forecasters rate the district a toss-up this fall, with GOP Rep. Dave Trott retiring. Voters there supported President Donald Trump by less than 5 percentage points in 2016 and supported President Barack Obama in 2008.
Lansing-based pollster Ed Sarpolus, who has conducted surveys in the district, says the race remains largely undecided, with Stevens, Gupta and Greimel drawing the most support.
Gupta and Stevens both have raised over $1 million, though Stevens' fundraising pace has slowed and much of Gupta's haul has come from out of state — the most from California.
Gupta maintains a cash edge with over $628,000 on hand as of July 18, followed by Greimel with about $294,000.
Stevens has earned the backing of Democratic former Michigan U.S. Reps. Mark Schauer and David Bonior, as well as Cecilia Muñoz, who directed the White House Domestic Policy Council under Obama.
Labor support has largely coalesced behind Greimel, who has drawn endorsements from U.S. Sen. Carl Levin of Detroit and Wayne County Executive Warren Evans. 
"This is another Democratic primary that pits the traditional Democratic establishment candidate, Tim Greimel, versus the upstart outsiders," said David Dulio, who chairs the political science department at Oakland University. 
"That's what we've been seeing play out over time. To be fair, sometimes the establishment wins, and sometimes the outsider/progressive wins." 
The Obama alum 
Stevens, 35, was considering ways to "best serve" her home state of Michigan when she joined the 2017 Women's March in Chicago, where she was working at a research lab dedicated to digitizing U.S. manufacturing.
Months later, she had moved back to Rochester Hills, where she grew up, announcing her campaign and becoming the first Democrat to enter the race.
The first-time candidate stresses her experience as chief of staff to Obama's Auto Task Force that oversaw the financial bailout of Chrysler and General Motors from 2009-11.
She was working on Obama's transition team when hired in 2009 to help the auto working group, where she worked on office operations, political affairs and stakeholder outreach such as liaising with other chiefs of staff — particularly the Michigan delegation, she said. 
"I'm proudly running on my record," Stevens said. "I was in the room when some of the president's top economic advisers were talking about letting Chrysler liquidate and selling their nameplates to GM, and I stood up — the only person in the room from Michigan — and said, if you do that, it won't be a rescue." 
If elected, Stevens' priorities would include strengthening the Affordable Care Act and tackling immigration reform and "common sense" gun laws, as well as "standing up to Trump." 
"In short, we didn't do all the work we did in 2009 to save General Motors and Chrysler and 200,000 jobs to have Donald Trump take it all away," Stevens said of Trump's proposed auto tariffs. 
"We need to have labor at the table, and we need to work with our allies in terms of holding China accountable. Taking a unilateral approach that isolates us from our allies isn't going to work."  
The tech guy 
Gupta, 39, founded the health care app Rise and worked for Groupon as vice president of product development.
A political newcomer making his first run for office, Gupta says his technology background can help solve the nation's complex problems.
"I am running in a field of government insiders, and I'm not a politician. I'm a problem-solver," said Gupta, who relocated from San Francisco to Birmingham in the last two years.
"I'm someone who has used my science and technology background to solve real problems that matter to a lot to working families."
He is the younger brother of CNN chief medical correspondent Dr. Sanjay Gupta. 
Gupta said he was supposed to be part of Hillary Clinton's transition team if she won the presidency. Instead, he was drawn to run for office after Trump's push to dismantle the Affordable Care Act.
Critics note that Gupta never lived in the district as an adult. But Gupta — who grew up in Novi — says he's lived the story of the 11th District "in a way no else in this race has."
"Both my parents lost their auto jobs in a way hundreds of thousands of people in this region did," he said, noting that Ford Motor co. laid off his engineer parents on the same day in 2001. "Most of my life and most of my service has been here."
When it comes to trade deals, Gupta says it's about striking the right balance between allowing entrepreneurs and small businesses the opportunity to serve wider markets but not creating incentives for companies to ship jobs overseas. 
While he contributed to a 2004 Accenture report detailing the benefits of outsourcing, Gupta claims he has found that outsourcing was "actually hurting American workers."
"What I ultimately found as a 22-year-old analyst at that point was that outsourcing is not something that we should be promoting," he said.
"We should actually be making sure that we are creating incentives and jobs here. I've always felt that way. It's informed by my story."
The legislator
Greimel, 44, of Auburn Hills embraces his "political insider" label. He notes he's the only candidate in the Democratic primary who has won a campaign and knows how to get things done in a legislature.
Greimel played a role in expanding Michigan's Medicaid coverage and was the floor leader when a bipartisan measure to boost Michigan's minimum wage passed in 2014. The rate is now $9.25 an hour.
"We've seen what happens when novices who've never held elective office get elected. We saw it with Donald Trump, we saw it with Rick Snyder and we saw it with Dave Trott," said Greimel, an attorney.
"I think for anyone who is interested in government functioning and legislative bodies getting things done, having people with a proven track record is very important."
Greimel doesn't shy from criticizing Republicans, having called on Snyder to resign in the wake of the Flint water crisis.
But he said he's also proud that he worked across the aisle to broker the "grand bargain" to lift Detroit out of bankruptcy and enact energy reform to boost the renewable energy standard. 
If elected, Greimel said he'd support investing in additional border security measures when it comes to immigration and work to include "meaningful" labor standards in trade deals such as the North American Free Trade Agreement.
His top priorities would include investing in Michigan's physical and "human" infrastructure, such as early childhood education, skilled trades and a free two-year college education.
The progressive 
Saad, 35, of Northville joked in her campaign-announcement video that while her Arabic name means "precious stone," in English "it means a least 17 different spellings on my Starbucks cup."
Saad, the daughter of Lebanese immigrants, would be the first Muslim woman elected to Congress if she's successful in her campaign — her first run for public office. 
"For me, it's about changing the face of leadership in this country," Saad said. 
"Within the Muslim and Arab American community, there's excitement about potentially and hopefully having a voice in Congress where they have largely been underrepresented, if not unrepresented altogether — especially in the critical moment we're in right now, when Republicans in Congress and certainly Trump and his administration will take any chance to take a jab at these more vulnerable communities." 
Saad most recently worked as the director of immigrant and international affairs for Detroit under Mayor Mike Duggan. Raised in Dearborn, she moved from Detroit to Northville about a year ago after she and her husband got married.
She previously served in the U.S. Department of Homeland Security during the Obama administration, where she focused on emergency response and later community policing and counter-terrorism issues, she said.
Her endorsements include the Justice Democrats, whose slate includes New York upstart socialist Alexandria Ocasio-Cortez, whose primary victory last month over longtime Rep. Joe Crowley rocked the party establishment.
Like the Justice Democrats, Saad wants to adopt a Medicare for All health plan and has rejected corporate PAC donations. 
She says changing the narrative in politics is a major piece of her message.  
"These progressive values that have maybe in the past been seen as controversial or harder to achieve — has only been because we've been afraid to talk about them. Once we take stronger stances and there's more leadership around the issues, it helps build public consensus," Saad said. 
She gave universal health care as an example of this trend, citing higher public support. 
"Health care is a right. That's how we need to be talking about it and how we need to be seeing it," Saad said.
If elected, other priorities for Saad include immigration and gun reform, fixing the roads, a $15 minimum wage and paid family leave. 
The climate activist 
Skinner's bid to win the primary marks her fourth run for office, though she's never been elected.
Her first run, in 2004, was for an open U.S. Senate seat against a little-known state senator in Illinois named Barack Obama. 
She later lost U.S. House races in 2006 against Republican Rep. Joe Knollenberg in the 9th District and in 2014 the Democratic primary to Bobby McKenzie in the 11th.
The longtime Birmingham resident, 53, recently moved back in with her parents in Bloomfield Hills after her father died in June. 
Skinner is perhaps best known as a syndicated radio show host on progressive radio, but she's also been a cable news commentator.
In the 1990s, she worked to rebuild Midwest towns affected by flooding using sustainable development and was recognized by President Bill Clinton's Council on Sustainable Development.
She says wind turbines could be installed in Michigan and potentially generate enough energy "to power the Midwest."
If elected, Skinner would push to shut down Enbridge's Line 5 pipeline under the Straits of Mackinac and make charging stations for electric vehicle available at a quarter of all gas stations.
Skinner says Congress doesn't need people who can write code, which Gupta describes as a missing skill.
"You need people that know the solutions for our biggest problems," climate change and poverty, Skinner said. "I'm going to be out there leading on these issues. I won't be quiet."
Jonathan Oosting contributed 
mburke@detroitnews.com