Deadly cold spell to end by weekend; 50 expected Monday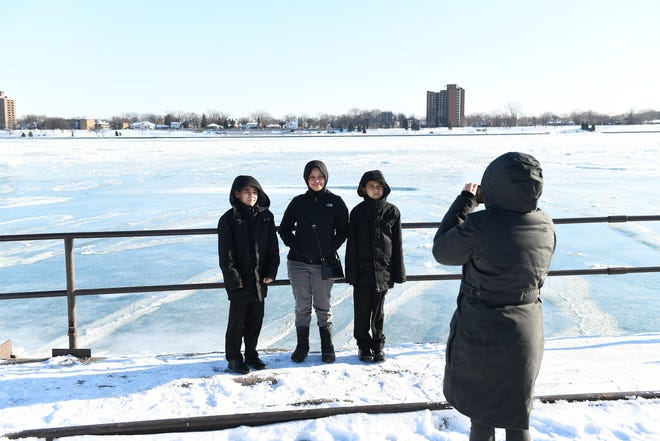 The icy grip of the vexing polar vortex in Michigan, which claimed lives, spawned days of record-shattering cold and calls for dialing down thermostats, is about to ease.
But instead of deep-diving temperatures, the rapid thaw following a warm-up could trigger a different set of problems.
The National Weather Service said the mercury is expected reach the teens on Friday, a nearly 30-degree jump from the minus 14 recorded Thursday, then soar into the 30s on Saturday, mid-40s on Sunday and warmer early next week.
Ruptured water mains, leaky pipes and gutters, more potholes, and road flooding and bridges are what could be in store with such a sudden temperature swing.
Two dozen busted water mains were being patched this week in Detroit, and that number grew to 44 on Thursday.
No repairs can be made until the temperature goes above zero, so the "crews continue to triage," until then, Detroit Water & Sewerage Department director and CEO Gary Brown said on Twitter.
But with temperatures expected to push 50 on Monday, motorists may have to deal with more. Patricia Mobley, deputy director and chief engineer for the Detroit water department, said the primary culprit is the contraction and expansion of the soil around the water mains.
"It's making the ground shift, which is making the pipes shift," she said. "They sag and they don't have the integrity as before."
Above ground, Midwest freeze-thaw cycles also mean potholes on streets, roads, freeways and bridges. They form when melting snow or rain gets into tiny cracks in the pavement and the base beneath it.
The water freezes when temperatures drop and expands before melting. Repeated cycles weaken pavement which eventually crumbles under the weight of passing vehicles.
"Maintenance supervisors across the state are taking inventory now of the most likely places for pavement breakups as the rain and thaw approaches," said Jeff Cranson, Michigan Transportation Department spokesman. "They are planning for filling and patching."
On Wednesday, AAA Michigan was getting swamped with calls. By Thursday, it was damage to vehicles due to motorists slamming into potholes that weren't there the day before.
"First there was snow. Then, record-setting low temperatures. Now, we have the warming coming," said Nancy Cain, spokeswoman for the Dearborn-based auto club.
The temperature fluctuation arrives as state officials work to end a natural gas emergency sparked by a blast Wednesday at a Consumers Energy plant in Macomb County. 
The utility's leader on Thursday renewed an appeal for customers to dial down thermostats in the record-breaking cold amid a gas system failure that's led to unprecedented worries for the 130-year-old company. Consumers later modified its request, moving up the timeline to dial down to midnight Thursday. Gov. Gretchen Whitmer called for regulators to probe the fire at the utility and create a new contingency plan. 
In response to the request from Consumers, General Motors Co. and Fiat Chrysler Automobiles temporarily stopped work at some plants during the morning. Ford curtailed some heat-intensive processes at one plant.
Even the White House weighed in on Michigan's woes. The National Security Council called on residents to "listen to your state and local authorities" about lowering their natural gas usage while Consumers worked to adjust to its curtailed ability to deliver natural gas.
Meanwhile, the state said people who heat their homes with wood can collect it in publicly managed forests through the weekend at with no permit.
The state typically requires $20 for a 90-day permit that's good between April and the end of December. But no permit is required through Sunday.
The rules for collecting wood can be found at www.Michigan.gov/fuelwood. The collection of wood is limited to within 200 feet of a state forest road. Live trees must be left alone, and no wood can be collected in state parks.
Ed Golder of the Department of Natural Resources said wood for fuel is most plentiful in the Upper Peninsula and the northern Lower Peninsula.
The Census Bureau reported 3 percent of Michigan households burn wood for heat, compared to 76 percent with natural gas.
Meteorologists called the week the coldest extended spell Metro Detroit has had since 1994, and mirrored another polar vortex that descended in early 2014.
Thursday's morning low of minus 14 broke a record of minus 7 set in 1920, the weather service said. The normal minimum for the date was 19.
The thermometer only reached 3 in the afternoon, nearly 30 degrees below average and setting a new record low high for Jan. 31. The previous mark was 7, also in 1920.
Wind chills near minus 20 were expected through early Friday in parts of the region. The weather service extended a wind chill advisory until the morning.
Three people have been  found dead outdoors amid the frigid temperatures. Police said Thursday a man's body was discovered a day earlier in East Lansing. They also said that foul play wasn't suspected, but an autopsy was planned.
More: Man found dead near his home outside in Detroit
Area hospitals reported they were treating patients with weather-related cases.
Beaumont Dearborn had an two to three cases of hypothermia and frostbite per day throughout the cold spell, while Royal Oak had four slip-and-falls, spokesman Mark Geary said. 
Henry Ford Hospital in Detroit on Thursday treated one man in his 60s with frostbite, and a woman in her 40s with hypothermia, spokeswoman Tammy Battaglia said.
"We also had five people come in who had experienced cold exposure yesterday, but they waited until today to get checked out. Each of the cases was minor, more of a 'frostnip,' our medical staff said," she wrote in an email.
Several slip-and-fall injuries were reported at the system's Wyandotte and Macomb facilities, Battaglia added.
The U.S. Postal Service had suspended services for days but said it would resume mail delivery, collections and pick-up services Friday throughout southeast Michigan.
The extreme cold also forced organizers to cancel a planned "sleep out" event Friday outside Roseville police headquarters to raise awareness of area homelessness.
Instead, Macomb Feeding the Need planned to open a temporary shelter at the Roseville Masonic Center, 27151 Gratiot, from 6 a.m. Thursday to 8 a.m. Friday.
Dozens of school districts and communities municipal offices were closed again Thursday due to the frigid temperatures.
Some districts also are scheduled to remain closed on Friday, including Detroit Public Schools Community District, Hamtramck Public Schools, Harper Woods Schools, River Rouge, Riverview, South Redford and Van Dyke. 
Officials for Detroit's QLine said Thursday they temporarily suspended the electric street car service due to the extreme cold weather.  
Also Thursday, air flight tracking website FlightAware reported 107 delays and 71 cancelled flights at Detroit Metro Airport.
Dave Fornell, deputy commissioner of the Detroit Fire Department, said weather conditions have made work tougher for the city's medics and firefighters — but there's also been a little less work to do. Calls for fires and medical runs were down slightly this week.
"You try not to get wet, which is hard," Fornell said. "You've got to deal with frostbite. When you come out of the firehouse, you're warm, the rig's warm and you pull up in front of the fire and the first thing you worry about is, is the hydrant going to work or is it going to be frozen?"
36th District Court will remain closed through Friday after a pipe burst Thursday and flooded the main floor. Walk-through metal detectors, other security devices and courtrooms were damaged.  
"The restoration company will work around the clock and through the weekend to ensure the building is safe and ready to open for business Monday," court Administrator Kelli Moore Owen said in a news release.
In-custody felony arraignments will be conducted at the Detroit Detention Center, 17601 Mound Road, at noon on Friday. All other cases scheduled for Friday will be rescheduled and notices to appear will be mailed by the court.
The cold streak brought calls for a state of emergency from the Governor's Office to rally resources statewide. Lt. Gov. Garlin Gilchrist II made an appearance Thursday at the Detroit Rescue Mission Ministries on Third Street, serving up chicken sandwiches and potato wedges to residents and visitors.
"These are the coldest wind chills we've seen really in a generation, since I've been alive, and it's important that the people who are stepping up and making sure that people who are really struggling in these conditions have everything they need," he said.
The Thursday stop was among several Gilchrist planned for Detroit and the suburbs. "We want to support the people who are helping so many," he said. "Thousands of people are needing more help than they otherwise normally would in these cold temperatures."
Detroit Rescue Mission President Chad Audi said he appreciated Gilchrist's interest in their efforts and hopes he will aid the organization and others in the fight for more resources.
"We're very happy for him to come down and to see exactly what's going on in the trenches," Audi said.
In recent days, they have had outreach teams working to trying to bring more people off the streets and out of the cold.
"One of the biggest challenges is getting folk to want to come in," he said. "They are so used to being by themselves or they are comfortable under the bridge or something like that."
Temperatures will climb steadily this weekend, reaching 50 on Monday and the 40s on Tuesday and Wednesday. The average high in early February is in the 30s.
The upcoming temperature swing in the Midwest was unusual, meteorologists said.
"I don't think there's ever been a case where we've seen (such a big) shift in temperatures," in the winter, said Jeff Masters, meteorology director of the Weather Underground firm. "Past record-cold waves have not dissipated this quickly."
The cold snap hasn't seemed to crimp the economy, experts said.
Mark Zandi, chief economist at Moody's Analytics, said one reason the severe cold weather will have less impact is that, unlike a hurricane, people did not lose electric power.
"People may be in their homes, but they can do things such as online shopping," Zandi said. "Life goes on. It is a disruption to daily life, but it is not a big hit to the economy." 
Extended forecast
Friday: Mostly cloudy with a high near 17 degrees and a low of about 11 degrees.
Saturday: Mostly cloudy with a high near 38 degrees and a low of about 34 degrees. A chance of rain at night.
Sunday: Mostly cloudy with a high near 46 degrees and a low of about 40 degrees.
Monday: Cloudy with a high near 50 degrees and a low of about 36 degrees. Rain is likely after 1 p.m. There's also a chance of rain at night before 1 a .m.

Tuesday: Partly sunny with a high near 42 and a low of about 31 degrees. There's a chance of rain and snow and both are likely at night.
Wednesday: Mostly cloudy with a high near 41 degrees. A chance of rain and snow.
Source: National Weather Service
The Associated Press contributed.