Three dead, eight hurt in Oxford High shooting; 15-year-old in custody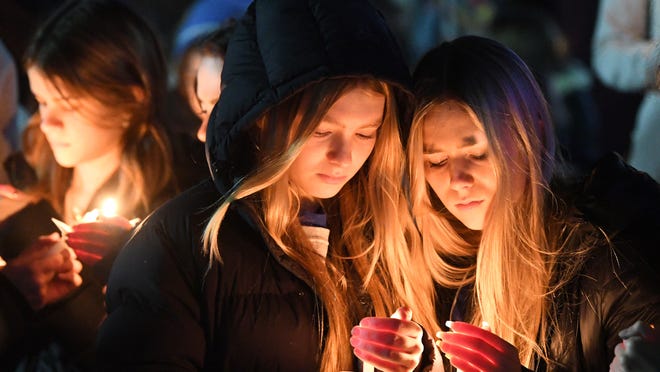 Oxford — A five-minute rampage left three students dead Tuesday and eight others wounded in an afternoon tragedy that made Oxford High School the latest site of a school shooting in America.
The suspected shooter, an unidentified 15-year-old sophomore, was in custody, Oakland County Undersheriff Mike McCabe said during a news conference. He was not injured. 
"Deputies confronted him, he had the weapon on him and deputies took him into custody," McCabe said, adding the weapon was a semi-automatic handgun. "The whole thing lasted five minutes."
More:Authorities swarm home of suspected Oxford High shooter
Late Tuesday, the sheriff's department said 14-year old Hana St. Juliana, 17-year old Madisyn Baldwin and 16-year old Tate Myre were killed Myre died in a patrol car as deputies attempted to rush him to a hospital, Oakland County Sheriff Michael Bouchard said. 
As of late Tuesday, a 14-year-old girl was in critical condition with gunshot wounds to her neck and chest.
"She's currently on a ventilator after surgery, so it's looking very tough for this young girl," said Bouchard, who struggled to maintain his composure.
A 14-year-old boy was also in critical condition with a gunshot wound to the head.
Other victims included a 14-year-old boy in serious condition with gunshot wounds to his jaw and head; a 17-year-old girl in stable condition with a gunshot wound to the neck; a 15-year-old boy in stable condition with a gunshot wound to his left leg; and a 17-year-old boy in stable conditon with a wound to his hip.
A female teacher, 47, was treated for a grazing gunshot wound to her left shoulder and then discharged, Bouchard said. The wounded are at three hospitals; McLaren Lapeer Region Community Medical Center, McLaren Oakland in Pontiac and St. Joseph Mercy Oakland in Pontiac. 
Oxford High is located north of the city of Oxford and about 45 miles north of Detroit.
More:Students describe Oxford High School shooting
A tearful Gov. Gretchen Whitmer joined McCabe for the late afternoon news conference, telling reporters: "This is every parent's worst nightmare."
"My heart goes out to the families. This is an unimaginable tragedy," she said. "I hope that we can all rise to the occasion and wrap our arms around the families."
About 15-20 shots were fired and about 100 calls were placed to 911, McCabe said. The shooter, he said, appears to have acted alone. The shootings happened in the south end of the school building which has about 1,800 students, he said. 
"We don't know if they (the students) were targeted," McCabe said. "We will get to the bottom of that when we get further into this investigation."
The undersheriff said the suspect was arrested by a deputy detailed to the site and one who arrived on the scene. As for how the suspect got the gun inside, McCabe said: "We know, but I'm not going to say that right now." 
Oakland County Sheriff Mike Bouchard said late Tuesday night that the suspect had a Sig Sauer 9 mm semi-automatic pistol with seven rounds in it when authorities took him into custody.
The sheriff said the boy's father purchased the weapon four days ago on Nov. 26, and police found two 15-round clips in the school and are looking for a third. 
Bouchard praised the hundreds of first responders who assisted.
"After other school shootings across the country, in some scenarios where deputies didn't go in, I made it very clear to our staff, if they get there first, they're going in. (Deputies) went in and searched out the threats. They went to the gunshots."
Earlier in the day, the suspect, after being detained, "invoked his right to not speak; he wants an attorney," McCabe said. The suspect is being housed at Children's Village in Pontiac. 
"We have to get permission from parents to interview a juvenile, and we did not get that," McCabe added. 
The family has hired an attorney, McCabe added, and authorities executed a search warrant at the teen's home. Authorities are still investigating the motive. 
Authorities swarmed a nearby neighborhood in Oxford and could be seen entering the family home of the suspect.
The Detroit News is not naming the alleged suspect because he is a juvenile who has not been charged. He has not been publicly identified by authorities.
In a 2017 article in the local newspaper, the boy appears as a bespectacled fifth-grader at an international baccalaureate school. At the time, he was part of a group of students working on a project about poverty and expressed sympathy for the homeless and hungry.
'Terrible, terrible, terrible loss'
Oxford Township Supervisor Jack Curtis, 68, told The News Tuesday that he sent four kids through Oxford High School. He's called Oxford home for 50 years and said the shootings are "a very large tragedy for this small town."
"I have dinner and drinks frequently with one of the grandmothers sitting in here, holding her daughter, because her 17-year-old daughter is lying on a concrete floor in a school with a bullet wound in her head," Curtis told The News, speaking by phone from township offices. "I watched my parents die. I watched my grandparents die. But to watch the mother of a child who was killed in a school shooting is totally ludicrous.
"As resilient as we are, this is a terrible, terrible, terrible loss of three lives."
After the shooting, the township supervisor said he's left to wonder what else could've been done, or could be done, to secure the school.
"We have a school liaison officer who works for the Oakland County Sheriff's Department. We have security guards in our school. And they are roaming the school; they're actively patrolling," Curtis said. "We lock doors. We have these things in place. Unfortunately, we couldn't be there in a matter of seconds."
The response after the shooting has been massive, he said. Deputies who were off-duty came in to help. There they joined police from all over Oakland County. 
"We've had people reaching out from as far as Washington — Joe Biden's office," Curtis said. 
School addressed unspecified 'rumors'
Earlier this month, the high school put out a notice to parents and guardians about unspecified "concerns and rumors." 
"Please know that we have reviewed every concern shared with us and investigated all information provided," according to the notice obtained by The News. "Student interpretations of social media posts and false information have exacerbated the overall concern. We want our parents and students to know there has been no threat to our building nor our students."
The administration's notice continued: "The safety and security of our students and staff is always our top priority. To accomplish this task, OHS has numerous highly-trained professionals who work to keep our building safe and secure. We have counselors and social workers who work with students on a daily basis. We also have two highly-trained security guards and an Oakland County Resource Officer on site who assist us as well."
McCabe noted Tuesday during a late afternoon news conference that the sheriff's office has a liaison assigned to the high school and "we are not aware of any warnings" that the shooting was going to occur. 
"I can tell you, if there were, we work very closely with Tim Throne, the superintendent, and the principal at the school. If there were, I believe they would have told us," he said. "There's all kinds of stuff on social media. Please don't believe everything you hear or see on social media.
"There's a lot of stuff out there," he added. "Ultimately, we will get to the bottom of this."
Whitmer, during an evening news briefing, said "it's too early to talk about policies that might need to change as a result of this."
"This is a uniquely American problem that we need to address," she said. "But at this juncture, I think we need to focus on the community, the families, supporting all the first responders, including the incredible people at our hospitals that are working so hard to save the lives of those who are fighting for their lives."
John Lyman, public information officer for several fire departments in the area, said "60 units" were dispatched to the scene. 
A mass of law enforcement covered roads with armed sheriff deputies, police vehicles, ambulances and emergency personnel. At one point, helicopters hovered above Lapeer and Ray roads near the high school. 
Students evacuated from the school were reunited with parents or relatives in the nearby parking lot of Meijer, 655 N. Lapeer Road.
Timothy Waters, a spokesman for the FBI's Detroit office, said federal law enforcement also was there in a support role. 
School a 'large crime scene'
McCabe said authorities did three sweeps of the school to ensure there weren't other victims or evidence, but "it's a fairly large crime scene."
"All the parents and relatives have been notified of the deceased and of everyone that was shot," he said. "A deputy has been assigned to each and every family."
Throne, the district superintendent, asked for prayers for students and families. 
"Of course, I'm shocked. It's devastating," he said during an afternoon briefing.
Late Tuesday, Oxford school officials announced all of its schools would be closed for the rest of the week. It has activated its crisis response team to support students, families and district staff including a crisis helpline through Common Ground at (800) 231-1127.
Fifteen years ago, police believe they may have thwarted a possible attempt to blow up Oxford High School in May 2006, when police interviewed 16-year-old Joel Thomas about a fire that had destroyed a school district maintenance garage.
When Oakland County deputies searched Thomas' home, they recovered 16 assembled bombs, shotgun shell bombs, blueprints of the school, a "napalm substance" and a flash drive that contained information and pictures of explosives. Thomas served a year in a juvenile detention facility and was required to get counseling.
Bill Keenist, a 34-year resident of Oxford and a former Oxford Community Schools board member, compared his emotions Tuesday to how he felt after the 9/11 terror attacks. 
"You're convinced it couldn't happen. You believe it won't happen. And then it did," said Keenist, 63. "When we were young, if there was a safer place than school, I don't know what it was. School and church."
The former school board member said he believes preparedness proved valuable and "I believe it probably did save lives."
"That does not distract from the fact that three young lives were lost," he said. "The teachers, the administrators. There's not a person in our community that'll be the same after today. That's not an overstatement. It's an absolute fact."
Marion Bokos Ginopolis, who served as superintendent of Oxford Community Schools for seven years from 1993-2000 and as a former superintendent in Lake Orion, called the tragedy "just heartbreaking."
"In 1993-2000, we didn't have the same escalation of shootings," Ginopolis said. "By 2010-2020, when I was in Lake Orion, it was a high priority. "You don't think it's going to happen, but you have to prepare for it. You can tell from the interviews with kids, they put in place such wonderful protocols, and the kids were following those. They took all the precautions. They bolted down the doors. When they could escape, they did. One of the protocols is, 'if you can get out, get out.'"
Ginopolis said she underwent training in Lake Orion after she left Oxford. Oxford did the same training; it became commonplace for school districts in Oakland County.
"We practiced. Most of the Oakland County schools at the time went through very specific training on how to respond to an active shooter," she said. 
Anyone with information can call the sheriff's dispatch center at (248) 858-4911.
jchambers@detroitnews.com
mmartindale@detroitnews.com
jdickson@detroitnews.com
Staff Writers Robert Snell and Neal Rubin contributed.