Iceland's WOW air to offer $99 flights from Detroit to Europe
Charles E. Ramirez
The Detroit News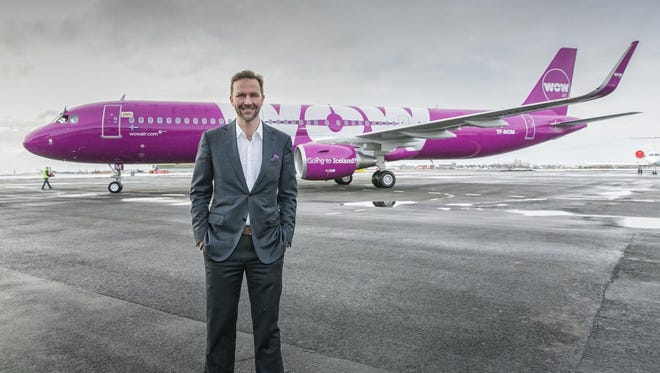 An Icelandic, low-cost airline plans to offer flights from Detroit to Europe and other destinations next year.
Reykjavik-based WOW air will begin offering service from Detroit in April 2018, officials said.
"WOW air is very excited to bring our flight services to Detroit," Skúli Mogensen, WOW air's CEO and founder, said in a statement. "We are proud to partner with Detroit Metropolitan Airport to provide the lowest fares possible over the Atlantic to Michigan travelers. Our goal is to help make international travel truly a possibility for everyone."
6 things to know before flying WOW air
Wayne County Airport Authority officials welcome the airline. The authority operates the Detroit Metropolitan Wayne County Airport in Romulus.
"Now our region's business and leisure travelers have more options when they fly to Europe," Joseph Nardone, the authority's CEO said in a statement.
County officials also praised the addition to Detroit Metro Airport.
"Adding another international route will only amplify the impact Detroit Metro Airport has on the regional economy; it's one of our most important assets," Wayne County Executive Warren C. Evans said. "This speaks to the value international airlines continue to see in Metro Detroit. The new service to Europe should help expose even more travelers to all our region has to offer."
WOW air's first flight from Detroit to the Keflavik International Airport in Iceland is scheduled from April 26, 2018. Tickets are on sale beginning Wednesday and are available at the airline's website.
It plans to offer service four days a week: Mondays, Tuesdays, Thursdays and Saturdays, said Erica Donerson, a spokeswoman for Detroit Metro Airport. 
One-way WOW air flights to Iceland start at $99, plus taxes. Fares from Detroit to other destinations, such as London, Paris, Amsterdam, Berlin, Frankfurt, Dublin and Copenhagen start at $149.
Founded in 2011, WOW air offers flights to 32 destinations across Europe and North America. Including Detroit, it will offer flights to 12 U.S. cities.
Detroit Metro Airport served more than 34 million passengers last year. Thirteen passenger airlines provide more than 1,100 daily flights to and from more than 140 non-stop destinations on four continents. 
cramirez@detroitnews.com