DEQ Flint criminal hearings loom after 18-month delay
Leonard N. Fleming
The Detroit News
Four state bureaucrats who were among the first charged in the Flint water investigation will get their day in court Monday after at least 18 months of waiting, while the months-long preliminary hearings for two high-ranking gubernatorial appointees may soon end.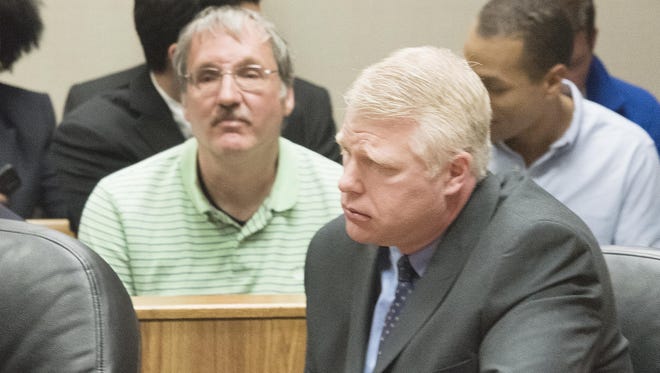 The preliminary exam hearing for Department of Environmental Quality water regulators Stephen Busch, Michael Prysby and Patrick Cook as well as Liane Shekter Smith, the fired former head of the DEQ division responsible for overseeing Flint's water source switch, will be heard by 67th District Judge Jennifer Manley in Flint. They will all appear at once, lawyers said.
The cases of the four state bureaucrats will focus in part on the lead contamination of Flint's water after the city switched from the Detroit area water system to the Flint River in April 2014. Busch and Prysby were charged in April 2016, while Smith and Cook were charged in July of that year.
Shekter Smith and Busch each had a charge of involuntary manslaughter added in June 2017. Attorney General Bill Schuette accused them and others of failing to alert the public about a 2014-15 outbreak of Legionnaires' disease in the Flint area that killed 12 people and sickened another 79 individuals.
At the time, Gov. Rick Snyder complained about the trial delays for the DEQ workers.
"They still have not had their day in court. That is not justice for Flint nor for those who have been charged," the Republican governor said in June.
The sentiment is shared by John Smietanka, one of the Grand Rapids-based lawyers representing Cook.
"I've been dealing with criminal cases for 40-something years, and I've never seen a delay like this," said Smietanka, a former U.S. attorney who ran twice unsuccessfully as a Republican for attorney general.
"For any client or for any victim, the longer things stretch out, the more there is stress involved and my client is no different," he said.
Cook, a water treatment engineer, is accused of misconduct in office, conspiracy to engage in misconduct in office and willful neglect of duty for allegedly manipulating a Lead and Copper Rule report on the levels of lead in Flint's water.
DEQ emails released by Snyder's office have shown that Cook dismissed concerns raised in April 2015 by EPA lead expert Miguel Del Toral about Flint's lack of corrosion control chemicals and proposed silencing Del Toral, who has since been hailed as a whistleblower.
Smietanka said "we are satisfied that we are prepared, and we think things will go well for our client."
Special prosecutor Todd Flood, who is working with a host of attorneys and former Detroit FBI Field Office Special Agent In Charge Andy Arena on the Flint cases, could not be reached for comment.
'No smoking gun'
Shekter Smith has been forced to wait for the first court hearing for "a long time," but she and her lawyer are more than ready to proceed, said Brian Morley, her Lansing-based attorney.
Shekter Smith, the former chief of DEQ's Office of Drinking Water and Municipal Assistance, also faces charges of misconduct in office and willful neglect of duty for allegedly ignoring mounting problems with river water between April 2014 and October 2015.
"The lawyer in me is eager, but I doubt any of the clients and defendants are," Morley said. "But it is about time to show the judicial system that at least as it relates to Liane Shekter Smith, that she did nothing criminal. ... I know that riles people up. There's no smoking gun with Liane."
Morley said it's been an "extremely emotional" time for Shekter Smith, who was fired in February 2016.
"It's difficult for her," he said. "She truly loved her job."
"While she doesn't relish the idea of being in a courtroom for the foreseeable future, this is finally time to show the court system that she has done nothing criminal. She did her job in accordance with the law, and that will come out in the end."
Schuette and Flood accuse Busch and Prysby of "willfully and knowingly misleading" regulators at the U.S. Environmental Protection Agency and Genesee County Health Department about the treatment of Flint's river water. The drinking water became contaminated with lead after it wasn't treated with corrosion-control chemicals, according to a gubernatorial task force.
Other cases loom
Attorneys for state Health and Human Services Director Nick Lyon and State Medical Executive Eden Wells said they hope their preliminary exam hearings — in which a judge will decide whether they will stand trial on involuntary manslaughter and misconduct in office charges — will end in the next month or so. Lyon returns to court Jan. 19 and Wells on Jan. 29.
Lyon and Wells are the highest-ranking officials who have been charged with involuntary manslaughter. The same charge also has been filed against former Flint Emergency Manager Darnell Earley and former Flint Water Department Manager Howard Croft.
Earley and former Flint Emergency Manager Gerald Ambrose won't have their first day in court until Feb.5 after a delay in December.
"We're disappointed that it's taken so long for whatever reason," said Chip Chamberlain, one of three attorneys for Lyon, who like Wells, remains in his job. "And we would like to press this forward as quickly as efficiently as possible."
Chamberlain said he participated in another case in which the preliminary exam lasted nearly two years. So predicting an exact finish for Flood's case is difficult, although the special prosecutor has indicated in court that both cases are winding down.
Lyon "remains committed to that goal" of proving his innocence "and take as much time as the court is willing to give the parties to resolve this," Chamberlain said.
Jerald Lax, one of two attorneys representing Wells, said his team, too, would like to wrap up the preliminary exam quickly.
"We would like for the case to be resolved as promptly as possible," he said. "The prosecutor is still presenting his witnesses, so to a significant degree he has some control over how much longer it's going to take."
lfleming@detroitnews.com
(313) 222-2620
Twitter: @leonardnfleming