Flint residents dismayed by dismissal of cases; activist calls it 'huge insult'
Flint residents expressed shock and outrage after criminal charges were dropped Thursday for eight defendants, as some said they feared public officials may never be held accountable for Flint's lead-contaminated water crisis.
Flint activists like Arthur Woodson, who attended nearly every preliminary hearing for each defendant in Flint's courthouse, said he's disappointed because the new prosecutors sprung the case dismissals on the public but haven't "kept us in the loop telling us what's going on."
"All of a sudden they just drop this on us, but they want us to be patient," Woodson said. "Being in the courtroom at almost hearing, I thought (special prosecutor) Todd Flood was doing a great job. And I told (then Attorney General candidate) Dana Nessel, if you get rid of Todd Flood, you're going to have to start all over again."
Attorney General Nessel's office said Thursday that it was dropping the charges as part of its reboot of the Flint investigation and that it reserved the right to refile charges later.
The move will give the department time "to conduct a full and complete investigation," said Solicitor General Fadwa Hammoud and Wayne County Prosecutor Kym Worthy, who is assisting in reviewing the Flint prosecutions.
Hammoud said she and Worthy have discovered new information and new persons of interest in the Flint water investigation. It recently said it discovered files of documents in the basement of a state building that may have never been reviewed.
The prosecution team also plans to examine additional criminal liability related to all victims of a 2014-15 Legionnaires' disease outbreak in the Flint region that killed at least 12 and sickened another 79 individuals. 
A June 28 town hall is planned where Hammoud and Worthy said they plan to address Flint residents about the case dismissals.
The decision seems like a complete restart and Flint residents are going to be furious, Woodson said.
"I want to give them the benefit of the doubt, but the people of the city of Flint have been through so much, my trust is like negative two," he said. "I'm hoping and praying that (Nessel) doesn't come with no foolishness 'cause I don't think the people in the city of Flint are going to be able to take it."
LeAnne Walters, the Flint mom who helped expose the crisis after discovering alarming lead levels in the water at her home, said she thinks the dismissals are a "huge insult" to local residents.
"This is just as big of an injustice as when we were poisoned," Walters said. "And until new charges are filed, that's how I'm going to feel."
Walters testified against accused environmental department officials at a preliminary hearing early last year, saying she felt rebuffed and not taken seriously when she tried to present state regulators with lead testing data from her home in 2015.
Walters expressed hope that state water regulators would not escape punishment.
"My hope is that the MDEQ people will be charged in a way they should have been in the first place, versus a slap on the wrist," she said Thursday. "But I'm not holding my breath."
The dismissals add to a sense that things are going "backward instead of forward" in Flint, Walters said, noting long-discussed changes to the federal Lead and Copper Rule have not yet happened and the state's 2018 decision to stop providing free bottled water.
"The people who let this happen — people who were paid to protect us but poisoned us — got charged, and now nobody's charged," she said.
The problem is the court moves have further eroded what already was a huge distrust of government, said State Rep. Sheldon Neeley, D-Flint.
"At this point, we're not talking in weeks or months but in years that have been lost, not in hundreds or thousands, but in millions of dollars that have been wasted," Neeley said in a statement.
"We've been told to wait, to be patient, that justice was coming, but where is that justice today? My city is losing faith in our government, and that distrust was justified today when it once again failed them so miserably. How many insults will the people of Flint have to suffer before our pain is taken seriously?"
But Flint Mayor Karen Weaver was more supportive of Hammoud's decision.
"I am happy to see that this case is being handled with the seriousness and dogged determination that it should have been handled with from the beginning," Weaver said in a statement.
"The residents of the City of Flint deserve justice, we deserve to have every single person involved investigated. There were millions of documents and a lot of devices that should have been turned over that would have aided in getting the justice that we seek."
"How can our community regain any trust and respect from all branches of government when all levels failed them, then you allow the people you are prosecuting to decide what evidence they want you to have?"
Nayyirah Shariff, a local activist and director of Flint Rising, told The Detroit News she was "blindsided" by the news. 
"Dana Nessel ran on this platform of justice for Flint residents," she said. "It took three years for us to get Nick Lyon bound over for trial, and it finally happened this (past) year, and now everything's been dropped. So it's going to be that much longer for justice to be achieved." 
Shariff said she is also frustrated that Hammoud and Worthy will not meet with Flint community members to discuss the move until June 28. After announcing that decision, they vowed to decline additional comment until that time.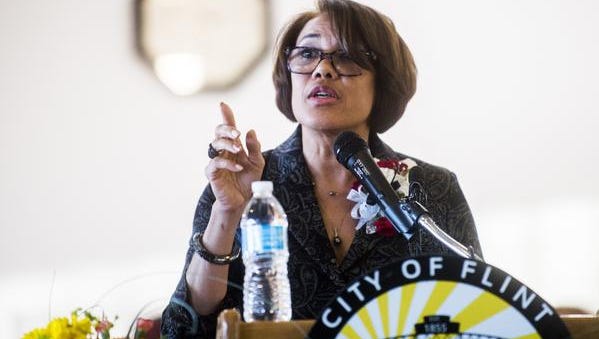 "That's 15 days of uncertainty, of anger, and that's going to fester in the minds of Flint residents — and fester in my own mind too," Shariff said.
Ultimately, Shariff said she hopes the extended investigation leads to criminal charges against more Snyder administration officials, potentially even the former governor himself. 
"But if that doesn't happen, that's going to be a hard pill for Flint resident to swallow, and probably peep around the state too," she said.
lfleming@detroitnews.com
joosting@detroitnews.com