Same sex marriage plaintiffs' stories of love, life
Mark Sherman, Claire Galofaro, Travis Loller, Dan Sewell and Ed White
The Associated Press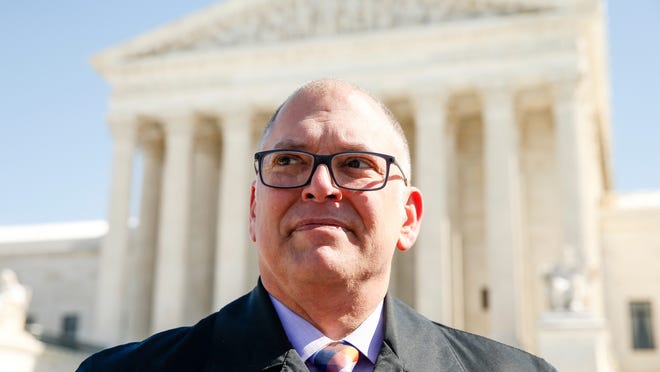 Washington — A middle-of-the night trip to the emergency room, with her 9-month-old son coughing and laboring to breathe, gave Pam Yorksmith her latest reminder of why she took up the fight for same-sex marriage.
Before baby Orion could be treated for croup, the hospital had to call his birth mother — Yorksmith's wife, Nicole — "to get permission to treat my child," Yorksmith said.
Although the Yorksmiths started their family together through artificial insemination, hospital records and Orion's birth certificate don't list Pam Yorksmith as a parent.
Beyond the right to wed, gay and lesbian Americans in the 13 states that continue to define marriage as the union of a man and a woman confront obstacles across the course of their lives, from adoption to hospital visits to death benefits.
The Yorksmiths live in Kentucky and work in Ohio, both states that ban same-sex marriage. They are among the 19 men and 12 women — including a couple from Michigan — whose same-sex marriage cases will be argued at the Supreme Court on April 28. Here are their profiles:
Rights for surviving spouse
Cincinnati — Jim Obergefell hadn't thought about becoming one of the most visible figures in the marriage-equality movement. He just wanted to marry the love of his life for 21 years.
Obergefell remembers watching the news on TV with John Arthur after the U.S. Supreme Court struck down part of the Defense of Marriage Act in 2013. "I just leaned over, hugged and kissed John, and said, 'Let's get married,'" he recalls.
It was complicated, both because he and John lived in Ohio, where voters banned same-sex marriage in 2004, and because Arthur was dying of Lou Gehrig's disease.
But within weeks, they were on a medically equipped plane to Maryland, where Arthur's aunt officiated at a ceremony carried out as he lay on a gurney inside the plane on the tarmac.
"That was our plan, just to get married," Obergefell said.
On their return home, friends told their story to veteran Cincinnati civil rights attorney Al Gerhardstein, and helped connect them. He explained that the death certificate in Ohio wouldn't list Obergefell as Arthur's surviving spouse.
"Hearing that was heartbreaking news," Obergefell said. "Purely the meanness of it. … The state where you lived and built a life together would completely disregard our legal marriage. How on earth does that harm the state of Ohio or the people of Ohio?"
The couple went to court and won a temporary injunction against enforcement of the state's ban a few days later.
Arthur died a little over three months after they were married. Obergefell was listed as spouse on his death certificate.
But his legal victory was overturned by a federal appeals court.
He's also run into problems with matters such as surviving spouse benefits. And there's uncertainty about his ability to be memorialized in a family plot that Arthur's grandparents set aside for married spouses and direct descendants.
Obergefell, now 48 and selling real estate in Cincinnati, was in the courtroom for the appeals court arguments last August. He plans to be at the Supreme Court on April 28 as the lead plaintiff in a case that could extend the right to same-sex marriage nationwide.
Before all of this, Obergefell hadn't been much involved in politics.
"No one could ever accuse us of being activists," he said, smiling. "We just lived our lives. We were just John and Jim."
Faith guides minister
Louisville, Kentucky — Maurice Blanchard says anti-gay sentiment was rampant where he grew up in South Carolina.
"I would have never imagined that little me and this case would go all the way to the Supreme Court and have an opportunity to ultimately bring same-sex marriage equality throughout all the Deep South and the rest of the states," Blanchard said.
He and his partner, Dominique James, have been outspoken activists for same-sex marriage in Kentucky for several years.
Blanchard, 37, a minister who graduates from the Louisville Presbyterian Theological Seminary next month, says his Christian faith has guided his activism. He also is a volunteer leader of an outreach ministry for gay, lesbian and transgender people at Louisville's Highland Baptist Church.
The couple was arrested in 2013 after their request for a marriage license was denied and they took part in a peaceful protest. Blanchard told police who were trying to disperse the group that he was "spirituality obligated to stay" and protest in the license office, even after it closed.
Blanchard and James spent more than seven hours in jail, charged with trespassing.
Blanchard says they hope to adopt a child someday and are working on ways to pay for the expensive process.
Added stress for dads
Louisville, Ky. — Like many dads, when his spouse is traveling out of town, Greg Bourke takes on the role of single parent, shuttling their two teenagers to basketball practice and other activities while working a full-time job. But Bourke has an extra worry when his husband, Michael DeLeon, is away.
Kentucky only considers DeLeon the children's parent, since the state doesn't recognize their 2004 Canadian marriage.
"I always have this fear of what happens if there's a medical emergency," said Bourke, who is legally a guardian of the two adopted children he's raised with DeLeon for the last 15 years. He's anxious over what might happen if he has to make medical decisions while DeLeon is away.
The couple has endured a lot of legal wrangling and attorney expenses just to "mimic a marital relationship," as Bourke puts it. If they win their Supreme Court case, their first move will be to seek the state's recognition of Bourke as a legal parent.
Despite the hardships, he said other factors have improved dramatically since they adopted their children.
A ruling last year that struck down a federal ban on gay marriage means they were able for the first time in three decades together to file a joint tax return, saving them about $2,900.
"All those years that we've been together and we've been paying that extra tax," he said.
Speaking up for dead
Cincinnati — A funeral home director has become a voice in court for gay and lesbian clients who can no longer speak for themselves.
Robert Grunn, a Cincinnati gay man who's been a licensed funeral director for more than two decades, joined cases now before the U.S. Supreme Court.
Among Robert Grunn's clients: the late John Arthur and his spouse Jim Obergefell, the lead plaintiff.
Grunn argues that Ohio funeral directors and coroners should be able to record same-sex marriages on death certificates.
"It's making people more equal," Grunn said in 2013 when he joined the case. "A time of death is very painful, and you don't want to have to exclude your loved ones on a certificate that's meaningful to your family history."
He included Arthur and Obergefell's marriage, performed in Maryland, on Arthur's death certificate under a court injunction that was later overturned.
Grunn said he plans to continue to record same-sex marriages on certificates.
The state tried to have Grunn excluded from the lawsuit, saying his own constitutional rights weren't affected by the same-sex marriage ban. But his attorneys argued successfully that he has valid reasons to be involved, including fear of prosecution for making a "false statement" on a death certificate and because the issue affects his professional relationships with clients.
'In shock and awe'
Detroit — April DeBoer and Jayne Rowse initially went to court to win the right to jointly adopt each other's children, not to confront Michigan's ban on gay marriage.
Three years later, the Hazel Park nurses sometimes can't buy groceries without supporters recognizing them and giving a hug.
"We're kind of in shock and awe of where we've gotten to," DeBoer said. "There are days we question: How did we get here? We've been stopped multiple times at our local shopping center with people just telling their story. These are people's lives that we've changed."
DeBoer, 44, and Rowse, 50, have four adopted children, ages 2 to 6, and a foster child. Each woman has adopted two kids, but they can't jointly adopt them because Michigan ties that to marriage.
They challenged the state's same-sex marriage prohibition at the suggestion of a judge who eventually struck down the voter-approved ban.
"We decided that not doing anything would do more harm to our children than standing up and saying we're going to fight," DeBoer said.
DeBoer is a part-time neonatal nurse and Rowse works full time as an emergency room nurse. They hope to adopt another child soon.
"These young children usually have medical needs," DeBoer said. "We have training. We have room. We have the love."
Adoption proved a struggle
Louisville, Kentucky. — On paper, Paul Campion's home seemed perfect for a foster child — and one of the students he worked with as a school counselor was begging to be taken in.
Campion's partner, a nurse, was the PTA president, and they had three adopted children already. But they were a gay couple in Kentucky. Years before, when they were starting their family, the state had declined to place a child in their home.
While a teacher in New York, Campion met his partner, Randy Johnson, in a Louisville nightclub in 1991. They now call it "divine intervention." Campion moved to Louisville and they exchanged rings in California in 2008.
After the state turned them down for adoption, they worked with a private agency and wound up with twin boys. A few years later, they adopted a girl.
When Campion's student asked them to take him in, the couple worked with the state, first as foster parents before being allowed to give him a permanent home.
"We've been blessed," said Johnson, "and we've been cautious."
They felt they had to protect their family more vigilantly than do most parents. They planned for worst-case scenarios. They kept the whole family's passports up to date and handy, just in case anybody ever came to take their kids. The twins are now 20, their other son 16, and their daughter 11.
They never considered moving to a more accepting state.
"We're upstanding, productive citizens. There's no reason for us to run from anything," Johnson said. "We want to make it easier for future families who want to create families like ours, in hope that they don't have the same struggles."
Lack of parental rights causes anxiety
Cincinnati — An impending birth prompted Brittani Henry and Brittni Rogers to get married. Worries about what the future holds pushed them to join legal cases now before the U.S. Supreme Court.
They've been together since 2008, and Henry was pregnant when they traveled to New York to be wed Jan. 17, 2014. Jayseon was born in Cincinnati that June.
The couple says the joys of marriage and their son's birth are clouded by anxiety about not having Rogers recognized as his parent, too. Ohio doesn't accept their marriage and allows only one of them on Jayseon's birth certificate.
"If something should happen to my wife such that she could no longer take care of our children, there is no guarantee that I will be granted custody," Rogers said in a statement for the lawsuit.
And if something happened to her, Rogers said, her own parents might not be given legal rights as grandparents.
Seeking closure after tragedy
Cincinnati — David Michener had planned on raising a family with two dads.
He and William Ives, a couple for 18 years, had adopted three children and were bringing them up in Cincinnati when they got married in Delaware in 2013.
Barely a month later, Michener was widowed. Ives died unexpectedly of a heart infection at age 54.
Michener quickly decided to join a lawsuit already filed in federal court in Cincinnati seeking a right for survivors in same-sex marriages to be recognized on death certificates in Ohio.
Michener said he wanted "to bring closure to the family in a manner that respected" their marriage. A federal judge granted his request.
Michener, 53, has since left his job as a systems analyst and moved the family to their vacation home in Delaware to become a stay-at-home father. He hopes to attend the Supreme Court arguments with their three children, now ages 15, 13 and 5.
The oldest, Anna, is following the case as a school project. Michener said she found historical parallels to the women's suffrage and civil rights struggles.
"As my daughter puts it, 'Daddy, you're being treated like the blacks and the women voters, because you have to fight for everything,'" he said.
Loving, if not legal, parents
Cincinnati — Kelly Noe and Kelly McCracken say they give their baby daughter a lot of love. They want the nation's highest court to give them more legal status.
The 32-year-olds have been a couple since 2009 and were married in 2011 in Massachusetts. Noe gave birth to Ruby 10 months ago.
"All we do is love Ruby to pieces, and as far as I'm concerned, that's all a child needs, is to be brought up with love," said McCracken. "So I think we're doing a pretty good job."
But they don't want Ruby as she grows up to face issues stemming from the lack of legal recognition of her parents' marriage. Neither Kentucky, the state where they live, nor neighboring Ohio, where both work, recognizes same-sex marriage, listing only one parent on birth certificates.
"We don't want Ruby to ... feel like her family is so different," said McCracken.
"I feel like she's going to be pretty strong," Noe said of Ruby. "She'll be able to deal with things good and bad when they come her way."
Birth certificate a problem
Cincinnati — Married and living in New York City, Joseph Vitale and Robert Talmas joined the legal battle over Ohio's same-sex marriage law because that's where their adopted son was born. Both fathers want to be listed on Cooper's birth certificate.
A couple since 1997, Vitale and Talmas married in New York in 2011. In 2013 they adopted a newborn, known in court documents as "Adopted Child Doe." They received a final adoption decree from a New York court on Jan. 17, 2014.
That order lists them both as parents. But Ohio wanted only one of their names on an amended birth certificate.
They later obtained a federal court order to have both listed, but the certificate notes that it is by court order.
Vitale said they are concerned that if the 6th U.S. Circuit Court of Appeals ruling last year upholding Ohio's same-sex marriage ban is allowed to stand, the state could amend Cooper's birth certificate to remove one of their names.
Facing obstacles to raising kids
Cincinnati — Raising two young children in states that don't recognize that their parents are married has confronted Nicole and Pam Yorksmith with a range of problems.
They live in Kentucky and work in neighboring Ohio, both states that ban same-sex marriage.
While they consider themselves co-parents of the children that Nicole, 35, delivered after artificial insemination, a lot of other institutions don't see them that way.
When 9-month-old Orion came down with croup in the middle of the night, Pam took him to the emergency room. But she wasn't listed on Orion's birth certificate or records.
"An hour later, they had to call Nicole," Pam said. "They have to call my wife to get permission to treat my child."
Orion recovered, but it was a troubling reminder that as much as they want to live as a normal family since their 2008 marriage in California, they face obstacles.
"I'm a very traditional person," said Nicole. "We knew very early on that we wanted to get married and have a family — let's get a house, let's get married, then let's have kids. And that's what we did."
Legally married at work, but not at home
Nashville, Tenn. — Thom Kostura and his husband take lots of road trips, and each time they cross a state line they make a game of declaring "We're married!" or "We're not married!" — depending on whether the state recognizes same-sex marriage.
"I wish we could register for gifts every time we cross a state line," Kostura cracks.
A similar situation occurs every time Sgt. 1st Class Ijpe deKoe leaves the Millington, Tennessee, base where he serves in the Army Reserve. On base, his marriage to Kostura is recognized. At home in Memphis, it isn't.
DeKoe and Kostura met as teenagers working as Boy Scout camp counselors. They dated briefly after camp and remained friends. They started dating again in 2011. Then "things got rushed very quickly," Kostura said.
DeKoe got short notice to deploy to Afghanistan that summer. In August, while he was on a three-day pass, the couple went to a courthouse in New York and tied the knot.
After his return, deKoe was stationed in Millington, where he manages training for two Civil Affairs companies and is completing a degree in international studies at the University of Memphis. Kostura expects to receive a master's degree this spring at the Memphis College of Art.
"We didn't have a choice as far as coming to Tennessee," deKoe said. They like Memphis, which Kostura calls "a great city to be an artist in," but don't like not having the same rights as other married couples.
Stark contrast between states
Nashville, Tennessee — When Valeria Tanco and Sophy Jesty began dating during post-graduate veterinary training at Cornell University, they faced more than the usual hurdles. Tanco is Argentinian, and after her residency, she wound up on Canada's west coast, while Jesty remained on the U.S. east coast.
The two wed legally in New York a year later, and got jobs at the University of Tennessee College of Veterinary Medicine in Knoxville. But Tennessee doesn't recognize gay marriages.
One fear was eased when, after the Supreme Court struck down part of the federal anti-gay marriage law, Tanco received a green card letting her stay in the United States as Jesty's spouse.
When Tanco became pregnant, the two worried about Jesty's parental rights. Before Tanco gave birth, a federal judge ordered the state to recognize their marriage. That recognition was overturned, but not before they became the first same-sex couple in Tennessee to have their names listed together on a birth certificate.
Long road since teen crush
Louisville, Kentucky — Every time Kim Franklin saw Tammy Boyd in their small town of Simpsonville, Kentucky, a Rod Stewart ballad streamed through her head: "Some guys have all the luck."
That crush on her high school classmate lasted two decades, as Franklin came out as gay in the 1990s while Boyd married and had three children.
When Boyd's marriage ended years later, the two ran into each other. There was flirting. In 2010 they finally married, at sunset on a Connecticut beach.
Two dozen strangers stopped to watch, then clapped and cheered but the couple's family and friends couldn't make the 800-mile trip. "That's why we want it here so bad, so we can celebrate with our family," Boyd said.
They bought a house in Kentucky on two acres, where they build bonfires and host their three children and four grandchildren. But everything seems harder than it should be — taxes, insurance, people who don't approve.
"We took up this fight because there's so many people coming up behind us that should not have to go through what we went through," Franklin said. "It's been a nice adventure for us. Love will win."
'Going about our lives'
Nashville, Tennessee — Johno Espejo and Matthew Mansell moved from the San Francisco Bay area to Franklin, Tennessee, in 2012 for Mansell's job as a conflicts analyst for an international law firm. Their neighbors were friendly, Mansell says, but the family couldn't go out in public without being stared at.
Mansell is white. Espejo is Filipino. Their two adopted children are Thai and African-American. Mansell's mother also lived with them.
They've since moved back to California and are living in Orange County.
The couple met at San Francisco's Embarcadero YMCA in 1995. They were married in 2008 at San Francisco City Hall. They already had adopted their children, a son now 8 and a daughter who's 6. Espejo is a stay-at-home father.
Their lawsuit will be part of history, Espejo said.
"It's kind of odd to think this ended up being in a case that our children may learn about in seventh and eighth grade," he said.
Together for 35 years
Louisville, Kentucky — Timothy Love's heart problem made him acutely aware of the barriers still standing against his three-decade relationship with Larry Ysunza.
"You realize the state has stepped in between you and the person you love," he said, "and is keeping them from making a decision in case you're incapacitated."
When Love fell ill in June 2013, Ysunza didn't have medical power of attorney to make decisions. He was able to get the documents signed that day, but it wouldn't have been an issue if they were legally married.
Love, 55, and Ysunza, 56, were joined in a civil union in Vermont in 2000. They could marry in other states. But Love said their home is Kentucky, and that's where they want to be joined legally.
He's hoping with a favorable ruling from the Supreme Court, he and Ysunza could marry this year at a church in Louisville.
The ceremony would be in October, 35 years after they became a couple.
Four decades in secret
Louisville, Kentucky — Luke Barlowe and Jimmy Meade never held hands in public. For more than 40 years, they lived together quietly, afraid to out themselves as a couple.
"We grew up in an era where you didn't show your affection for a same-sex person," Burke said. "We've never gotten over that."
They met in 1968 at the Gilded Cage gay bar in Lexington, Kentucky.
They moved in together in 1971 and kept their relationship a secret, telling people they were roommates or business partners.
But when Meade was diagnosed with non-Hodgkin's lymphoma and preparing for chemotherapy, they went together to the barber and got their heads shaved.
They invited no one when they got married in Iowa in 2009. Meade is 66 now and in remission; Barlowe is 73.
In 2013, they read about a legal fight against Kentucky for refusing to recognize same-sex marriages performed in other states. "I said, 'Jim, this is something we need to do,' " Barlowe said. "We wanted to do this not for us — it does nothing for us — but we wanted to do it for the kids coming up behind us."
Once they signed onto the lawsuit, they stepped out of the shadows. Barlowe said he tried twice to kill himself as a teenager because he felt that the world would never accept him. It breaks his heart that a half-century later, he routinely reads about kids facing the same plight.