House has leeway in weighing Courser, Gamrat ousters
Gary Heinlein
The Detroit News
Lansing — The precedent set by the ouster of a maverick Macomb County state senator almost 15 years ago could pave the way for the expulsion of state Reps. Todd Courser and Cindy Gamrat, according to a legal expert and senators involved in the removal.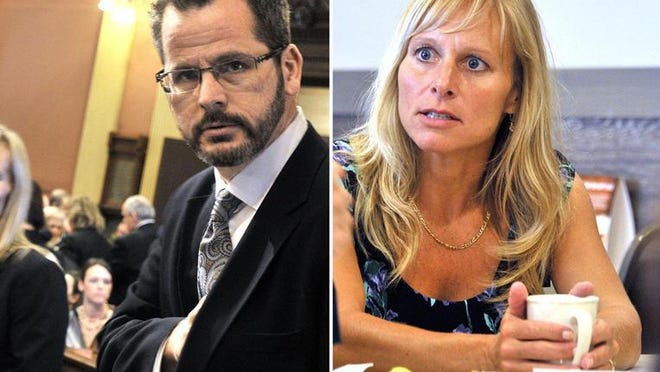 The Michigan Senate changed its unwritten definition of intolerable behavior when it voted to expel Washington Township Republican David Jaye on Memorial Day 2001. It is the only time the full Senate has ousted a member.
In the past, a felony conviction was the loose criterion for kicking a colleague out of the Legislature. In Jaye's case, fellow senators said they were acting on a history that included three arrests for driving under influence of alcohol, two domestic violence instances, alleged abusive treatment of Senate staffers and suggestive photos on his official laptop.
"It is simply unacceptable to tolerate a pattern of behavior that clearly brings dishonor on the Senate just because it doesn't include a felony conviction," then-Sen. Ken Sikkema, R-Wyoming, explained as he and 31 other senators voted to boot Jaye from the Legislature.
The 2001 vote could have implications now as the state House speaker is expected to release a report Monday outlining the scope of alleged public misconduct by tea party conservative Republicans Courser, of Lapeer, and Gamrat, of Plainwell. The House has expelled two members in the state's 178-year history.
A preliminary report from a wide-ranging investigation found evidence that the lawmakers, both married, misused taxpayer resources — perhaps as part of efforts to hide their relationship that were first reported by The Detroit News. But the initial report did not specify the misconduct.
Courser and Gamrat rejected calls for their resignation after an Aug. 7 Detroit News report on audio recordings showing Courser plotted the distribution of an email to fellow Republicans in late May claiming he had been caught having sex with a male prostitute behind a Lansing nightclub. An audio recording of a May 19 meeting between Courser and former aide Ben Graham revealed Courser wanted the email sent to create the appearance of a smear campaign against him and Gamrat should revelations of their Capitol relationship be revealed.
Graham refused to send the May 20 and 21 anonymous emails and Courser fired him on July 7. Gamrat fired her top aide, Keith Allard, the same day, without explanation. Allard and Graham have said they internally opposed the relationship between their bosses.
House Speaker Kevin Cotter, R-Mount Pleasant, has said he may assign a House committee to assess the report's findings after they are released Monday.
A likely distraction
Legislative history shows no two cases are alike, but any effort to remove Courser and Gamrat from office would likely become a time-consuming detour this fall from such pressing issues as road repair funding and a new state energy plan.
"It clearly is a distraction that takes a lot of time and attention," said Sikkema, who eventually became Senate majority leader during a 19-year legislative career. He is now a senior policy fellow for Lansing's Public Sector Consultants.
"The leader constantly is meeting with his legal counsel and making sure there aren't any missteps in process," he said of the task ahead for Cotter. "You're balancing a lot of things here and navigating a minefield."
Like Sikkema, then-Sen. Leon Stille, R-Spring Lake, didn't need a felony conviction to boot out Jaye. Stille introduced his resolution calling for Jaye's expulsion after hearing the lawmaker was arrested for striking his fiancee.
"I guess it was because it had reached such a crescendo, and I was of the opinion there at least should be a vehicle to (expel him)," said Stille, now a township supervisor. " ... It was just a case where enough was enough."
For six weeks, the Senate's attention was consumed by the investigation. By the time the ordeal ended in a 33-2 expulsion vote, Jaye's critics had been subjected to dirt-digging expeditions, accusations of political career-building and charges the Senate proceedings amounted to a "kangaroo court."
The process was guided by a state constitutional provision that says each legislative chamber "shall be the sole judge of the qualifications, elections and returns of its members, and may, with the concurrence of two-thirds of all the members elected thereto and serving therein, expel a member."
The Michigan Constitution's only other requirement is for lawmakers to spell out the reasons for their decision in the Journal of House or Senate — the official records of each chamber's daily proceedings.
Robert Sedler, a professor of law at Wayne State University, said the state Constitution clearly leaves it to lawmakers to decide when and why a member should be removed.
"There's nothing that limits the grounds (for removal)," said Sedler, who teaches constitutional law. "... The idea is that it has to be something pretty bad to get a two-thirds vote."
Two other elected representatives have been ousted in the state's history:
■ The House voted 84-20 in May 1978 to oust Rep. Monte Geralds, an attorney and Democratic representative from Madison Heights, who was convicted of embezzling $24,000 from a client in his law practice. Geralds' supporters contended his fate should be decided by constituents in the next election — not fellow lawmakers — because his crime didn't occur while he was in office.
■ Lawmakers expelled Rep. Milo H. Dakin of Saginaw County for seeking or accepting money from the mayor of Saginaw and others to "corruptly" use "among members of the House of Representatives ... to influence their votes" for a bill amending Saginaw's charter, according to the Michigan House Journal of April 28, 1887. The Journal says evidence included a list Dakin compiled of 15 committee members whose votes he hoped to win with amounts (entered next to their names) ranging from $5 to $25 — or $125 to $625 in today's money.
Ousters are tough
John Cherry, a 15-year state senator who presided over the Senate as lieutenant governor from 2003-11, was on hand for the departures of Jaye and Sen. Henry Stallings, a Detroit Democrat who resigned the day after a bipartisan Senate committee unanimously recommended his ouster. Stallings pleaded no contest to a reduced misdemeanor charge of obtaining money under false pretenses for having a state-paid Senate aide work in an art gallery he owned in Detroit.
"Both kind of refused to face up to what they did until the last minute, which was bothersome to other senators," said Cherry, who is from Clio. "When you serve with people, you're not as quick to judge as the public. If you're honest with them, you can get yourself some slack."
But Cherry said ousting a member always is tough.
"People are reluctant to police others' personal behavior," he said. "(Lawmakers) are more inclined to let constituents decide, either through a recall (election) or in the next general election."
Democratic Sen. Donald Koivisto of Ironwood raised the question of personal behavior versus lawbreaking as he cast the lone committee vote against Jaye's ouster and one of the two full-Senate votes opposing it.
While Jaye's behavior was deplorable, Koivisto is quoted by the Senate's journal as saying, "the next time there are proceedings to take place, I hope whoever's in charge will say we're going to wait until convictions take place so people like us don't have to sit there and try to digest whether or not criminal acts took place, whether or not there was hitting going on."
Former U.S. Rep. Joe Schwarz, a 15-year Republican state senator, witnessed the departures of Jaye and Stallings, among others.
Schwarz said he believes Cotter is handling the Courser-Gamrat situation properly.
"I believe that the speaker is not incorrect in saying that expulsion must be considered," he said.
Former lawmaker Stille, who has followed news of the House investigation, has advice for Courser and Gamrat.
"I don't know either of these people, (but) my opinion is they ought to hold their heads high and resign," he said. "That would be their smartest move."
Michigan's near ousters
In the modern era, at least three lawmakers have left on their own rather than face the completion of possible expulsion proceedings:
■On Feb. 25, 1998, Sen. Henry Stallings resigned the day after a bipartisan Senate committee unanimously recommended his ouster. Stallings pleaded no contest to a reduced misdemeanor charge of obtaining money under false pretenses for having a state-paid Senate aide staff an art gallery he owned in Detroit. News accounts indicate the Detroit Democrat told reporters the violation involved no more than $5,000.
■Democratic Sen. Joe Mack of Ironwood retired from a 30-year legislative career in July 1990 after forging an agreement with the attorney general to reimburse the state $6,200 over padded travel expenses. He didn't face trial and was allowed to keep his pension. The dispute was over payments he claimed for four trips to his Upper Peninsula district when he actually was in Florida on trips covered by a separate officeholder fund made up of private money.
■Democratic Sen. Basil Brown of Highland Park ended a colorful and influential 31-year legislative career by resigning in early December 1987 after he pleaded guilty to two drug-related charges involving a prostitute in Lansing. The Democratic lawmaker, who had been troubled by drugs and alcohol for years, said he was a victim of entrapment because the heroin-addicted prostitute called him repeatedly and was cooperating in an investigation launched by then-Attorney General Frank Kelley and Lansing police, according to newspaper accounts.