Dems plot comeback, talk Trump 'resistance' in Detroit
Jonathan Oosting and Christine Ferretti
The Detroit News
Detroit — Democrats have a unique chance to build on "the resistance" to President Donald Trump, candidates vying to lead the national party said Saturday in Detroit, outlining their comeback plans in the wake of a crushing 2016 election cycle.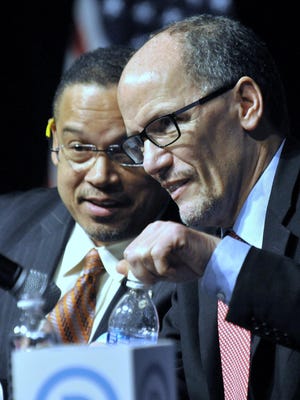 Democratic activists and officials gathered at Wayne State University to hear from 10 candidates fighting to be the next chair of the Democratic National Committee, including Detroit native and U.S. Rep. Keith Ellison, D-Minnesota.
Four months after Trump became the first Republican to win Michigan since 1988, Democrats pointed to massive marches for women's rights and protests over Trump's controversial immigration order as evidence of a surge in grassroots energy.
"We've got to recognize that not all of that needs to funnel through the Democratic Party," said South Bend Mayor Pete Buttigieg, arguing there is an organic quality to the protests that officials should support but not attempt to own.
"The Democratic party needs to figure out where we fit in the tapestry of the grassroots, not the other way around."
Ellison called for a renewed focus on good old-fashioned ground work, proposing a nationwide summer canvas and asking activists to help the DNC "knock every door in this country if we can."
He also stressed the importance of leading on labor and trade issues in the wake of an election that saw Trump make inroads with working-class voters.
"We start with the idea that the Democratic Party is the party that works for working people all the time and never lets up," said Ellison, a Wayne State graduate whose mother was in the audience.
Ellison is considered a front-runner for the DNC chair post, along with former U.S. Labor Secretary Tom Perez of Maryland, who proposed a similar boots-on-the-ground approach for the party.
"We start by organizing, organizing, organizing," he said, "recognizing that data analysis is important, but there's no substitute for house calls. If we had made more house calls in person in Michigan, Ohio and Pennsylvania, we would have won these elections. We ignored the basics."
The Detroit forum, the third of four similar outreach events planned before DNC members elect their next chair later this month in Atlanta, comes on the heels of a painful election cycle for Democrats, who lost the White House and remain outnumbered in Congress and a majority of state legislatures.
The event also featured several hopefuls for other party posts. It was the first DNC forums since Trump took office on Jan. 20.
"Fifteen days into it, and we have seen a frontal assault on our democracy," said Perez. "He should be vetting his own (cabinet) nominees half as much as refugees are vetted. We see this existential threat folks, it is here, and we need a leader who's going to take the fight to Donald Trump."
Democrats are not going to build momentum from "the resistence" with only platitudes and promises, said chair candidate Jehmu Greene, a former Democratic analyst for Fox News.
"We have become insular and out of touch," she said.
Regrouping from losses
Michigan was a particularly rough state for Democrats in 2016. In addition to Trump's win, Michigan Republicans maintained their majorities in Congress, the state House and won several education seats they had long coveted.
Former DNC Chairwoman Debbie Wasserman Schultz resigned from the post in late July after WikiLeaks published a series of emails suggesting DNC staffers had inappropriately aided eventual presidential nominee Hillary Clinton in her primary battle against U.S. Sen. Bernie Sanders of Vermont.
Wikileaks emails also showed Interim DNC Chair Donna Brazile, who was working as a CNN contributor at the time, gave Clinton a heads-up on a potential question from a Flint resident ahead of a primary debate against Sanders in the beleaguered city.
"We have to tell everybody the fiasco of last spring will not be repeated," said outsider chair candidate Peter Peckarsky of Wisconsin, who pledged to remain impartial in any party primaries.
"We lost of a lot of trust in this past election," said Jaime Harrison, chairman of the South Carolina Democratic Party. "This party has to go to where the people are instead of hoping that people will come to where we are."
Brazile is not seeking the permanent chair position but used the forum to push for robust voter access, channeling voting rights icon Fannie Lou Hamer.
"There's no place in our Democracy for long lines, no place for broken machines no place in denying people the right to vote simply because they don't have the right kind of identification," Brazile said.
While candidates stressed unity in Detroit, the DNC booted an 11th candidate from the program earlier this week. Vincent Tolliver, a former congressional candidate from Arkansas, had reportedly criticized the Muslim faith of Ellison, who was the first Muslim elected to Congress.
Ellison has worked to solidify support in the "progressive" wing of the party. Already backed by Sanders, he picked up another series of endorsements ahead of the Detroit forum, including support from 27 Michigan legislators and Teamsters President Jim Hoffa.
Perez, meanwhile, boasts a recent endorsement from former Vice President Joe Biden.
Ellison has a populist message that can unify Democrats and appeal to Trump voters the party has to win back in future elections, according to Michigan Democratic Party Chairman Brandon Dillon.
"He has been by far, at least in Michigan, the most aggressive in talking about and reaching out to folks about why this state is a critical one not just for the next president election, but very important for winning back power in the state capitol," Dillon told The Detroit News ahead of the forum.
Dillon is one of two voting DNC members from Michigan who have publicly endorsed Ellison, who is also backing Dillon's re-election bid at next weekend's state party convention at the Cobo Center. Dillon was among the guests at a reception Ellison held Friday night at the Westin Book Cadillac hotel.
Duggan renews refugee support
Detroit Mayor Mike Duggan helped open up the DNC forum Friday morning, reaffirming his push to make the city a welcoming place for refugees, noting 50 families from war-torn Syria have resettled on the city's west side.
Duggan reiterated his "unapologetic support" for former President Barack Obama's refugee program one week after Trump instituted a temporary travel ban for refugees and immigrants from seven Muslim-majority countries.
"When these families moved in, these people were not greeted with anger and protest. They were greeted with smiles and hugs," the mayor told a crowd gathered for the day-long program.
On Friday, a federal judge issued an order blocking President Donald Trump's ban on admitting travelers from seven predominantly Muslim countries or any refugees. In response, the White House vowed it would try to get a court to reinstate the ban. The predicament has prompted confusion Saturday among authorities and advocates over how to handle those who finally obtained visas to come to America.
Duggan in January of last year said Detroit was prepared to host refugees from Syria and other countries. The mayor said he was committed to welcoming 50 refugee families per year from Syria and elsewhere for three years.
Duggan told DNC attendees of Detroit's strides in recent years improving city parks and emergency response times, adding new city buses and expanding routes, and installing 65,000 LED streetlights. He also touted an unemployment rate that he said has been "cut in half" from about 20 percent four years ago to around 10 percent.
But Detroit's not "under any illusion about how far we have to go as a city," he said.
He stressed the importance of providing workforce development and improving the standard of living for residents.
"At the end of the day, our success as a Democratic Party is whether we're a party that makes sure those opportunities are there," he said, adding he hopes "we produce the next leadership for the DNC."
joosting@detroitnews.com