Aretha Franklin, a 'performer without peers'
Susan Whitall
Special to The Detroit News
Detroit and the world continue to mourn the death of Aretha Franklin, who will be remembered and celebrated as being one of the greatest singers of all time. 
She performed before the pope and presidents, and inspired millions with her soulful, indelible voice that stirred passion and emotion through songs of unrequited love and heartache. Her musical catalog spans more than 60 years in a range of genres, from gospel to blues and jazz, even opera. 
Her Grammy-winning song "Respect" was as much an anthem for women as it was a national battle cry for the modern civil rights movement.
Franklin, 76, died Thursday from advanced pancreatic cancer. 
"The world has lost an icon," said the Rev. Jim Holley, pastor of the Historic Little Rock Baptist Church in Detroit. "I also lost a friend. I've been with this family for 40 years. I've been with her through the death of her father, her sisters, her brother and now it's her. It's tough."
Former President Barack Obama, who asked Franklin to sing at his 2009 inauguration, tweeted: "Aretha helped define the American experience. In her voice, we could feel our history, all of it and in every shade — our power and our pain, our darkness and our light, our quest for redemption and our hard-won respect. May the Queen of Soul rest in eternal peace."
The legendary Queen of Soul died at her apartment at the Riverfront Towers in Detroit at 9:50 a.m. surrounded by family members and close friends, said Holley. Franklin died in the same luxury apartment complex where civil rights icon Rosa Parks died in 2005.
Longtime friends such as Motown great Stevie Wonder and the Rev. Jesse Jackson visited Franklin in her final days.
"In one of the darkest moments of our lives, we are not able to find the appropriate words to express the pain in our heart," her family said in a statement. "We have lost the matriarch and rock of our family. The love she had for her children, grandchildren, nieces, nephews and cousins knew no bounds."
More: Fans, officials say farewell to 'the voice of Detroit'
"We have been deeply touched by the incredible outpouring of love and support we have received from close friends, supporters and fans all around the world. Thank you for your compassion and prayers," the statement said. "We have felt your love for Aretha and it brings us comfort to know that her legacy will live on."
Bishop Charles H. Ellis III, senior pastor of Greater Grace Temple in Detroit, was among those at Franklin's bedside when she died. 
"Everybody got to share some special moments and reflection," he said.
Franklin's funeral, Ellis said, will be at Greater Grace Temple, but the family has not finalized the details. Swanson Funeral Home in Detroit is handling the arrangements.
Celebrities and other singers such as Cissy Houston, the mother of the late singer Whitney Houston, discussed the late singer's death.
"I have known Aretha for over 50 years, both professionally as her backup singer and then as a friend. We have shared heartbreak, loss, as well as exaltation and great laughter and most importantly our mutual love of God," said Houston in a press release from Newark, New Jersey. "Although my heart is broken, my soul rejoices that I was able to watch God move through Aretha's life. God bless you Re, I will always love you."
Beatles great Paul McCartney took a moment on Twitter to give thanks for "the beautiful life of Aretha Franklin, the Queen of our souls, who inspired us all for many many years." he tweeted. "She will be missed, but the memory of her greatness as a musician and a fine human being will live with us forever."
Country singer Wynonna Judd said Thursday she was "heartbroken" over Franklin's death.
"Meeting her was such a highlight," said Judd in a statement. "She is THE shero who changed my life. Her voice. Listening to her brings me closer to Heaven and I will love her forever. We have lost an American treasure. It's the end of an era."
Franklin's one-time bandleader H.B. Barnum said Franklin's passing is "a great loss not only to music but to humanity."
"Few will ever know how many she influenced to look at another person with Respect," Barnum wrote on his Facebook page Thursday. "She was a champion for her people, and she was a champion for all people to live, love, and work … she was truly one of the greatest voices in all recorded history, a great humanitarian, a real jokester, a great boss, and a great friend. Now she's recording with the Angels. Ain't that Amazin' Grace?"
Syndicated television Judge Greg Mathis, a Detroit native, said Thursday he found out about Franklin's illness about eight years ago, but Franklin didn't want to disclose it publicly.
"There was a lot of concern, and of course support and prayers for her," Mathis said. "Ultimately it went in remission for some years. As you know, only 5 percent or so go beyond a year. She was blessed with eight years."
Arnold Reed, one of Franklin's former attorneys, said he was honored when she chose him to legally represent her in a case involving misappropriation of her name and likeness. "Her death marks one of the greatest losses in musical history," Reed said. 
Locally, political leaders remembered Franklin as a Detroit-reared celebrity who never forgot her roots.
Detroit Mayor Mike Duggan, who gave Franklin the key to the city during the inaugural Detroit Music Weekend in 2017, praised her Thursday as a "true icon." 
"It's a sad day for us," Duggan said, standing in front of a colorful painting of Franklin hanging in his office reception area. "But we're going to celebrate all that she did." 
Congresswoman Debbie Dingell expressed sadness Thursday over losing a dear friend.
"Aretha's father was a true friend to John (Dingell), helping him in his first election and fighting Civil Rights battles together in the '50s and '60s," Dingell said in a statement. "Aretha was just a friend to me — there if I ever needed her."
Detroit's Music Hall Center for the Performing Arts announced Thursday the renaming of its Jazz Café as Aretha's Jazz Café. President and artistic director Vince Paul said he had many conversations with Franklin about the name change and said she supported it. 
"We want to continue honoring her," said Paul, who spearheaded efforts to name a stretch of Madison in front of Music Hall as Aretha Franklin Way in 2017. "It's a continuation of Aretha Franklin Way."
Ellis of Greater Grace Temple said Franklin held a deep love for Detroiters and her fans.
"I think Ms. Franklin would want Detroiters to know that she loved them and she loves y'all, even to the end," Ellis said.
The Queen of Soul's legacy
First known as "Lady Soul" during her Atlantic Records years in the early to mid-1960s, Franklin soon became the undisputed Queen of Soul after a string of hits beginning in 1967, starting with "I Never Loved A Man (The Way I Love You) and followed by "Respect," "Baby I Love You," "(You Make Me Feel Like) A Natural Woman' and "Chain of Fools."
Most artists of her caliber have five to 10 years when they manage to capture the public's attention, but over a 60-year career of live appearances and recordings, Franklin rarely had more than a year or so when she wasn't in top form.
Over her career, Franklin sold more than 75 million records worldwide.
She won 18 Grammy Awards, including a Grammy Lifetime Achievement nod, was the first female inducted into the Rock and Roll Hall of Fame in 1987 and was anointed the No. 1 singer of all time by Rolling Stone magazine in 2008.
President George W. Bush awarded her the Presidential Medal of Freedom in 2005, and her memorable, Mr. Song-designed gray wool felt hat with Swarovski rhinestones almost upstaged President Barack Obama at his own 2009 inauguration. It is now housed at the Smithsonian Institution. A second version is at the Rock Hall in Cleveland.
To commemorate her 25th anniversary in show business, then-Gov. Jim Blanchard and both houses of government declared May 23, 1985, Aretha Franklin Day and designated her voice a "natural resource."
Her biographer, David Ritz, said she was "one of the great forces in our musical culture, a woman whose songs spoke not only for her people, but her gender. … She praised God, man and woman with a voice that will never be forgotten."
Detroit Mayor Mike Duggan said Franklin was a "performer without peers." 
"Few people in the history of our city have been as universally loved or left as indelible a mark as Aretha. From the time her father gave Aretha her start in the New Bethel choir, it was clear to everyone how special she was," he said in a statement. "Throughout her extraordinary life and career, she earned the love - and yes, the respect - of millions of people, not just for herself and for women everywhere, but for the city she loved so dearly and called home."
Since 2010, when Franklin underwent an operation for an ailment she refused to disclose (sources reported it to be pancreatic cancer), her health had been up and down. She came back strong in 2011, drawing effusive reviews for her concerts.
But in June 2017, when she made her last local appearance at the inaugural Detroit Music Weekend, she gave a moving, celebratory concert, but her frail appearance made some fans gasp. It felt ominous when she told fans: "God bless you, God keep you. Keep me in your prayers."
Earlier, Franklin announced to WDIV-TV (Local 4) that 2017 would be her last year in concert and that she would be spending more time with her grandchildren. She said she hoped to complete an album, with sessions produced by Stevie Wonder, and she hadn't given up her dream of having a biopic done on her life, with Jennifer Hudson in the lead role.
However, in recent months there were increasing rumors that Franklin was fading, as she canceled concerts "on doctor's orders" in New Orleans and Newark, New Jersey.
Her last performance was in November at Elton John's AIDS Foundation gala in New York City, where she closed the event singing songs such as "I Say a Little Prayer" and "Freeway of Love." John proclaimed her "the greatest singer of all time."
"She meant so much to everyone. I feel like I lost an icon. I also lost a friend," said the . Jim Holley, pastor of the Historic Little Rock Baptist Church in Detroit. "I've been with this family for over 40 years. I've been with her through the death of her father, her sisters, her brother and now it's her. It's really tough."
Vocal gifts emerged early
Franklin's prodigious vocal gifts and interest in civil rights made for an interesting life during some of the country's most politically volatile times. Born in Memphis, Tennessee, on March 25, 1942, she was the third child of Barbara Siggers Franklin, a church pianist, and the Rev. C.L. Franklin, the fiery pastor of Detroit's New Bethel Baptist Church, a recording artist in his own right and a staunch civil rights supporter.
The couple's first child together was Erma (1938-2002), who became a singer; Cecil (1940-1989), a minister who managed Franklin for some time; and Carolyn (1944-1988), a background singer and gifted songwriter. Also part of the family was Barbara's son Vaughn (born in 1934) by a previous relationship.
C.L. Franklin moved the family to Detroit when he took over as pastor of New Bethel Baptist in 1944. Aretha was 3 years old. He recorded many of his sermons, such as "The Eagle Stirreth Her Nest" for JVB Records and, later, Motown. His fiery delivery combined preaching and singing, although many point to Barbara, a gifted gospel singer, as the source for much of Aretha's talent.
Her parents separated when Aretha was 6, and her mother moved to Buffalo, New York, with son Vaughn to be close to her parents. Aretha's paternal grandmother, Rachel, known to the family as "Big Mama," became her primary caregiver for a time.
Barbara Franklin returned often to visit her children, and they spent many summers with her in Buffalo before her death in 1952.
Aretha became a mother herself at a young age, first in 1954, giving birth to son Clarence at age 12, and then when she was 16 with son Edward.
More: Aretha Franklin's essential recordings 
More: Aretha Franklin's greatest live performances
Gospel, pop and rock
After some years performing and recording gospel music with her father in the '50s, Franklin was signed to Columbia Records in 1960, considered the crown jewel of classy American pop and jazz. It was at Atlantic Records, where she signed in 1966, that she changed the course of popular music with her gospel-infused recordings that included "I Never Loved a Man (The Way I Loved You)," "Respect" and "Chain of Fools."
Atlantic, specifically producer Jerry Wexler, used her stirring, gospel piano playing as a structure for the songs he recorded on her. For the first time, the spirit of her gospel performances was captured in her pop recordings of "Respect," "I Never Loved A Man (The Way I Loved You)" and "(You Make Me Feel Like) A Natural Woman."
Later, she caught the funky zeitgeist of the day-glo 1980s with a string of hits on Arista, including "Jump To It" (1982), "Get It Right" (1983), "Freeway of Love" (1985), "Who's Zooming Who" (1985) and "I Knew You Were Waiting" with George Michael (1987).
Even rock was not beyond her scope; she was adored by rock gods such as Keith Richards and the J. Geils Band's Peter Wolf, both of whom recorded music with her. " 'Retha cooked for me!" Richards said backstage, during the Rolling Stones' 1989 Steel Wheels tour. Whenever he saw this reporter, his greeting would be, "How's Aretha?"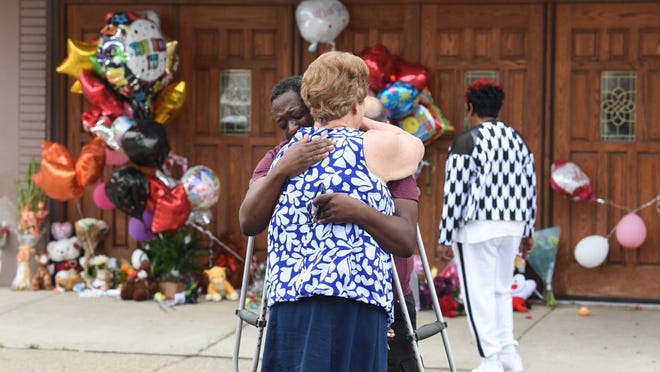 Franklin continued to record well into the 1990s and 2000s, scoring her last No. 1 hit with the Lauryn Hill-penned "A Rose Is Still A Rose" in 1998. Her last studio album, "Aretha Franklin Sings the Great Diva Classics," produced the cover of Adele's hit "Rolling In The Deep."
She never lost her ability to amaze. In October 2013, clad in white mink against the chill, she spent part of an afternoon singing and playing the piano in a Southfield hotel room, trying out songs for producers Kenny "Babyface" Edmonds and Don Was and a few reporters. She apologized for making us hear her "afternoon voice," which for anyone else, would be her Carnegie Hall voice.
Watching as she played and sang, Was whispered to a reporter, "This is the best day of my life."
In 2015, songwriter Carole King was being celebrated by the Kennedy Center Honors. When Franklin swept onstage to sing the King-Gerry Goffin song "(You Make Me Feel Like) A Natural Woman," King was so moved that she cried, threw up her hands and lost her composure in the most joyous way.
Obama didn't do much better, his famous steely reserve melting into tears as he watched Franklin perform on the piano.
Along with the accolades, her life held its share of turmoil. In 1969, her father came under fire after a radical group that rented his church for a meeting got into a shoot-out with police. Ten years later, the Rev. Franklin was shot by intruders who broke into the family home on LaSalle. He remained in a coma until his death in 1984.
Aretha was married twice; both marriages ended in divorce — first to Ted White (1961) and then actor Glynn Turman (1978). There was an abrupt announcement in 2012 that she was marrying longtime friend Willie Wilkerson, but she called it off several weeks later.
A longtime resident of Bloomfield Township, she is survived by four sons: Clarence Franklin, Edward Franklin, Teddy (White) Richards and Kecalf Cunningham; and four grandchildren.
Susan Whitall is an author and longtime contributor to The Detroit News. You can reach her at susanwhitall.com.
The Queen of Soul
Born: Aretha Louise Franklin on March 25, 1942, in Memphis, Tennessee
Parents: The late Rev. C.L. and Barbara Siggers Franklin
Children: Clarence Franklin, Edward Franklin, Teddy Richards and Kecalf Cunningham
Grammy Awards: 18 wins (44 nominations), including a Legend Award, a Lifetime Achievement Award and a MusiCares Person of the Year. First Grammys were received in 1967 for Best Rhythm & Blues Recording and Best Rhythm & Blues Solo Vocal Performance, Female, for "Respect."
Select list of honors: Presidential Medal of Freedom (2005); Kennedy Center Honor (1994); GMA Gospel Music Hall of Fame (2012); UK Hall of Fame (2005); National Medal of Arts and Humanities Award (1999); Rock and Roll Hall of Fame (1987); Star, Hollywood Walk of Fame (1979); Detroit News Michiganian of the Year Lifetime Achievement Award (2018); Detroit News Michiganian of the Year (2003).
Honorary degrees: Doctor of Arts — Harvard University (2014). Doctor of Music — Princeton University (2012), Case Western Reserve University (2011), Yale University (2010), Brown University (2009), Berklee College of Music (2006), New England Conservatory of Music (1995), University of Michigan (1987). Doctor of Humane Letters, Wayne State University (1990). Doctor of Law, Bethune-Cookman College (1975).
Interesting facts:
■ Recorded 42 studio and six live albums during her career.
■ 17 Top 10 hits, and 73 songs on Billboard's Hot 100, holding the record for the most entries of any female artist for nearly 40 years.
■ First woman inducted into the Rock and Roll Hall of Fame.
■ Detroit Mayor Jerome P. Cavanagh declared Feb. 16, 1968, "Aretha Franklin Day" at a concert at Cobo Hall. The Rev. Dr. Martin Luther King Jr. presented Franklin with an award from the Southern Christian Leadership Council.
■ Gov. Jim Blanchard and both houses of Michigan government declared May 23, 1985, Aretha Franklin Day, designating her voice a "natural resource."
■ City of Detroit renamed a portion of Madison Street, between Brush and Witherell, "Aretha Franklin Way" on June 8, 2017.
■ President-elect Barack Obama selected Franklin the only featured singer at his January 2009 inauguration.
■ Named an honorary member of Delta Sigma Theta Sorority in 1992.
■ Her distinctive gray felt cloche hat decorated with a large gray bow worn at Obama's 2009 inauguration is on display at the Smithsonian Institution in Washington.
■ An asteroid, "249516 Aretha," named after her in 2014.
■ Franklin sang before Pope Francis at the Festival of Families on Sept. 26, 2015, in Philadelphia.
■ Brought Obama to tears in December 2015 when she performed "(You Make Me Feel Like) A Natural Woman" at the Kennedy Center Honors ceremony in a salute to Carole King, who wrote the song with her late husband, Gerry Goffin.
More coverage: