Opinion: Detroit charter school successes will go unsung in debates
Kristiana Bolzman
The second round of Democratic debates are well under way in Michigan's Motor City. Among topics discussed by the 20 presidential candidates, you're unlikely to hear about something really wonderful — how the debate's host city is being revitalized by the same charter schools most of these candidates oppose.
Democratic campaigns have been marked by charter school criticism. Sen. Bernie Sanders of Vermont proposes obliterating charter schools run by for-profits and halting the growth of charter schools run by nonprofits, claiming they're led by unaccountable leaders who accomplish little more than slashing funding from traditional public schools.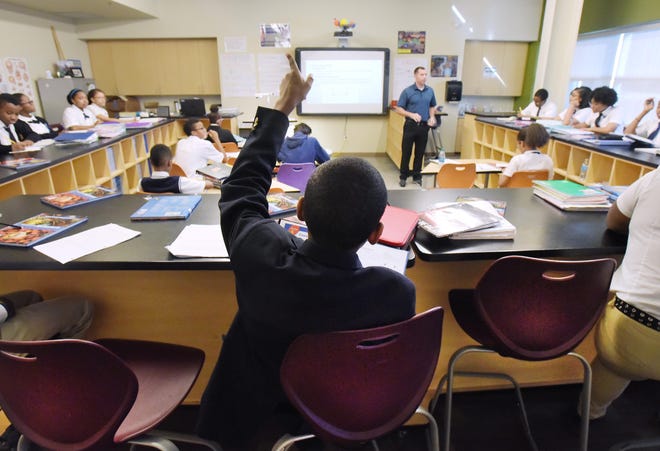 South Bend Mayor Pete Buttigieg says, "For-profit charter schools should not be part of our vision for the future."
Former Texas Congressman Beto O'Rourke — whose wife founded a charter school — now says they offer value but should be closely managed by government.
Sen. Cory Booker of New Jersey — who founded an organization to support charters and earned $100 million to expand charters — has also backed away from charter support.
Getting rid of charters would likely be a hard sell in Detroit, where charters have offered largely positive experiences for students and parents alike.
In many cases, students in charter schools are performing as well or better than their traditional public school counterparts. On Michigan's standardized M-STEP test in 2017, Detroit charter students outperformed district students in 15 out of 18 subjects, proving nearly twice as proficient in English language arts (23.2% versus 11.4%) and testing better in math (12.5% proficiency versus 7%).
In 2018, charter schools outscored all other local open enrollment schools — schools that don't have competitive entrance requirements — on the SAT. In the same year, charter schools nabbed eight of Detroit's top ten slots for college enrollment. All of the traditional public schools that made the list have selective standards for admission, improving their chances for student college acceptance.
In addition, parents prefer charters. According to the Alliance for Public Charter Schools, parents choose charters over district options for 53% of all Detroit students.
But don't count on the Democrats to bring up these figures. If they do mention the city's charters at all, they may frame charter successes as shortcomings, pointing out that even though Detroit charter schools largely outscored their district-school peers on the M-STEP, they still scored below the state's average on every test subject. Similarly, the top-SAT-scoring Detroit charter school earned an average score of only 918.3, far less than Michigan's average SAT score score of 1000.1 and the College Board's 1010 benchmark for college readiness. 
In context, these gloomy metrics grow rosier. Detroit remains the poorest major city in the nation, with a 34.5% general poverty rate and a 48% poverty rate for children. American Psychological Association analysis links such poverty to limited academic achievement, especially in reading competency. So it should be no surprise that the poorest major city in the nation is also the lowest-performing academically.
Despite bearing the brunt of the city's socioeconomic status, Detroit's charter school performance is good, serving 52% of the city's economically disadvantaged test-takers in the 2014-15 school year, while receiving significantly less funding than district schools.
In 2017, Detroit charters received a maximum of $7,631 per pupil while traditional public schools received $14,179.
When politicians stop comparing Detroit charter schools to wealthier schools with less challenging student demographics, we see that they are actually achieving far more success than their resources warrant.
Detroit charter schools are giving students greater opportunities and better learning outcomes, despite the disadvantages they face. 
As candidates call for fewer charter schools, they should remember their host city's charter school example and reconsider their stance.
Kristiana Bolzman is a Catalyst Policy fellow with the Independent Institute and a contributor for Young Voices.