Henning: Tigers like their catching options
Lynn Henning
The Detroit News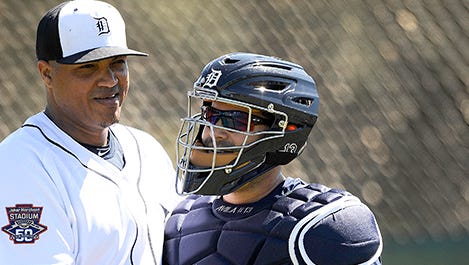 Lakeland, Fla. — Notes, thoughts, items that spilled from the first Grapefruit League game for the Tigers, a less-than-tense 15-2 victory over the Orioles at Marchant Stadium:
■Tigers have a comfortable catching arrangement taking shape in Florida.
Alex Avila has a new catcher's mask. It looks like a deep-sea diver's helmet. It looks as if he could attach to it an air hose and dive 300 feet into the ocean and prowl through shipwrecks.
It is supposed to protect him from a stream of concussions that have made life miserable for a 28-year-old man who is in his last season ahead of autumn's free agency.
In the meantime, the Tigers are preparing a potential replacement, rookie James McCann, who has the size and defense and possibly the bat to be an everyday catcher. Unless plans change, he'll be working alongside Avila as an alternate who probably will be used more than as a straight, right-handed platoon option.
McCann showed Tuesday why the Tigers like him, fundamentally, as a defender. He picked a runner off first base with a rivet of a throw he flung from his knees. McCann batted .295 with a .770 OPS in 109 games last year at Triple A Toledo, so it's clear why the Tigers are big on their top draft pick from 2011.
It raises the question about the perfectly capable backup, Bryan Holaday, who filled in nicely for the Tigers in 2014.
His value and status are gold for the Tigers. Holaday has a minor league option remaining and could always be stashed at Toledo as Avila's and McCann's health and performances are measured in Detroit. He looms also as trade bait, considering the number of teams that during a typical season tend to need catchers.
Behind those three are last year's early draft pick, Grayson Greiner, who is ticketed for a couple of seasons in the bushes but who also has skills that should move him into a big league job in Detroit or elsewhere.
Catching is the most difficult position piece to find in baseball. The Tigers could always use more and better players there, but so could every team. That they have legitimate choices to go with adequate depth is a big plus heading into 2015.
■Bench jobs are few. The Andrew Romine-Hernan Perez competition already is interesting.
Romine and Perez are underwhelming hitters who run well and who just happen to play shortstop among a variety of positions. That makes them contestants for the Tigers bench when manager Brad Ausmus needs a replacement part for Jose Iglesias as well as support at second base, third base and — ta-DAAA — the outfield.
Romine was working last September with an outfielder's glove during batting practice. He still has it and will be getting some work there this spring. So, too, will Perez, who played three innings in left field Tuesday.
A prevailing thought is the Tigers would prefer, because of his left-handed power, to take Tyler Collins as a fifth outfielder. They would then allow Romine and Perez to duke it out for that extra seat as an infielder and potential super-sub of the Don Kelly mold.
But there are problems with that scenario. Collins, who is 24, probably will benefit more from regular work at Toledo.
Another hang-up is minor league options. Romine and Perez have maxed-out theirs and can't be shuttled back to the minors unless they first clear waivers. And so, it's an easy call. You take Romine and Perez and don't waste valuable personnel by way of waivers, or, more likely, by virtue of a trade that might not gain anything constructive in return.
But what if Collins smacks a few Grapefruit League home runs and tempts Ausmus to take to Detroit that potentially handy left-handed bat, which was a percentage forecast coming into spring camp?
That, again, is why these March games mean something. Jobs are at stake. And it's a decent bet the Romine-Perez-Collins sweepstakes will be decided late, very late.
lynn.henning@detroitnews.com
twitter.com/Lynn_Henning