Henning: Pitching will dictate 2016 outcome, not Ausmus
Lynn Henning
The Detroit News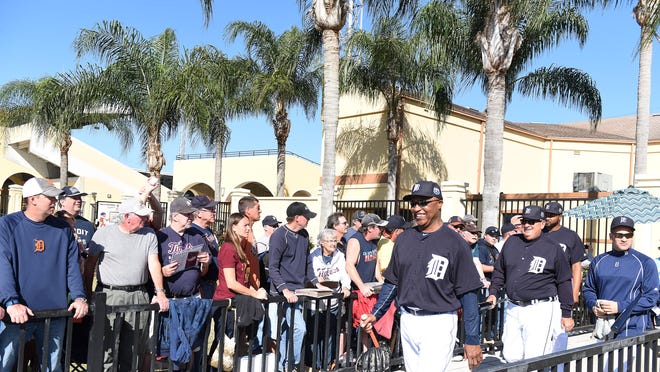 Lakeland, Fla. — No matter what happens with the Tigers this season, and a gut feeling is it will be better than some believe, fans will maintain their fixation on Brad Ausmus.
This is human nature, if not a baseball commandment. A manager or coach become focal points. It is that way in football (see: Jim Caldwell), basketball (see: a string of Pistons coaches and a good deal of melodrama during the past decade), or hockey (fascinations with Scotty Bowman and Mike Babcock; intrigue in Jeff Blashill).
Baseball differs in that the game has a way of inviting amateurs to assume a certain equality with big league skippers. Tigers Nation is loaded with folks who could manage as well, if not better, than a man beginning his third year with the Tigers.
Just ask them.
For now Ausmus remains the Tigers field boss, and that's probably as it should be. The Tigers didn't finish in last place in 2015 because of Ausmus. And if they resume their old playoff persona in 2016, it will have little to do with the skipper.
It will be, fundamentally, because Detroit's pitching improved. Arms dictate games more than any other team element, which is where Ausmus got into the soup in 2015 as a Tigers team with the No. 27 pitching in baseball nearly got him fired.
Manager more assured
It has been tempting this week at spring camp to put a microscope on Ausmus for signs that anything has changed in Year 3.
The conclusion, after watching him for all of three days at Marchant Stadium's complex, is: Yes, he has grown, in extremely subtle ways. There is more assuredness. There is a striking lack of self-consciousness, which comes in any position of authority three years into the job.
This will become clearer when the full team reports next week, but it is likely this year's ship will be a bit tighter. Ausmus got a critique sheet last summer from his new boss, Al Avila, which came with the general manager granting him a go-ahead to shepherd the Tigers in 2016.
Details never have been revealed, but more disciplined baserunning no doubt was on the list. This is but one example of performance a manager must and can influence, even if Ausmus is socked with a handful of Clydesdales in the lineup.
But if the Tigers resume their old division-challenging ways, pitching, hitting, and above all health, will explain to a deciding degree whether there's a rebound at Comerica Park in 2016.
It will not, contrary to a romantic theme popular in the Tigers galaxy, be based on Ausmus' ability to "inspire" his team. In the same manner it won't have anything to do with that other fan favorite, "chemistry," or with "clubhouse leaders" who invariably lead best when they're throwing unhittable strikes or driving in runs.
Nor will it, for a solitary moment, matter to players that Ausmus hasn't yet been renewed beyond 2016. This is a common refrain among Comerica Park customers but has little connection with reality. When it comes to contracts, players are worried about one contract, only: theirs.
It's on the players
Ausmus understands all of this, of course — knowing what matters and what doesn't. Any manager does. It is why men who have won a World Series (Sparky Anderson and Jim Leyland, to name two) also lost 100 games or more in a season. It wasn't because they "pulled the right levers" — a dollar for every time you hear that in 2016 – those championships or playoff seasons came about. It was all about talent levels.
Ausmus sat in his office at Marchant Stadium, flushed from the year's first official workout, a session with pitchers and catchers on a warm, sunny Friday in central Florida.
Predictably, he was asked what the skipper might say to his team as a thematic address when he greets the entire gang next week.
"These guys understand it was not a fun year," he said of last season, when a team coming off four consecutive division trophies careened to a 74-87 record. "If we have to explain that, something's wrong."
In fact, he will explain it. He'll remind them of last season's tumble. He'll talk about commitment to detail. He likely will mention that Mike Ilitch has granted his team a $200 million-plus payroll in 2016, with every available asset an owner could reasonably provide.
Then, the next six weeks, Ausmus and a coaching staff will prepare Avila's roster for the regular season. After that, it's on the players.
Don't expect fans to always see it that way. The temptation to stare at Ausmus, especially after a defeat, will be irresistible. This is baseball, after all. Everyone's a manager, even if only one gets paid.
lynn.henning@detroitnews.com
twitter.com/Lynn_Henning