Family and friends band together as volunteer red kettle bell ringers
The Salvation Army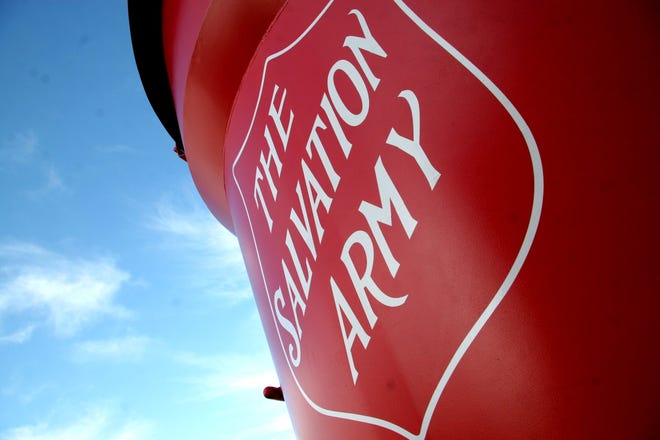 Ah, the holiday season: Full of family, friends, fun and the sights and sounds of The Salvation Army red kettles. The ringing bells have resonated with children and adults in metro Detroit for generations.
Scott Wolffis, the business banking national sales manager at Fifth Third Bank, is one of the people who loves the arrival of red kettles across the area every year. Recently he has been on a mission to share his holiday spirit with others.
Wolffis has served on The Salvation Army's Advisory Board for more than 10 years, during that time serving on numerous other campaigns and committees that enhance the nonprofit's service to the community. His passion for helping others has driven him to round up family and friends to join him in supporting The Salvation Army's annual red kettle campaign.
Last year, Wolffis' pack of people, namely his wife Niki and four children – Aaron, Andy, Alex and Amanda – manned a kettle at the Kroger on 25 Mile Road and Dequindre in Shelby Township. They were there with friends and family every Monday through Saturday from 5 p.m. to 7 p.m. from November through Christmas Eve. By manning the kettle consistently those few hours each week, Wolffis and Company netted The Salvation Army an additional 60% in donations over the previous year for that kettle location.
"I always have The Salvation Army at top of mind, and while shopping I noticed that on several occasions, the bell ringing stand was empty during prime shopping hours," said Wolffis. "I have two goals: One, to introduce more people to The Salvation Army, and two, to take this success and continue to build upon it, so it spreads to other areas across metro Detroit."
Now, in the early part of the campaign, it looks like Wolffis is poised to exceed those goals. This year, he's once again getting his family and friends together to "adopt" the same kettle location for the same two hours each Monday throughout the season.
And the goodwill has expanded to a second Kroger location at 26 Mile Road and Van Dyke in Shelby Township where about 300 National Honor Society students from Eisenhower High School are volunteering for consistent two-hour shifts.
"My neighbor, Morgan McCloud, is the student president of the National Honor Society at Eisenhower," said Wolffis. "After volunteering at our kettle last year, she approached me about 'adopting' another kettle this year."
"The after-school hours are a perfect timeframe," he said, "making it easier for families to get together and ring at the red kettles. That's also generally when the stores see more foot traffic, which gives more people the chance to donate."
Eisenhower's NHS academic adviser Shane Smith is very proud of his students.
"The kids are really excited about this opportunity to volunteer with The Salvation Army," said Smith, who is also an AP history teacher at the school. "When Morgan came to me with the idea, we talked about it with other school officials, and they got on board right away."
Wolffis admits recruiting his kids and their friends initially wasn't easy, but they soon came around.
"Our kids have a good life, and as parents we want them to understand the importance of giving back," said Wolffis. "The Salvation Army is all about people helping people, whether it's someone you know or someone who might be a complete stranger."
Wolffis and his family can't wait to see what this season holds. "Getting the students at Eisenhower to volunteer is just the beginning of this. We're really excited to see this initiative take off!"
Funds collected in the red kettles stay in the community they are raised to support programs and services for families and individuals throughout metro Detroit, including more than 2.5 million meals and more than 622,000 nights of shelter each year. The Salvation Army provides more than meals and shelter year-round. Red kettle donations ensure it can offer after-school programs, emergency disaster services, substance abuse treatment, free legal aid and other vital services.
"I have been talking with our family and friends, and we are all excited about adopting our kettle once again this season," Wolffis said. "I hope that our efforts will inspire other families to get involved as well."
Individuals and groups interested in donating their time as volunteer bell ringers can visit ringbell.org. The site allows volunteers to choose the location, date(s) and shift(s) that work best for their schedule. Supporters can also help metro Detroiters in need with a tax-deductible contribution at www.salmich.org.
More from Salvation Army