Avila: Ausmus returning to manage Tigers in 2016
Lynn Henning
The Detroit News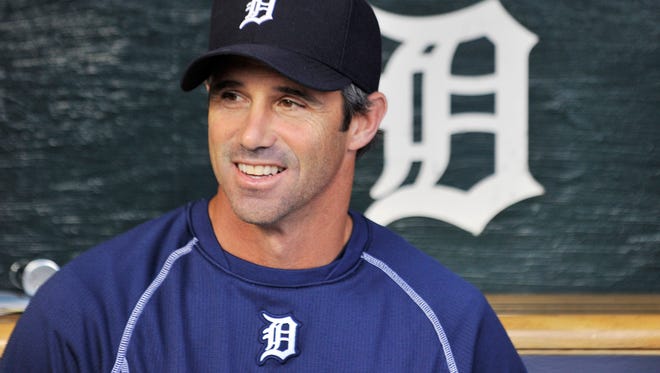 A season filled with surprises and extremes for the last-place Tigers continued Saturday with a stunning personnel decision when general manager Al Avila announced that Brad Ausmus will return as Tigers skipper in 2016.
"I know about the criticisms, but I believe Brad has the talent to mentor young players," Avila said during a dugout press conference hours before the Tigers and Twins were to meet Saturday night at Comerica Park.
"Mr. Ilitch (Tigers owner Mike Ilitch) put me in this position and basically allowed me to make this decision.
"I had to weight a lot of things — positives and negatives."
Ausmus, 46, was considered, at best, a longshot to retain his job for 2016, the final year of a three-year contract he signed in November of 2013. It was anticipated that owner Mike Ilitch, who fired front-office chief Dave Dombrowski in July, would continue a re-crafting of his 2016 club by firing Ausmus.
But Avila was known to be leaning toward no change, and with license from Ilitch to make his own choice, Avila chose to go forward with his current man and, significantly, with Ausmus' entire staff, which also is returning, Avila said.
A former catcher during two earlier stints with the Tigers during his 18-year big-league career, Ausmus was told of the decision during a Friday morning phone conversation with Avila, who had earlier notified Ilitch.
Ilitch responded affirmatively, Avila said.
"God bless you," Avila quoted Ilitch as saying. "Move forward."
Ausmus said, "I don't know if I'd have been surprised either way," when asked how he was struck by Avila's news.
"I'm happy to be back," said Ausmus, whose rookie year as manager, in 2014, saw the Tigers win their fourth consecutive American League Central Division title.
"I'm disappointed," he said of this season's fade, "but we've got a core group back and I think there's a quick chance for a turnaround."
Saturday's announcement was intriguing, not only for the surprise dropped when expectations pointed to an Ausmus firing, but for the sequence of events that preceded Avila's announcement.
Ausmus spoke before Friday night's game against the Twins as if his future was anything but decided, and anything but reassuring.
"There's an expectation to win," he said, hours after receiving good news from Avila, but reluctant to offer even the slightest hint he was returning. "We didn't win. I'm the one person you really can point a finger at, so point it at me."
Ausmus explained Saturday that Avila's decision needed to come from Avila.
"I just continued to do my job," said Ausmus, whose team entered Saturday with a 72-81 record, eight days before the team's 2015 season ends at Texas.
Ausmus said he was "a little bit relieved and excited" when Avila told him Friday that he would stick as manager.
"I knew it was hanging over my head," Ausmus said.
Avila was adamant Saturday that the Tigers' ills in 2015 had nothing, in his or the front office's view, to do with Detroit's manager.
The Tigers GM spoke of early injuries, which included long layoffs for Justin Verlander, Victor Martinez, and to then-essential relievers Bruce Rondon and Joe Nathan. Later in the season, superhero hitter Miguel Cabrera was lost for six weeks, as was Tigers starter Anibal Sanchez.
"This team has not given up and has played hard," said Avila, who also believes criticism of Tigers baserunning (last in all of baseball in a key metric tracked by FanGraphs.com) and effort has been off-base.
"I think criticism has been piling on without any merit," Avila said. "He's had to get personally involved in teaching these guys, and he has.
"I know what he does. He takes a personal approach. That's what I see, and it's my job to know.
"There have been mistakes," Avila said of his team's overall play and energy, "but some of those mistakes happen when you have injuries and young players."
Avila said he was reluctant to make Saturday's announcement earlier, even in the wake of firm reports that stated Ausmus would be fired. The reason, Avila explained, was because a full appraisal of Ausmus needed to be comprehensive. No such report card could in good conscience be issued, Avila said, until the regular season drew closer to completion.
The Tigers GM has been on the job since Dave Dombrowski was fired on Aug. 4. His theme during Saturday's dugout press briefing was firm and sustained: Ausmus and his staff have been diligent and are not accountable for 2015's problems and the first non-playoff year for the Tigers since 2010.
The Tigers have the 28th-worst pitching among 30 big-league clubs, as measured by WHIP (walks plus hits per inning). They are 27th in ERA. Their bullpen has been even worse in 2015, while their starting rotation, once the foundation for a run of playoff seasons, has been gutted by the disabled list and by July's trades that cost the team staff ace David Price. Tigers closer Joakim Soria was also traded at the July deadline.
"In some cases we've got Triple A pitchers who are not having good years because they should be pitching at Toledo," he said, a reference to Detroit's uncommon run of injuries and personnel exits.
"I know that we work on every aspect of the game. I've been observing Brad for two years, and at the beginning he was a rookie manager who made some mistakes.
"But in terms of preparation, Brad's (personally) involved with each player. He's not teaching from a distance.
"You look at the pitchers we've acquired (Daniel Norris, Matt Boyd, etc., from July deadline trades) and they've actually improved.
"You go out and observe," Avila said of his evaluating process and what it told him about Ausmus and his coaching staff. "You look at how they go about their business, day in and day out. And you see dedication and effort."
Avila's thumbs-up means Ausmus' entire staff, at least for now, will return: Gene Lamont (bench coach), Jeff Jones (pitching coach), Wally Joyner (hitting coach), Dave Clark (third base), Omar Vizquez (first base), Mick Billmeyer (bullpen), David Newhan (assistant hitting coach), and Matt Martin (defensive coordinator).
lynn.henning@detroitnews.com
twitter.com/Lynn_Henning