Kerryon Johnson 'amazing' in ending Lions' 100-yard drought
Rod Beard
The Detroit News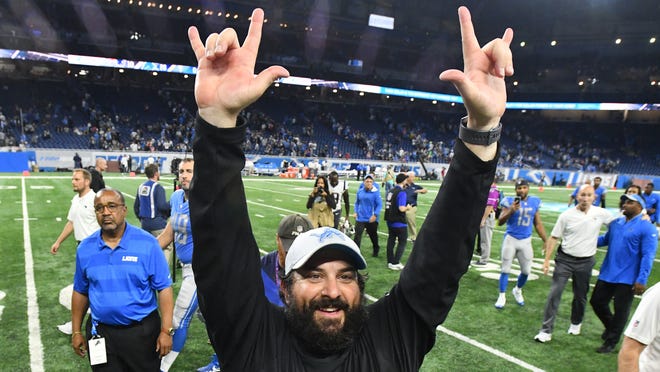 Detroit — Before the statistics even flashed on the Ford Field scoreboard, the fans let out a loud roar.
For those who weren't aware, the statistics later provided the confirmation.
Kerryon Johnson: 16 carries, 101 yards.
Just like that, the miserable streak was over. The Lions had gone an NFL-record 70 games without a 100-yard rusher. The last Lions 100-yard rusher was Reggie Bush, who gained 117 yards and a touchdown on 20 carries in a 40-10 victory over the Packers on Thanksgiving Day in 2013.
Streak over.
Johnson, the Lions' first-round pick from Auburn, needed just three games to break the century mark, helping the Lions notch a shocking 26-10 victory over the New England Patriots on Sunday night.
More:Quick reads: Kerryon Johnson revs up Lions run game
More:Report: Lions made big push to trade for Patriots TE Rob Gronkowski
More:Lions without Ziggy Ansah again; Kerry Hyder a healthy scratch
It wasn't a cheap streak-buster, either, as Johnson's longest run was 15 yards, but he managed 6.3 yards per carry, gashing the Patriots' defense on several plays, helping the Lions to 14 first downs before the Patriots even notched one.
The Lions' offensive line paved the way for Johnson and LeGarrette Blount, who added 48 yards on 16 carries.
"My job became very easy on 12 of those runs. I had a hole and all I had to do was run through it and protect the ball," Johnson said. "(The offensive line) did a fantastic job being physical."
Johnson's clinching run came on a 10-yard burst with 4:43 left in the game. The ensuing jubilant celebration by backfield mates Blount and Theo Riddick was a testament to the weight of the rushing drought of five years.
"It was amazing. We were really happy and excited for him. Obviously, this hasn't happened around here in a long time," Blount said. "I wouldn't rather have it with anybody else. He's worked his tail off since he got here and he's grinded every day and doesn't miss any days. He does everything he needs to do and does it the right way.
"It was due time that he was going to get it."
It's a breakout for Johnson, who managed just 17 yards in the opener against the Jets and 43 yards last week versus the 49ers.
The offensive line set the tone early, opening big holes for Johnson and Blount to run through, with Johnson gaining 54 yards in the first half on just seven runs. After the Lions defense held the Patriots to a pair of three-and-outs on the first three possessions, the offensive line was able to get into a rhythm.
"I think we came out here with the mentality that we wanted to be able to run the football," left tackle Taylor Decker said. "We came out here wanting to run the football and we had to execute tonight and it paid a lot of dividends for us. Hopefully, we can make improvements and build on that moving forward."
Rod.Beard@detroitnews.com
Twitter: @detnewsRodBeard