Niyo: Johnson throws Lions the party of the century
John Niyo
The Detroit News
Allen Park — This typically would be the sort of play that draws a chorus of boos from the fans at Ford Field.
Facing third-and-18 from his own 35-yard line Sunday night against the New England Patriots, Matthew Stafford took a shotgun snap and then waved a white flag of sorts, handing the football to his running back on a draw play. The gain of 10 yards on the play was decent, but nowhere near enough to move the chains, so the Lions were forced to punt with just under 5 minutes left in the fourth quarter.
Yet the crowd cheered. Roared, even. Because they knew the game was mostly in hand, an eventual 26-10 Lions triumph. And they knew the home team had just reached another milestone as well. Moments earlier, Kerryon Johnson's stats flashed on the scoreboard, and the crowd's reaction in the stands was similar to the rookie's thoughts in the huddle.
"I was like, 'Oh, crap!' " Johnson admitted later with a laugh, after he'd finished the night with 16 carries for — hold on, wait for it — 101 yards. "Now you start thinking."
More: Wojo: Patricia's plan gets a boost in Lions' stunning rout of Pats
More: Justin Rogers' Lions grades: Lot of high marks, except for special teams
And when you think about it, that's certainly understandable, even for a guy playing in just his third NFL regular-season game.
The last time a Lions running back rushed for over 100 yards in a game — when Reggie Bush went for 117 in a Thanksgiving Day rout of the Packers — Johnson was a junior in high school getting ready for the Alabama Class 3A state semifinals the next day. (A 31-21 victory for his Madison Academy team that included a rushing touchdown, an interception and a fumble recovery for Johnson, by the way.)
That was then, this is now
So, yes, it has been a while: 1,760 days, to be exact. The Lions logged their 70th consecutive game without a 100-yard rusher last week in San Francisco, breaking a tie with the Cleveland Browns (1988-93) for the longest drought in the league since the AFL-NFL merger. Since then, a whopping 107 players had topped the century mark a total of 428 times — a list that includes the likes of Fozzy Whitaker and Alfred Blue, not to mention Browns rookie quarterback Kevin Hogan.
Johnson, the Lions' second-round pick out of Auburn, was asked late Sunday night when he first heard about the streak himself.
"I think it was probably the moment I was drafted," he said. "That was the first time I heard it. Obviously, it wasn't the last. But that was probably the last time I really cared about it."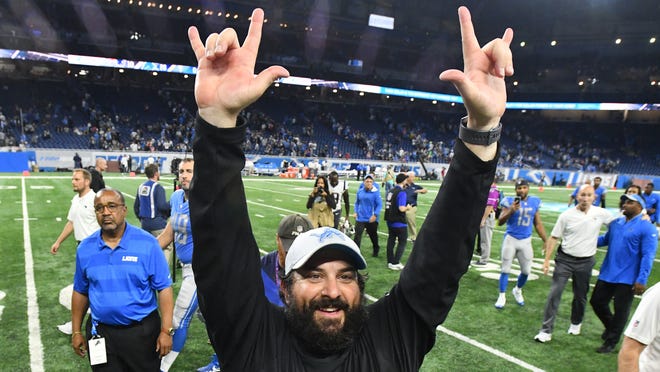 And that's really the bottom line here, the one head coach Matt Patricia has been stressing since players reported for offseason workouts in April.
"I know there's kind of stigmatism with the run game around here, and however long it's been since we've run the ball well," Patricia said, "but I don't really think that's fair to these guys that are this year's team. They're trying to do a great job running the ball this year."
Sunday night, it was a job well done, as the offensive line dominated up front and the Lions finished with 33 carries for 159 yards — also a single-game high since that Thanksgiving game in 2013.
"A ton of credit to our guys up front, man," Stafford said. "That's a defense that does not want you to run the football on 'em. And we did it."
Rising star
They all did, certainly. But it's what Johnson has done in relatively short order — from that preseason opener in Oakland through this nationally-televised breakout against the Patriots — that grabs everyone's attention.
Even his teammates, as we all saw Sunday night. Because when Johnson got back to the bench and the scoreboard showed he'd cracked the century mark, it was his veteran backfield mates, LeGarrette Blount and Theo Riddick, who led the celebration as DMX's "Party Up" blared over the Ford Field sound system.
"That's awesome," Johnson said, "I mean, those guys are great leaders. Those guys are great influences. So when you see them just as excited as you are — more excited, in this case — it speaks volumes."
So does the volume of Johnson's reps after that opening-night disaster against the Jets, when he played less than a quarter of the Lions' offensive snaps. Johnson was on the field for 32 plays Sunday, a half-dozen more than Blount, while Riddick finished with 21 snaps, including a crucial third-down reception earlier on that same fourth-quarter drive that saw Johnson reach the milestone.
The Lions are going to stick to a committee approach with the run game for now, but Johnson's versatility — "He just does everything well," Stafford said — already is proving to be invaluable. Nine of his 16 carries went for 5 yards or more Sunday, and six resulted in first downs. And while he was quick to credit his offensive line — "My job became very easy on probably about 12 of those runs," he said — it's easy to see his slippery running style adds another dimension for this offense.
One we haven't seen in Detroit for far too long.
john.niyo@detroitnews.com
Twitter: @JohnNiyo