Tommy Schuster, Dequan Finn masterful under finals spotlight

David Goricki
The Detroit News
Detroit – A lot of the quarterback hype going into this season was on Ohio State commit Dwan Mathis of Oak Park.
But some of the other premier signal-callers in the state made it to Ford Field over the weekend, leading their teams to state championships.
Chippewa Valley coach Scott Merchant and Detroit King coach Tyrone Spencer know the importance of having a three-year starting quarterback running the show.
Merchant has bragged about having Tommy Schuster at the controls of Chippewa Valley's offense all season, and anyone who watched the thrilling Division 1 final, a 31-30 victory over defending champion Clarkston, knows why.
Schuster hit on all 13 of his passes for 205 yards and two TDs, and he did it under duress.
Schuster needed to be perfect and poised with defending state champion Clarkston rallying from a 31-17 deficit to pull within 31-30 with 23 seconds left. But its 2-point conversion attempt fell short when Chippewa Valley defensive end Michael Garwood hauled down Josh Luther near the 5.
More: David Goricki's football state finals MVPs
Schuster showed his toughness when Clarkston sophomore sensation Rocco Spindler slammed him to the turf in the third quarter on a running play, only to have Schuster get away from the oncoming Spindler on the next play and deliver a perfectly-thrown pass to David Ellis for 30 yards to the Clarkston 39, setting up a 25-yard TD toss to Martice Bunting to open a 31-17 lead.
Schuster, a 6-foot, 195-pound senior, led Chippewa Valley to a perfect 14-0 record and its first state championship since it won the Division 2 title in 2001 at the Pontiac Silverdome. He completed 69.6 percent of his passes (119-of-171) for 1,859 yards and 26 TDs with just one interception.
"All the kid does is win," said Merchant of Schuster. "We're not a team that throws the ball 40 times a game. When we get up on people, we don't throw the ball. We don't play for stats. He could have had 3,000 yards passing if we wanted to.
"He has amazing composure. On one of those touchdowns he had No. 50 (Spindler) right in his grill and still gets it off and makes the play."
Finn's finale
And then there's King senior dual-threat quarterback Dequan Finn.
Finn, a 6-1, 190-pound senior, wanted a rematch with No. 3 Muskegon, which had the title of defending Division 3 state champs while carrying a 27-game winning streak into Ford Field. One of those wins was over King, 24-21, in a Week 2 battle.
Finn got his wish and he delivered, throwing for four TDs and running for another score in a 41-25 victory, giving King its third state title in the last four years.
Finn had to be at his best, especially after Muskegon took a 7-0 lead on an opening 13-play, 97-yard drive.
After watching that impressive drive, Finn had to know King's possessions could be limited if Muskegon continued to have success with its running game.
Finn engineered a 78-yard TD drive in quick fashion with 6-1, 215-pound junior Peny Boone breaking loose for a 34-yard run, followed by his 2-yard run and Finn's 42-yard TD pass to Dominick Polidore-Hannah, who grabbed the pass at the 30, then took advantage of blocks from his receivers to reach the end zone.
After King's defense forced a punt, Finn again went on the attack, finding three different receivers, including Ahmad Gardner (Cincinnati) for 34 yards to the Muskegon 36, ultimately setting up Finn's 22-yard scoring strike to Polidore-Hannah, who got behind the secondary for a 14-7 cushion midway through the second quarter.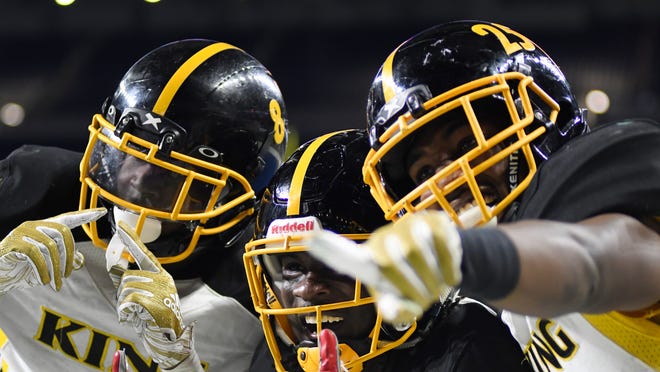 King would lead the rest of the way in earning the upset victory with Finn scoring on a 7-yard run for a 21-10 lead, finding Gardner for a 22-yard TD pass, and 28-17 cushion and hooking up with Darrell Wyatt for a 3-yard scoring strike for the exclamation point with 2:35 remaining.
Finn ran for 73 yards on 11 carries and connected on 9-of-13 passes for 173 yards and 4 TDs without turning over the ball.
"I'm just happy with the whole team and the effort that we gave," Finn said. "This is a surreal moment right now. I'm at a loss for words. It's just a blessing to have them (multiple receivers). They can catch the ball and run the right routes, so I'm just thankful for having them on my team."
And to think King four-star junior receiver Rashawn Williams – offers from Ohio State, Michigan, Michigan State, West Virginia – and three-star senior receiver Jalen McGaughy (Northern Illinois) didn't catch a ball in the title game.
"He was calm," Spencer said of Finn. "He's been here before (starter in King's 18-0 title game win over Walled Lake Western in 2016) and he looked like it. He didn't look rattled or he wasn't doing too much. He just played in the moment and that's why we played so well."
Finn's final numbers are 2,109 yards passing, 26 TDs, 1,262 yards rushing and 21 TDs (87 carries) – but now he has to focus on future plans. He was a Central Michigan commit, as was Wyatt, but their plans could change since Chippewas head coach John Bonamego was fired Friday.
"I'm not going to say anything about that," said Finn of his plans with CMU. "I'm just trying to enjoy a win with my teammates."
Finding his groove
Boone, a four-star junior who transferred from Warren Fitzgerald, will be one of the top players in the state heading into the 2019 season. He was making the transition to King during the late August loss at Muskegon, carrying the ball only a handful of times. But made a big impact in the title game, rushing for 111 yards, including a 52-yard TD run for a 35-17 lead midway through the fourth quarter.
"It balanced out the offense and we produced good," said Finn of Boone's production, which enabled King to pile up 400 total yards, 227 on the ground on 27 attempts.
In the five state playoff games Boone rushed for 634 yards.
Boone already has multiple Big Ten offers, including Iowa and Nebraska, along with Syracuse, Kentucky, Iowa State and Tennessee.
King defense steps up
Muskegon entered the title game averaging 50 points and 410 yards on the ground, including a mammoth 429 yards and six rushing TDs in a 45-22 semifinal win over Zeeland East.
Muskegon had picked up 309 yards on the ground in the first meeting with King and junior quarterback Cameron Martinez, who received an offer from Michigan, had run for 2,316 yards (10.4 yards per carry) and 36 TDs this season, including a modern-day school-record 352 yards (23 carries) and six TDs in a 55-35 win over rival Muskegon Mona Shores.
In the state title game, Muskegon picked up 302 yards on the ground with Martinez running for 211 yards (37 carries), but King limited the big plays, as Martinez's longest run was 29 yards and Demario Robinson's was 28.
"We just came out with the mindset that we can't let him get loose, we have to contain him," said King senior outside linebacker Marvin Grant (Purdue) of Martinez. "That was a major key. Once we stopped him we knew they didn't have too many weapons. We just needed everybody to do their assignment, that was the main thing. We don't need no extra superheroes on our team.
"My assignment was don't let him get outside of me, fill my gap up and just stuff everything up. Don't run away from contact, plug it up and everybody swung to the ball."
King defensive back Joe Frazier had a game-high 11 tackles, Jaylen Reed and Ray Williams 10 each, Rich Miller nine and Grant seven.
"They have big guys up front," said Spencer of Muskegon's offensive line, which averaged more than 310 pounds, including LSU-bound tackle Anthony Bradford (6-5, 360). "We knew that they were bigger than us. I told our kids to play with great effort."
Dobbs leads De La Salle charge
Warren De La Salle repeated as Division 2 state champion with a 29-16 win over Muskegon Mona Shores, limiting an offense that averaged 48 points in the previous four postseason games to 217 total yards.
De La Salle senior linebacker Jacob Dobbs led the way with a game-high 16 tackles while also forcing a fumble.
Jacobs stopped a pair of fourth-and-short situations in the opening quarter to help De La Salle take a 7-0 lead.
Jacobs also hauled in Nolan Schultz's pass for a 44-yard TD and a 14-7 cushion early in the third quarter, and De La Salle led the rest of the way.
"It's amazing. It's all you can ask for as a high school football player, to leave a good legacy behind," said Dobbs. "We have great defensive coaches and it's pretty fun when you have coaches that trust you to go make plays and they'll put you in the right spots."
While Dobbs and the front seven stopped the run, it was senior cornerback Josh DeBerry who silenced Mona Shores' elite receiver, James Gilbert, who entered the game with 60 receptions for 1,500 yards and 15 TDs.
"All season he (Gilbert) was making big plays," said DeBerry. "I just knew I had to prepare mentally and physically to be able to come in and lock him up and ultimately hold him to zero catches."
De La Salle limited its five postseason opponents to a total of 36 points.
Brown impressive in shootout loss
Austin Brown was the lone freshman to start at quarterback during Tom Mach's legendary coaching career at Detroit Catholic Central, leading CC to the Division 1 state championship game in 2016 as a sophomore. Brown was unable to play in that game after suffering a broken leg in the semifinal win.
Brown made it back to Ford Field Saturday morning as quarterback for Madison Heights Madison and put on a show in a 50-44 loss to New Lothrop in the Division 7 title game. It was the highest-scoring game in Michigan state finals history.
Brown threw for 298 yards with two TDs and two interceptions, also rushing for 105 yards and four TDs.
For his senior year, Brown had a hand in 61 TDs, throwing for 2,310 yards and 24 TDs (eight interceptions) while rushing for 1,936 yards and 37 TDs.
Brown has a football offer from Toledo but will play baseball at Marshall. He is also an all-state basketball player.