Top-rated freshman Emoni Bates shows flashes of Kevin Durant

David Goricki
The Detroit News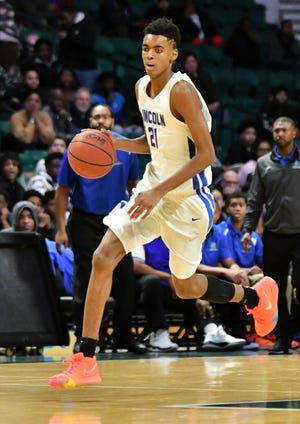 Ypsilanti — It's tough for a 14-year-old to live up to the hype of being the nation's top freshman basketball player, but Emoni Bates did just that in his high school debut for Ypsilanti Lincoln Monday night in the Ypsilanti Tip-Off Classic at Eastern Michigan University's Convocation Center.
Bates, at 6-foot-8 and 170 pounds, looked like a younger, smaller version of Kevin Durant, the NBA superstar who he has been compared to during the past couple of years.
Bates showed why that comparison has been made, making a pair of 3-pointers in the game's first 2½ minutes, then going coast-to-coast after a rebound, showing his ball-handling skills to get to the basket to open up a 15-6 lead.
Bates finished with 32 points and 15 rebounds in Lincoln's 80-69 comeback win over Ann Arbor Huron, making 12-of-20 shots from the field, rallying his team back from a 68-62 deficit by scoring eight of his points during a 18-1 run down the stretch.
And Huron is a strong program, guided by one of the premier coaches in the state in Waleed Samaha (229-87 record) who led Huron to a Class A state championship game appearance at the Breslin Center in 2010, then held the title of director of operations at Michigan, working under John Beilein two years ago.
More:Nation's No. 1 freshman Emoni Bates of Ypsilanti Lincoln dominates in high school debut
"He's amazing," said Samaha of Bates, who scored off a scoop to pull Lincoln within 68-67, then blocked a shot and less than a minute later scored in transition for a 70-69 lead with 2:50 left. "He has incredible talent and he has a great supporting cast, the coaches do a great job of moving the ball, spreading the wealth offensively around the perimeter. They're tough to guard.
"He does a great job of using his length. You see a lot of 6-8 kids at this age and they're awkward with their body movement, but he has great balance and is very talented."
Obviously, Bates was happy with his performance, but more excited about the outcome and the team's potential going forward.
"As a team we played good for our first time today," said Bates who has an offer from DePaul and is already getting interest from Michigan and Michigan State. "For me, I just attack the game the same way I've always had. I've been playing for so long so I don't need to be nervous. I just play my game."
After Huron went on an 11-3 run to open the fourth quarter for a 68-62 lead, Lincoln increased the pressure, forcing multiple turnovers while ending the game with a 14-0 run, making 8-of-8 free throws.
"Playing defense and getting stops, that helped us a lot," Bates said. "I think we're going to be real good together because they are seniors and they can help me out. They can show me some things, how to approach the game and how to go into it. They hype me up and have my back."
Lincoln junior guard Jalen Fisher had 20 points and seven steals and senior guard Tahj Chatman 13 points, six rebounds and five assists. Amari Frye scored nine.
"It was big for us, gelling as a team, and when we watch film we're going to learn a lot about this game and get better and better," Chatman said.
When asked what Bates brings to the team, which has four starters returning from last year's 11-10 team, Chatman replied: "He brings just a dominant scorer, a dominant rebounder, just a dominant player overall and he makes everybody better in practice. Practices have been really intense since he's got here, and he also gives us a rim protector.
"We have three scorers (Fisher, Chatman, Frye), and then with Emoni, four scorers, that's hard to guard, so adding him and his rebounding as well, his size, he's just been a great addition."
Bates has fit in well with his new team.
"It's a learning process at the beginning because most of our guys on the team are seniors and it's a big maturity leap, so sometimes we have to get on and him and calm him down because he's 14 years old," Chatman said. "He's definitely fitting in. That's just like my little brother. We text every day."
Lincoln coach Jesse Davis has known Bates since he was a baby. Davis has been longtime friends with Emoni's father, E.J.
"We expect big things out of him and I'm going to let him play his game and be himself," said Davis. "We have to do it as a team, have our collective effort from everyone. We don't just try to put it on Emoni to do it all for us. This is a team with a lot of experience.
"I'm grateful we were able to pull this out. There was a lot of media out, a lot of people. Huron played a good game and has a great coach. We buckled down on the defensive end, the last five minutes of the fourth quarter, sat in the gaps and we did a good job of rebounding the ball."
Bates is one of several talented freshmen in the area, including Detroit Edison point guard Kyle Millender, Orchard Lake St. Mary's point guard Kareem Rozier — Bates' AAU teammate with Bates Fundamentals —Williamston point guard Mason Docks and 6-5 Ty Rodgers of Grand Blanc, nephew of former MSU great Jason Richardson, who went on to play 13 years in the NBA.
Millender showed his potential in a 69-66 comeback win over Canton Monday night at EMU, scoring 10 points, including a three-point play (basket and free throw) when he slithered through Canton's defense and made a layup while getting fouled to open up a 67-64 lead with 1:28 left.
Bo Neely, who guided Edison to the Class C state championship last year, had high praise for Millender, saying: "He reminds me of Cassius Winston in terms of how he thinks. I coached Cassius Winston (The Family, AAU) from 8 years old all the way until he got to high school Those guys aren't athletic. They aren't fast, but they are very cerebral and he just understands the game. He's a smart kid."
Rozier will be teaming up with Wisconsin commit Lorne Bowman in the MAC vs. Catholic League Challenge Saturday at 1 p.m. at Calihan Hall against Macomb Dakota.
dgoricki@detroitnews.com