Michigan State takeaways: Stewart emerges; Dantonio's game management alarming
Matt Charboneau
The Detroit News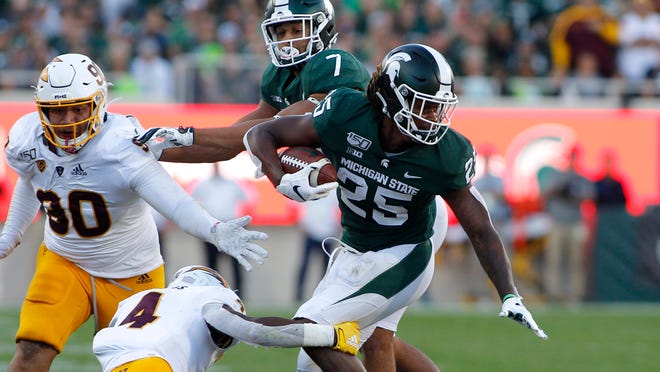 Five takeaways from Matt Charboneau of The Detroit News following Michigan State's 10-7 loss to Arizona State on Saturday. 
Oh, my aching line
Injuries were presumed to be the offensive line's biggest downfall last season and the injuries are once again starting to pile up for that group. Left tackle Cole Chewins hasn't played a game and there's no clear indication of when or if he'll be back, and on Saturday Chewins' original backup, AJ Arcuri, was not dressed for an undisclosed injury. That has left guard Kevin Jarvis playing left tackle, but he suffered a leg injury late in the first half against Arizona State and never returned. Starting left guard Luke Campbell also suffered a leg injury but he returned to the game.
It all led to some familiar shuffling with Tyler Higby moving out to left tackle, a spot he started three games at in 2018, while Blake Bueter saw more time at guard. What was clear throughout the game was the Spartans are sticking with the same seven guys — center Matt Allen, guard Matt Carrick and right tackle Jordan Reid included — and aren't yet looking to some of their young players like Devontae Dobbs, Nick Samac or JD Duplain. Another injury or two and that could change quickly.
Lewerke's improvement
When an offense is struggling, the quarterback typically takes most of the blame. Right or wrong, it's how it usually goes, and it's no different for Michigan State and Brian Lewerke. He was 24-for-38 for 291 yards on Saturday and there were certainly a few passes that missed the mark because they were thrown poorly.
But the Lewerke the Spartans are getting is clearly far superior to the one that was tentative early last season, then spent the second half of the season trying to play through an injured shoulder.
Lewerke has clearly shown a reliance on fellow fifth-year senior Darrell Stewart, who has 19 catches in the last two weeks for 306 yards. Spreading that around will be vital as Cody White provides big playmaking ability and freshman Julian Barnett showed a flash of explosiveness against Arizona State. If the offensive line holds up and the running game continues to progress, Lewerke should continue to flourish.
Collins earns top job
It's becoming clearer with every carry — Elijah Collins is Michigan State's running back. Perhaps it's fair to hold off on judging freshman Anthony Williams yet. He's had only a few carries in two games and looks to have a similar burst to Collins, but for now there is no debating that Collins gives the Spartans running game the best chance at finding any consistency. His numbers were not as eye-opening as last week as he gained 72 yards on 19 carries with a touchdown, but watching him run the ball it's clear there's something that isn't there with Connor Heyward or La'Darius Jefferson. Each of those players still have a role in this offense, but Collins is clearly the go-to guy.
Why that wasn't clear on a fourth-and-1 when the ball was given to Heyward, who was stuffed for no gain, is a mystery. But the more Collins keeps showing he has the ability to make the running game go, the tougher it will be for the coaching staff to keep him out of the game.
Great until the end
It's hard to find too much to gripe about with Michigan State's defense, but as coach Mark Dantonio pointed out, that unit gave up a 75-yard, 11-play drive to close the game that resulted in the winning touchdown for Arizona State. The drive got rolling thanks to a 40-yard pass play when cornerback Josh Butler stumbled allowing Brandon Aiyuk to haul in the pass from Jayden Daniels. But the most critical letdown came with Arizona State facing a fourth-and-13 from the Michigan State 28 with 1:23 to play. The Spartans say they took timeouts to consider everything, including the possibility that Daniels would scramble. However, no one paid attention to the freshman quarterback, who picked up 15 yards without much trouble. Four plays later the Sun Devils were in the end zone to take the lead.
The overall numbers are still impressive as Michigan State allowed 216 total yards. But with the game on the line, the defense was unable to put the game away. It had similar problems last season late in games and this time some critical penalties played a role. But as good as this defense is, it needs to be better at finishing in the fourth quarter.
Dantonio's no-good, very bad day
There's plenty of reasons to point to that Michigan State lost. The offense failed to sustain any momentum, there were three missed field goals, injuries were an issue and there were a handful of questionable calls/non-calls. But none of those were as critical as some of the poor coaching decisions made throughout the game. Whether it was Heyward running off tackle on second-and-20 or the decision to run on first and second down late in the game with a lead, the play-calling was not always spot on. It's not a huge deal. Rarely is every call the perfect one.
However, game management from Dantonio was alarming. First, the decision to use two timeouts on defense with the clock stopped as ASU faced a fourth-and-13 was odd, but not any more than Dantonio's explanation. He said the Spartans didn't need the timeouts anyway because they could spike the ball to stop the clock. How huge would even one of those two timeouts have been on the final drive? And then there's the indecision on the last play, waiting until the last second to send the field-goal unit on then putting the onus on kicker Matt Coghlin, saying he wasn't ready. Whether he was or not, it was Dantonio who didn't seem ready to manage the final minutes.
mcharboneau@detroitnews.com
Twitter.com: @mattcharboneau