Tuesday's college basketball: Davis, 3-point barrage power Detroit Mercy
Detroit News staff and wires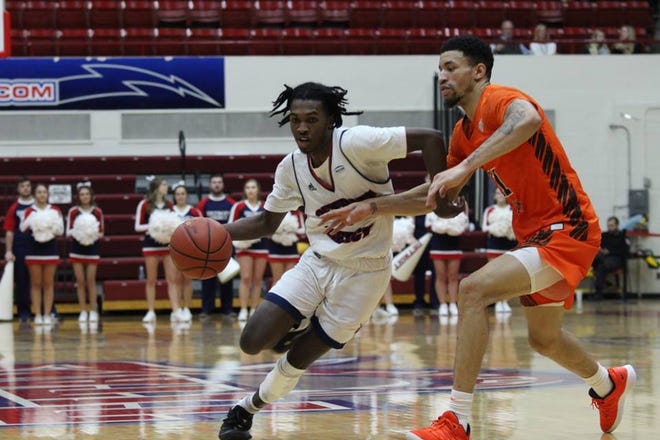 Detroit — Freshman Antoine Davis scored a game-high 32 points and added six assists and six rebounds and Detroit Mercy beat Bowling Green, 82-67, on Tuesday night in the Legends Classic Subregional Championship game.
Davis finished with 73 points and 18 made 3-pointers over the two subregional games held at Calihan Hall and he was named MVP. He scored a Titans freshman-record 42 points in Monday's win over Loyola (Maryland), and his 10 triples tied a school record.
A night after the Titans tied a school record with 17 3s, they responded on Tuesday to bury 15 and Davis knocked down eight. The Titans shot 55.6 percent from beyond the arc. Josh McFolley scored 18 points for Detroit (2-3) and Derrien King scored 14. McFolley was 8-of-10 shooting from the foul line.
Demajeo Wiggins led Bowling Green (3-3) with 13 points and nine rebounds and Dylan Frye also scored 13.
Big Ten
(At) No. 23 Ohio State 68, Samford 50: Kaleb Wesson scored 17 points, Keyshawn Woods added 14 and Ohio State shook off a sluggish first half to beat scrappy Samford for its fifth straight victory to begin the season.
Ohio State seemed out of sync from the opening tip, as coach Chris Holtmann benched four starters for being late to "game-day preparation," according to the school. The Buckeyes shot just 37.5 percent from the field in the first half while Samford shot 50 percent and led 32-29.
Momentum shifted with 16:27 remaining when Ohio State went on a 21-3 run that sealed the win. The Buckeyes shot 50 percent from the field in the second half to 24 percent for Samford (5-1).
(At) Indiana 78, Texas-Arlington 64: Juwan Morgan scored 23 points and 10 rebounds while Romeo Langford added 16 points and eight rebounds to help Indiana pull away late.
The Hoosiers (4-1) rebounded from their first loss by winning their fourth straight home game.
Edric Dennis had 19 points and Brian Warren returned to his home state and scored 14 for the Mavericks (3-2). Texas-Arlington is 1-10 all-time against Big Ten teams.
Iowa State 84, Illinois 68: Talen Horton-Tucker had 26 points and 14 rebounds, Michael Jacobson added 23 points and Iowa State ran away from Illinois in the second half in the Maui Invitational.
Down to eight scholarship players due to injuries and suspensions, Iowa State (4-1) used its pressure defense to keep it close in the first half, then went on an 18-2 run early in the second to build a nine-point lead. The Cyclones kept boosting the lead from there, making 16 of 28 shots to earn a spot in Wednesday's fifth-place game against San Diego State.
Trent Frazier had 15 points to lead Illinois (1-3), which will face Xavier in the seventh-place game.
Minnesota 80, Santa Clara 66: Gabe Kalscheur scored 18 of his 25 points in the first half, Jordan Murphy added 15 points and 17 rebounds, and Minnesota remained unbeaten.
The Golden Gophers (4-0) struggled to shake the Broncos on the second day of the Vancouver Showcase, but finally pulled away in the final 4:30.
Kalscheur carried the Gophers during the first half, hitting six 3-pointers and scoring more than half of Minnesota's points in the first 20 minutes. Santa Clara paid more attention to the shooter in the second half, but that opened up opportunities for others. Minnesota also held a major advantage at the free-throw line attempting 37 compared to just nine for the Broncos. The Gophers made 23 at the line.
Penn State 77, Wright State 59: Lamar Stevens equaled his season high with 25 points and Penn State advanced to the championship game of the Cancun Challenge's Riviera bracket.
The Nittany Lions (3-1) will play Bradley Wednesday while the Raiders take on SMU for third place.
Stevens was 10 of 15 from the floor and has reached 20 points in all four games this season. He scored 11 points in the first half with Myles Dread and Josh Reaves adding 10 each when Penn State took a 45-28 lead after opening the game on a 12-3 run. Dread finished with 13 points and Reaves had 12 points and 10 rebounds.
Texas Tech 70, Nebraska 52: Jarrett Culver poured in 26 points, Matt Mooney scored 15 and Texas Tech overcame a slow start to beat Nebraska in the title game of the Hall of Fame Classic.
The Red Raiders (5-0) trailed 15-6 in the opening minutes before going on a 12-0 run to wipe out their deficit. The game remained close until midway through the second half, when Culver and Mooney combined to slowly pad Texas Tech's cushion.
The crushing blow came with 8 minutes left, when Culver hit 3-pointer from the corner. Nebraska coach Tim Miles was given a technical foul at the other end and Davide Moretti made both free throws, extending the Red Raiders' lead to 57-42.
Isaac Copeland Jr. scored 20 points and James Palmer Jr. had 13 for the Huskers (4-1), who were trying to win their first in-season tournament title since the 2000 San Juan Shootout.
Top 25
No. 1 Duke 78, No. 8 Auburn 72:  R.J. Barrett and Cam Reddish scored 18 points each, and Duke survived its stiffest challenge of the season, holding off Auburn to reach the Maui Invitational title game.
The Blue Devils (5-0) got off to another stellar start, looking as if they would run another top-10 team out of the gym. But the Tigers (4-1) clawed back, trimming a 17-point deficit to 61-56 in the second half by fearlessly attacking Duke at both ends.
Marques Bolden anchored Duke's defense, blocking seven shots while finishing with 11 points and nine rebounds. The Blue Devils blocked 11 shots overall.
Jared Harper had 22 points and Bryce Brown 16 for Auburn.
No. 3 Gonzaga 91, Arizona 74: Rui Hachimura scored 24 points, Zach Norvell Jr. added 20 and Gonzaga earned a spot in the Maui Invitational title game.
Gonzaga (5-0) turned the Lahaina Civic Center into The Kennel West early in the second, the cheers growing louder with each basket during a 15-2 run that put them up 56-53.
Two-time Maui champion Arizona (4-1) fought back to keep it close, but only for a little while. Gonzaga went on another run, pushing the lead 79-67 and kept the Wildcats at bay from there.
The Zags will face five-time Maui champion and top-ranked Duke in Wednesday's title game.
Justin Coleman had 28 points for Arizona, which had three assists on 21 made field goals.
No. 16 Clemson 64, Georgia 49: Marcquise Reed scored 24 points and grabbed nine rebounds, Elijah Thomas had his second straight double-double and Clemson advanced to the championship game of the Cayman Islands Classic.
Thomas finished with 12 points and 11 rebounds for Clemson (5-0), which is off to its best start since the 2013-14 season. Shelton Mitchell, who scored a season-high 22 on Monday, chipped in with 13 points and David Skara had three of the Tigers' nine steals.
Coach Brad Brownell won his 154th game at Clemson, three away from passing Bill Foster for second in program history.
Derek Ogbeide led Georgia (3-2) with 11 points. Nicolas Claxton, who scored 22 points in an 80-68 win on Monday, was held to three points on 1-of-9 shooting — but he had nine rebounds and five blocks.
Lipscomb 73, (at) No. 18 TCU 64: Garrison Mathews had 23 points, Kenny Cooper scored 17 with a couple of breakaway layups off steals and Lipscomb held on to upset TCU for its first win over a Top 25 team.
Lipscomb (4-1), the ASUN Conference preseason favorite, had been 0-13 against ranked teams since 2006. All those losses were by double digits.
Alex Robinson had 17 points, 10 rebounds and six assists for TCU (3-1), which lost a November game for the first time since 2015. The Horned Frogs' 18-game winning streak during the month had been the second-longest among Division I programs, behind only Virginia's 21 in a row.
The Bisons built a 12-point lead before Mathews rebounded a missed 3-pointer by Kouat Noi that would have tied the game with just more than a minute left. Mathews then made a 3 at the other end.
(At) No. 21 Oregon 83, Green Bay 72: Bol Bol had 21 points and nine rebounds, Payton Pritchard added 18 points and Oregon held off Green Bay.
The Ducks (4-1) won the game at the foul line, making 33 of 42 free throws to just 9 of 18 for the Phoenix (3-3). Green Bay had a 27-22 edge in field goals, including 9-6 on 3-pointers.
Bol was the catalyst in the first half with 15 points as the Ducks led 38-29, and Pritchard scored 16 in the second half. Paul White and Will Richardson had 10 points apiece.
Sandy Cohen III led the Phoenix with 18 points, and ShanQuan Hemphill and JayQuan McCloud added 10 apiece.