MSU selling game ball from win over Michigan
The Detroit News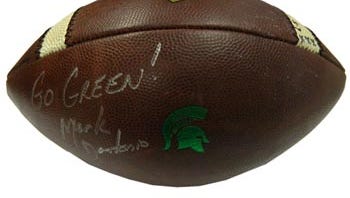 A game ball from Michigan State's dramatic win over Michigan on Oct. 17 is being sold on the Spartans' official online auction site.
The high bid on Tuesday afternoon was $1,750, and bidding ends Thursday at 7 p.m.
The item's description from the site: "Bid now on this official Nike Vapor One Michigan State Football used during the Spartans' 27-23 victory over Michigan on October 17. The ball is signed by head coach Mark Dantonio. The ball has the referee's marking from that game (and the first six games of the season) to verify its use and authenticity."