Dantonio: Quick clock, injuries, frustration contributed to MSU's 'chaotic moment'
Matt Charboneau
The Detroit News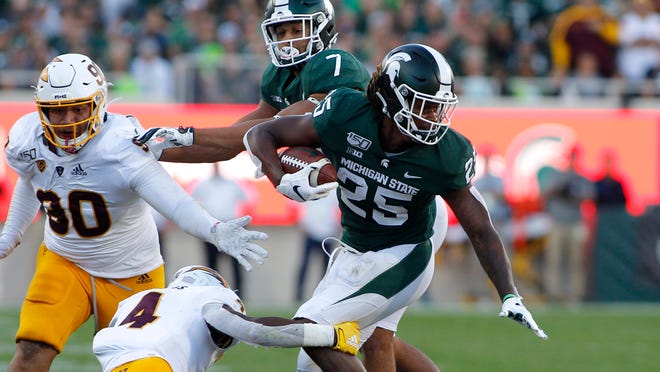 East Lansing — More than once on Sunday night, Mark Dantonio paused for a quick second and exhaled.
The Michigan State coach was responding to questions during his weekly teleconference, one that was far more difficult than most following Saturday's 10-7 loss to Arizona State. A day of perspective and reviewing of the film hadn't eased the pain or taken away the frustration, though Dantonio did point out the loss doesn't hurt the Spartans in the Big Ten.
"Obviously a very difficult loss," Dantonio said. "We need to get ready to go for the Big Ten Conference. We need to be able to put this behind us. That's part of coaching, part of being mature, and having leadership from within. Things happen across the nation, we see it every week, but it's difficult to stomach."
That might have been Dantonio's easiest call all week after Michigan State (2-1) entered the game with the offense riding high and optimism that things were headed in the right direction. Instead, another offensive dud, a defensive lapse in the final minutes and coaching gaffes have the Spartans looking for answers.
The coaching decisions late in the game have drawn plenty of criticism, with the decision to rush the field-goal unit on the field with 11 seconds to play the most talked about.
Having had a chance to review things, Dantonio gave another perspective of why he opted not to take a shot at the end zone and instead attempt the field goal, one that Matt Coghlin made but was wiped out because 12 players were on the field.
According to Dantonio, after Darrell Stewart hauled in a pass from Brian Lewerke and was tackled at the Arizona State 24-yard line, the clock was quick to start moving.
"The ref wound the clock before the chains were set, very quickly," Dantonio said. "So we spike the ball with 11 seconds. … Had to make a decision to throw it in the end zone one time or not. It was pretty chaotic at that time, so I hung there for 10 seconds trying to decide whether to do that or not and then we decided to kick it. We didn't want to have a sack or something happen and not have time to kick a field goal and go to overtime. Again, chaotic moment. We talk about the fog of war around here a lot, but we had obviously a number of guys who were hurt on the offensive line."
The Spartans had lost tackle Kevin Jarvis to a leg injury late in the first half and guard Luke Campbell was also hurt but returned. That might have been how the Spartans had too many men, a call they couldn't overcome as Coghlin's second try from 47 yards was wide left and a call was missed on Arizona State when a defender leaped over the snapper.
"We had two subs in there and inadvertently a guy who said he may have to sub for a third stayed in to make 12 guys on the field," Dantonio said. "From the sideline you couldn't tell. We had used our timeouts so regardless we would have to take a penalty on that. Still felt it was makeable field goal with 6 seconds to go. I do think they jumped over the pile. I do think they landed on the head of our snapper but there was no call and at that point in time the game was done."
It was a moment in the game not expected from a head coach with a track record like Dantonio's, but he admitted his frustration with the officials might have gotten to him by that point.
"If anything, I let everything maybe take me out of or allowed it to frustrate me to the point where I'm not seeing as clearly," he said, "and that can't happen."
Whether that had any bearing on the choice to use the final two timeouts on defense just minutes earlier is tougher to gauge. Dantonio used the last two timeouts with the clock stopped as Arizona State faced a fourth-and-13 from the MSU 28 with 1:23 to play.
The Spartans rushed three and quarterback Jayden Daniels got loose for a 15-yard gain. Four plays later the Sun Devils scored the winning touchdown with 50 seconds remaining.
"In retrospect wish we would have kept a timeout," Dantonio said, "but on that play we wanted to face up the quarterback for exactly that reason. We also wanted to guard the seams knowing they would have to pass, but we were concerned about a check down to (running back Eno Benjamin) and him running with it or the quarterback scrambling. So, he got loose. We turned our back on the ball, sunk too deeply and need to know where we're at on the field and understand the situation. He made a play.
"Very disappointing. They had 148 yards of offense prior to that last drive, but we got to close it out."
Michigan State now heads to Northwestern next week trying to figure out how it gained 404 total yards on offense but managed only seven points. It will do so unsure, once again, of the health of its offensive line.
The status of Jarvis remains unclear as Michigan State continues to play without left tackle Cole Chewins as well as backup AJ Arcuri.
The Spartans will also be forced to bounce back against a Northwestern team that has won four of five in the series, including the last three.
"It's disappointing but we need to put it behind us and move forward," Dantonio said. "It has no bearing on the Big Ten Conference race. We need to understand that and play up."
mcharboneau@detroitnews.com
Twitter: @mattcharboneau