'Hope it all works out': Northwestern preps for Michigan State's run-stuffing defense
Matt Charboneau
The Detroit News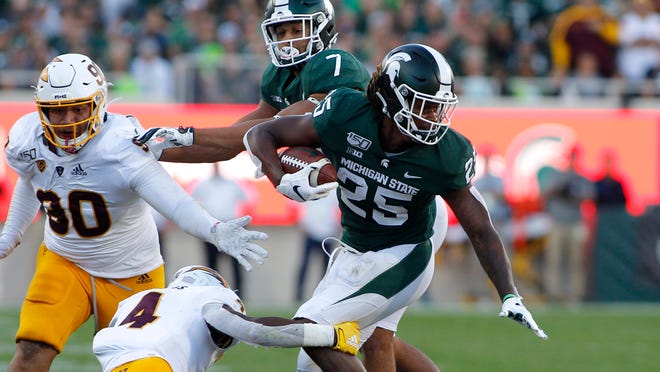 When Northwestern hosts Michigan State on Saturday, Pat Fitzgerald might be looking to a higher power.
It's not that Northwestern has had much trouble beating Michigan State lately, having won three in a row in the series and four of the last five. But when it comes to figuring out a way to run the ball against the Spartans, the Wildcats coach is looking for a little help.
"I'm just gonna pray," Fitzgerald joked. "Hope it all works out."
Obviously, that's not really the approach Northwestern (1-1) will have when it takes on Michigan State (2-1) in the Big Ten opener for both teams. The Wildcats have averaged 184.5 yards on the ground over their first two games and in last week's victory over UNLV, freshman Drake Anderson ran for 141 yards and a touchdown on 26 carries.
It was Anderson's first big game after seeing minimal action last season as a true freshman, even getting two carries in the win over Michigan State. Now that he's proven he can carry the load, the next step for Anderson will be getting it done in conference play.
"I think it's just opportunity," Fitzgerald said of Anderson. "He was really close to playing and last year. We actually went up to Michigan State really not sure where we were at yet. We were very unsettled at the position and you saw him get a little bit of time in that game.
"So just opportunity presented itself and he's ready. I think he's a big-time player, I think he's going to be a great player for us for a long time. And I told you guys at the start of camp, I felt pretty solid about that room. We just got to keep getting an experience."
Doing so against a Michigan State defense allowing only 23.3 yards a game on the ground won't be easy.
But Fitzgerald has been around, now in this 14th season with Northwestern. He's seen it all, including the nearly annual tussles with a Michigan State team that doesn't change much on the defensive side of the ball under coach Mark Dantonio.
"I don't think they hide that they're going to do everything they can to suffocate the run," Fitzgerald said. "There's no doubt about that and they've done it so well for so long because they've got such skill in the secondary that they can go play press man play, a quarter scheme and then have complements off of it to where you know those corners and their sub package DB's are going to be really aggressive and take away your skill.
"So it's like I said, it's a well-coordinated, incredibly talented defense that plays as a team."
If recent history means anything, running the ball won't be the way Northwestern comes up with a win on Saturday at Ryan Field. In their victory last season, the Wildcats managed only 8 yards rushing while in a three-overtime victory in 2017, Northwestern gained 64 yards on the ground.
Only the 2016 game stood out in the Wildcats' three-game winning streak as it ran for 209 yards in a 54-40 victory. But that game came in the midst of Michigan State's miserable three-win season that included seven straight losses.
What has been consistent in the series is that more often the games have been close. Fitzgerald sees the same thing happening this time.
"I think we try to show up against everybody. That's kind of the goal," Fitzgerald said when asked about his team's success against Michigan State. "I don't know. You look back at it, Coach D and I have been in the league now for a long time, and most of these games have been really close, I think because we play very, although maybe not the same schemes, we play a very similar style of football and I think that's why the games are so close.
"I think both teams are very disciplined in what they do and how they do things. I think both programs play team football, complementary football. I think both teams are really sound and smart in the kicking game (Dantonio) has probably been a little bit more aggressive, better names for his trick plays and his have seemed to work a little better. Some of mine have worked, but he's just been a hallmark of consistency. … So I think our two programs that have won at a very high level. Obviously, they've got a couple championships more than we do, but it's a program that we've got the utmost respect for."
mcharboneau@detroitnews.com
Twitter: @mattcharboneau
Michigan State at Northwestern
Kickoff: Noon Saturday, Ryan Field, Evanston, Ill.
TV/radio: ABC/760
Records: Michigan State 2-1, Northwestern 1-1
Line: Michigan State by 8½