Michigan State mailbag: What is Mark Dantonio's future with Spartans?
Matt Charboneau
The Detroit News
It was a busy week in the Michigan State mailbag, and that's not a surprise after last weekend's loss at home to Arizona State.
The frustration of fans is reaching arguably its highest point in Mark Dantonio's 13 seasons leading the Spartans, and some are starting to look at what's next, wondering how long Dantonio will keep coaching and who might replace him.
We dive into that, as well as playing true freshmen, troubles at one cornerback spot and if the neon uniforms had the magic touch. All of that in this week's mailbag:
► Question. Are we going to stick with Josh Butler at CB much longer? Opposing teams are picking on him and having much success doing it. I thought we had good depth at the position. Am I wrong about any of this? — @daveholz
► Answer. Good question, Dave. It's not like Butler is playing poorly, at least not in my opinion. Of course teams are going to go after him. Why wouldn't they? And let's be clear: If someone else steps in, teams will pick on that guy. It makes sense considering the other option is Josiah Scott. But, back to the question. I suspect if Shakur Brown was healthy we'd already be seeing more of him over Butler, but he's missed the last two games. The next option appears to be redshirt freshman Kalon Gervin. He's seeing a handful of snaps as the fifth defensive back in certain packages, and has played well on special teams. If they decide to make a change there, and frankly, that's a big if, I'd suspect Gervin is the first to get the call. As for who else, redshirt freshmen Davion Williams and Chris Jackson are in line, while safety Tre Person could always bump back over to corner.
► Q. Has Dantonio given any thought to sporting the neon green attire for all games?  It really seems to jolt the offense. — @BoofRsn
► A. That's an easy answer. No. But, come on, maybe he should. There was plenty of neon still around the stadium during the Arizona State game. The student section was waving neon pompoms, which makes you think the plan was to go with the new uniforms against the Sun Devils. My guess is that wasn't what everyone wanted in the background of Dantonio's record-setting win. Of course, it didn't matter. I suspect the offensive issues aren't changing based on uniform color.
► Q. Why isn't TE Gillison playing? Dotson and Seybert aren't exactly tearing up the field. — @SpartyH
► A. That's a fair question. Trenton Gillison technically started the Western Michigan game and, while I don't have the snap count, I'd bet he played far more against the Broncos than he did in either of the other two games. You have to wonder if the reason at this point is blocking, because athletically, he's a matchup problem for most defenses. I still have to believe he's going to start seeing more and more time. It's getting to that point with the Michigan State offense. Matt Seybert might understand the offense better, but he's not as gifted as Gillison. Like a few other positions, it's time to let some of these young guys play and live with the growing pains.
► Q. Do you sense that Dantonio retires after the season, assuming he gets the all-time program victory record? Maybe a reason for the staff shuffling after last season vs cleaning house. — @legedjc13
► A. I think it's still too tough to make a prediction on that one. Right now, I think it's a tossup. It's true he has a $4 million bonus coming his way in January, so you wouldn't expect anything official until then. But I think a lot still hinges on how this season plays out. If things get figured out and MSU wins nine or 10 games, goes to a decent bowl and Dantonio has a say in who replaces him, it might be the end. If it's six- or seven-win season maybe he keeps at it, determined to see it through. The wild card would be if the offense continues to play poorly and Dantonio is told he has to make offensive staff changes. I'm not sure he's sticking around without full control.
► Q. A member of the media suggested Bob Stoops would be an ideal replacement for Coach D. Your thoughts on the general idea? — @SpartanWire
► A. So, if Michigan State is looking for a new coach next year, we're already jumping in to who might be. Bob Stoops is a great idea, but this is a two-way street. I can't imagine Stoops being interested in the Michigan State job. It's a far better job than it was before Dantonio arrived, but Stoops, if he wants to get back into coaching, is the kind of guy that can wait for one of the marquee jobs in college football. I think that answers the question from @scalka74. While Michigan State might commit the resources required for Stoops — MIGHT — I'm not sure it has the cache.
►Q. Who is on your short list to replace Dantonio after this season? — @mjos1122
►A. Let's just jump in and start the speculation, eh? OK, I'll bite, but only kinda. I'm sure Dantonio will push to be allowed to essentially name his successor, and if he does, I'd be surprised if it isn't Mike Tressel. Of course, he doesn't have head-coaching experience, so that will be a knock. Outside of that, I think Pat Narduzzi still has some juice, even with some struggles at Pittsburgh. Cincinnati's Luke Fickell likely would be on that list and how about Eastern Michigan's Chris Creighton? No way a bigger program's not coming for him.
► Q. Four hundred-plus yards of offense, just need to find the inches, right Matt? Also, what's up with giving Heyward touches on critical plays? — @joebaik
► A. Technically, yes. If you consider the way some of those drives ended — a fumble, two missed field goals, no gain on fourth-and-1 — a few inches might have made the difference. The Connor Heyward issue is becoming a troublesome one. It's clear he's not the best running back, so why use him when you need 1 yard on fourth down? It doesn't make much sense. I believe he still has value in this offense. He's a versatile guy who can line up in the slot, catch out of the backfield and is good in pass protection. But to use him when crucial rushing yards are needed, I don't get it.
►Q. Why isn't Anthony Williams getting more carries? He has looked effective every time he has run the ball. Collins and Williams should be the guys. — @SpartyH
► A. This one is an easy one. It turns out the eye infection that kept Williams out the first week was legit. That much was clear just seeing him in the Western Michigan game. I'm with you that Elijah Collins and Williams appear to be the most gifted running backs, and Collins is making the most of his chances. As for Williams, you'll see him keep getting a handful of carries, but as is the case with most freshman backs, it takes time to become proficient in pass protection, so that limits the situations Williams can be used.
►Q. What's with the hesitation on using the freshmen more? Everything we heard about Ant Williams from the Spring/Fall seems to be true from what we've seen. Barnett's a playmaker and Dobbs is desperately needed. — @Jake_Matheson1
► A. As we stated before, Williams had the eye issue, which slowed him down at the start of the season. The hesitation, more often under Dantonio, is making sure a true freshman isn't hurting the team with mistakes like Julian Barnett made after his first career catch when he committed a false start. Some believe those are just growing pains you have to live with. Dantonio hasn't exactly followed that theory. He has played plenty of true freshmen, even on the offensive line. In fact, on this week's two-deep, there are 12 players (not counting this season's freshmen) who played as true freshmen, so overall there hasn't been a hesitation. That said, entering the fourth game and the offense still scuffling, I'd suspect all the freshmen you mentioned and a few more might start getting more of a shot.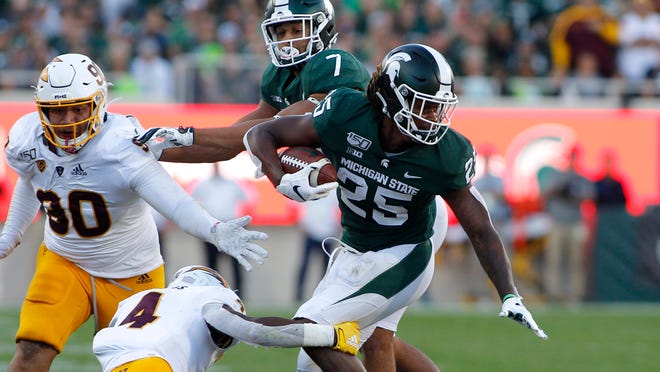 ►Q. Saturday's panic by the coaching staff was reminiscent of the John L era. Do you think last year and this has permanently damaged Coach D's legacy at MSU? — @WaiteMarc
►A. No. At least, not right at this moment. If this season turns into another 3-9, then it probably starts to chip away at his legacy. Look, you'll never take away what Dantonio has accomplished, specifically the stretch from 2013-15 which was as good as any in program history. But you can't let it completely fall apart. Get this thing straightened out, be in the Big Ten East hunt, win nine games and make a decent bowl and his legacy is intact.
►Q. Why does Coach D demand the defense to be perfect? Why can't he demand the offense to be, at the least, mediocre? — @LuGWit
►A. I wouldn't say he's demanding it. More like pushing for it. And why isn't that the goal? There's nobody there that actually thinks they will play perfect. That's not reasonable. But if you listen to the players, they feel like they lost the game because of that last drive. That's not fair, either, but a coach doesn't want to be out there putting all the blame on one side of the ball. Even if it's true, that doesn't go over well in the locker room, so some of this is coachspeak.
►Q. Do you have a current update on Joshua Langford, how is he doing? — @jimdegraaf
► A. Nothing more than he should be full-go when the team starts practice next week. That's been the expectation for a while now, and I haven't heard any different. The bigger question is how quickly he's back to the same player we saw pre-injury and how does he fit in an offense that has changed significantly from early last season when he was a primary perimeter option? His role almost certainly will change, and that adjustment will be one of the biggest story lines early in the season.
mcharboneau@detroitnews.com
Twitter: @matttcharboneau