'It's sweet': Michigan will wear all-maize uniforms vs. Florida
Angelique S. Chengelis
The Detroit News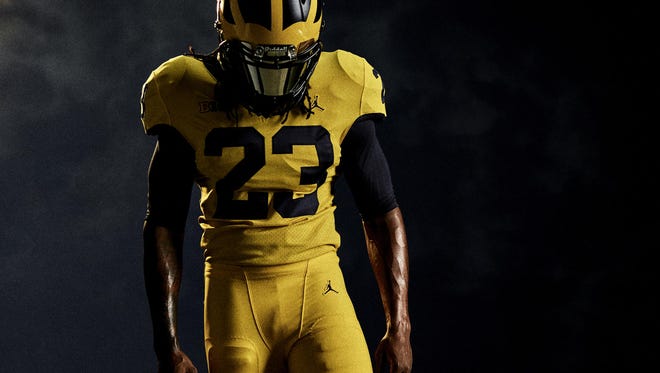 Ann Arbor – Michigan is going all maize for its season opener against Florida.
Both teams will wear an "alternate" uniforms at AT&T Stadium in Arlington, Texas, on Saturday, Michigan and Nike announced Monday.
This will be the second time Michigan has worn an all-maize uniform. The Wolverines wore a maize jersey with blue numbers against Navy in 1928.
Florida, also a Nike school, will wear a blue uniform with blue accessories.
While it's a significant departure from Michigan's traditional uniform, the players said they love it.
"It's something different," fullback Henry Poggi said Monday. "Guys get to put something else on.
"Hey, nothing wrong with the (traditional) uniform. I love the uniform. I think we've got the best uniforms. ... It's cool. It's cool to do something different. Such is life. It's cool to do something different every once in a while."
More: UM's McCray follows dad's footsteps — to captaincy
Maurice Hurst, before exiting the Towsley Museum in Schembechler Hall where interviews were conducted Monday, was asked if he likes the alternate uniform.
"Yeah, it's sweet," Hurst said.
Poggi also gave them a thumbs up.
"They're very cool. I like them."
Michigan coach Jim Harbaugh revealed in June at a satellite camp stop in the Cleveland area that Michigan would wear an alternate uniform "at least once this year."
Harbaugh knew at the time which game it would be unveiled. He said he had a hand in the design.
It comes as no surprise that Harbaugh was open to an alternate design of Michigan's classic uniform. When Michigan moved to Nike and the Jordan Jumpman brand before last season, during an official uniform release, Harbaugh said he would be open to alternate uniforms.
More: Harbaugh: We're keeping things under wraps, just like Florida
"When we first signed up with Nike, said that would be something we would be interested in, (and) they were interested in it," Harbaugh said in June.
The idea of an all-maize uniform had been tossed out by Harbaugh in a joking manner to his team before the 2016 season, according to then-Michigan cornerback Jourdan Lewis.
Michigan athletic director Warde Manuel last week said he liked the alternate uniform. He also said it's up to Harbaugh and all of Michigan's coaches to decide what uniforms are worn.
"With all the different uniforms that teams wear nowadays, I don't know if there's a traditional standard across the board anymore," Manuel said. "If Jim decides to wear the alternate uniform, the team will look great and they will go out and play well like they will play in our more traditional uniforms.
"Uniforms have nothing to do with the way that we play. I've worn uniforms of different sorts, and I've had different results, more winning than losing, thankfully, but uniforms don't make you win or lose. They go out in the alternate uniforms and win, they'll be the favorite uniforms, right? You don't win, people don't like them. I want Jim, as well as all my coaches, to have the ability to make the selection of the uniforms they believe they need to make and the look as we roll out."
Fans can purchase the maize replica jersey in youth and adult sizes at M-Den stores beginning Wednesday at 9 a.m. or online at mden.com starting at 10 a.m. There also is a new Jordan Trainer 2 that also will be available at M-Den's South State Street location.
The M-Den will also have popup locations in Dallas this week, beginning Friday at the Omni Ft. Worth Hotel from 9 a.m. until 5 p.m. CT. On Saturday, Michigan gear will be available for purchase starting at 11 a.m. CT, as part of the Alumni Association Territory Season Kick-off Event (ticket required) held at the Arlington Convention Center. The M-Den will also have a stand at AT&T Stadium inside the East Plaza.
In addition, the jerseys will be sold online at Jordan.com, Dick's Sporting Goods and Fanatics.com.
MICHIGAN'S ALTERNATE UNIFORMS
Here's a rundown of Michigan's alternate uniforms:
2011 – For Michigan's first night game at Michigan Stadium against Notre Dame, the Wolverines wore a blue jersey with maize shoulder stripes, a Block M on the chest and a number on the left front shoulder and helmet. They wore maize pants.
2011 – Michigan came out of the locker room at Michigan State wearing white pants and white jerseys with maize and blue "bumblebee" shoulder stripes, a block M on the upper left chest and helmets with numbers.
2012 – For the Sugar Bowl, Michigan's white jersey featured two blue stripes on each shoulder and the numbers were outlined in maize. The helmets carried jersey numbers.
2012 – For the season opener against Alabama in Arlington, Texas, the jerseys featured large swaths of maize, maize pants, and the helmets had the jersey numbers.
2013 – In the Outback Bowl, Michigan's uniforms featured matte helmets, a white jersey with maize outlined in blue (barely visible in the sun) jersey numbers and blue across the shoulders down to the sleeve and maize pants.
2014 – Against Penn State under the lights at Michigan Stadium, Michigan's blue jersey featured striped numbers, black striping on the shoulders. The Wolverines wore blue pants.