Jim Harbaugh 'not sure' if Donovan Peoples-Jones, Jon Runyan will return
Angelique S. Chengelis
The Detroit News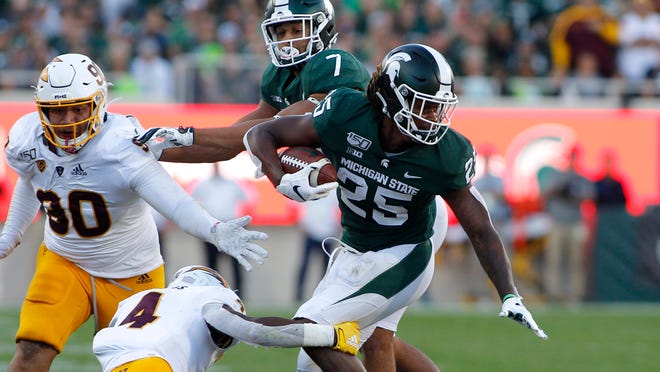 Ann Arbor – Michigan coach Jim Harbaugh isn't tipping his hand on the Wolverines' injury situation heading into the Big Ten opener this Saturday.
Left tackle Jon Runyan and receiver Donovan Peoples-Jones have missed the first two games with unspecified injuries but Harbaugh wouldn't say Monday at his weekly news conference which injured players might return.  Michigan, ranked 11th, plays at No. 13 Wisconsin on Saturday.
"Not sure," Harbaugh said.
He has said he expects Runyan, an All-Big Ten first-team selection last season, will be ready when the Wolverines play at Wisconsin, which has won the last four against Michigan in Madison.
"It will be nice getting Jon back," left guard Ben Bredeson said Monday.
Michigan was off last Saturday, which gave the players time to heal injuries. Peoples-Jones' availability is significant for the Wolverines' new no-huddle up-tempo offense. He had a team-high 47 catches last season for 612 yards and a team-best eight touchdowns.
"Donovan is a tremendous athlete, I think we all know that," Harbaugh said. "He opens up a lot of different options. He puts fear into defensive backfields. When you have that option to throw to with his explosiveness being able to make somebody miss and maybe turn a 7-yard catch into a 70-yard catch, that's something that's always big for an offense. Nice threat to have."
Quarterback Shea Patterson, who suffered an injury to his oblique muscle on the first play of the season, is anticipated to be at full strength. The status of running back Tru Wilson is unclear. He was injured in the season opener against Middle Tennessee State and was on the sideline for the Army game with a cast on his right hand. Wilson is an important piece to Michigan's pass protection.