Michigan prepared to make statement at Wisconsin
Angelique S. Chengelis
The Detroit News
Ann Arbor — Michigan is 2-0 but there is this sense among fans of the sky is crumbling and falling as the Wolverines prepare to open Big Ten play.
Turnovers have been an issue, and the offense hasn't fulfilled its promise of being high scoring and innovative under the command of first-year offensive coordinator Josh Gattis.
Michigan was off a week after squeaking by in a double-overtime win over Army, got healthy — quarterback Shea Patterson said Tuesday night his oblique is healed and left Jon Runyan is expected to play after missing the first two games — and had valuable time to fine tune the offense.
On several occasions after practice during his media availability, Patterson said the Wolverines are "going to go out there and let loose."
When it was pointed out he seems more eager to get back to play while talking about playing at No. 13 Wisconsin on Saturday, Patterson made clear 11th-ranked Michigan has something to prove.
"We're looking to go out there and make a statement," Patterson said. "Simple as that."
And what's the statement?
"It will be …," Patterson said searching for words before deciding to stop trying to answer. "I'm done talking about it. We're going to go out there and play and just have fun with it."
Safety Josh Metellus said a statement is "a win, a W." But it's more about proving to themselves what they believe they already know.
Metellus said the Wolverines are more than aware they haven't wowed anybody the first two games, and included in that is themselves. They know there's more to give, much more, and being off last Saturday gave them a chance to work on a variety of issues.
"It's more for us," Metellus said of the statement Michigan wants to make Saturday at Camp Randall. "We haven't been playing the best football we could play, and we know that. We've got guys in the building with potential way up here. We're not reaching there. It's a statement of us. We want to be able to come back in on Sunday and be able to say, 'All right, this team is playing their best football right now. This team is reaching strides. This team is moving up better than we were these past couple of weeks. This team is really doing something we're capable of.'
"We want to make a real statement to ourselves rather than anybody else. If we're satisfied with ourself, it's going to be better for us going on the rest of the season."
Expectations were sky high for Michigan entering the season, especially with the arrival of Gattis and his speed-in-space offense. It is missing a key piece, receiver Donovan Peoples-Jones, who has been out the first two games with an undisclosed injury, but even so, it hasn't been this lights-out high-scoring-get-the-ball-in-the-playmakers'-hands offense.
They still have two victories, and Metellus has a balanced approach to the season.
"I'm not surprised (by the start). It's football," he said. "It's life in general. Adversity hits no matter what. You can never try to think something will go one way because it's never going to go the way you think it is. I always have that mindset because growing up, a lot of things happened and I had to be ready for it.
"We didn't play well on offense, we gave up points on defense. That's not something I wanted to do, but when it happened, just move on. We've got to move on, we've got to get better. We've got 12 games, we've only played two. We've got 10 more to define this defense, to define this offense, define this special teams, define the whole Michigan defense, define the whole Michigan offense."
Patterson knows the criticisms that have been circulating and understands them. That doesn't mean he embraces them or puts much stock in them. He said he does understand the issue with turnovers and has worked, along with the entire offense, these past two weeks on ball security. He even joked he slept with a football after he had his third fumble in two games.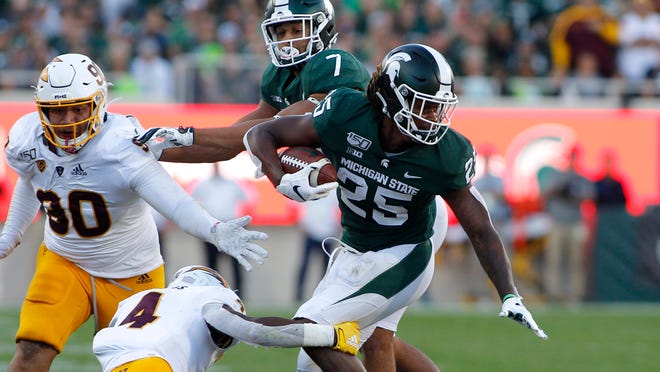 "We're not going to apologize for being 2-0," he said. "Simple as that. It was a good Army team, our defense played lights out. We're looking to let it loose Saturday."
Michigan is the underdog heading into Wisconsin, where the Wolverines haven't won the last four meetings. The Badgers haven't given up a point and pounded South Florida 49-0 before upending Central Michigan 61-0.
"We never really feel like the underdogs," Patterson said. "That's just who we are as a unit, whether if we are or not. The biggest thing with us is to play confident and just believe in ourselves."
Metellus laughed when told oddsmakers have Michigan as underdogs.
"It is what it is," he said. "They don't play football, we play football. When the whistle blow, ain't no more underdog. It's me versus you, Wisconsin versus Michigan, and that's what's going to happen on Saturday."
So the Wolverines don't feel like underdogs?
"No," Metellus said, "we feel like Michigan."
achengelis@detroitnews.com
Twitter: @chengelis
Michigan at Wisconsin
Kickoff: Noon Saturday, Camp Randall Stadium, Madison, Wis.
TV/radio: Fox/950
Records: Both teams 2-0
Line: Wisconsin by 3