Jon Runyan's return gives Michigan options with emerging Ryan Hayes
Angelique S. Chengelis
The Detroit News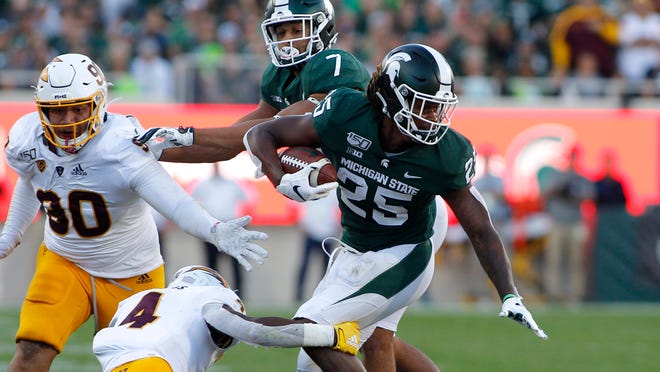 Ann Arbor — In Jon Runyan's absence, Ryan Hayes emerged. As far as Michigan offensive line coach Ed Warinner is concerned, that's an enormous plus.
Runyan, an All-Big first-team selection at left tackle a year ago, missed the first two games with an undisclosed injury, but will be back to that role in Michigan's Big Ten opener Saturday at Wisconsin. He has practiced the last two weeks — Michigan was off last Saturday — and is ready to return, Warinner said Wednesday before practice.
"He'll be ready to go," Warinner said. "He'll be excited to get some action."
Runyan has made 15 career starts, including 14 at left tackle, and brings a wealth of experience.
But Hayes' emergence gives Warinner options, and he may very well still have a role.
Heading into preseason camp, Andrew Stueber, who started the last two games of last season at right tackle, was locked in a fierce competition for the starting job with Jalen Mayfield. Warinner said at the time he planned to rotate both players, with the starter getting about 60 percent of the snaps. Hayes was backing up both tackle spots.
Stueber, however, suffered a season-ending injury, Mayfield moved into the starting job and Hayes remained as backup tackle. Runyan was injured late in camp, and Hayes, a redshirt freshman converted from tight end out of Traverse City West, was suddenly starting at left tackle.
Michigan coach Jim Harbaugh said this week Hayes would compete with Mayfield at right tackle, and Warinner was agreeable when asked Wednesday before practice if both could play, as he said Steuber and Mayfield would.
"Absolutely. Yeah, we could," Warinner said. "There's nothing that would keep me from playing Ryan Hayes."
Warinner was asked to clarify if he will have a rotation at right tackle.
"We haven't made all those decisions yet," he said. "Sometimes you see how it's going. I think you'll probably see them both play."
Certainly no coach wants to have injuries in their position group, but the offensive line developed depth with Hayes getting important playing time. But Runyan is back, and he and Ben Bredeson have that important level of unspoken communication that comes from playing together so much.
"Ben and Jon were in watching film with me this morning," Warinner said. "They were ecstatic about getting the posse back together again. They were watching film with me at 7:30 this morning. That's always good. That's familiar ground. They've played next to each other for 13 games, a lot of practice. They've very comfortable together. Got more guys that have played, more guys you're confident to put in a game. We're in a good place going into Wisconsin up front."
Strong offensive line play is a function of chemistry, and that's a bond Runyan and Bredeson share on the left side.
"It's how they communicate," Warinner said. "It's confidence in each other. They can't have sentences and conversations up there (on the line). They have little code words that we talk through that they use. You have those non-verbal and verbal cues with your wife if you've been married a long time, and she knows what you're thinking and you know what she's thinking and you don't have to say it and it all takes care of itself. There's some comfort in that.
"They sit right next to each other in every meeting. They practice next to each other. They're in combination blocks together. They're on the same side in the protections. So their whole life is intertwined four hours a day or whatever they hang out off the field. Trust and confidence. They had a good run together last year, and I think they're excited about getting that rolling again."
Warinner said they didn't alter the offense because of Runyan's absence. But he does add a different level of experience as a senior, and that could be helpful heading to a raucous environment like Wisconsin's Camp Randall Stadium.
"You have a veteran guy, so maybe in the heat of battle on the road, he might be a little more comfortable," Warinner said.
Having Runyan back might also help clean up issues with procedure penalties the Wolverines have had, particularly against Army the last game.
"Just communication with the quarterback and the cadences," Warinner said. "Gotta sit in there and be a little bit more poised when noise, communication, going fast — one time Cesar  (Ruiz) didn't hear the cadence was and assumed it was on something it wasn't. The other time Ben moved when the defense moved. A couple little flinches in there. Not happy about that. That's been a big emphasis of trying to eliminate that."
Warinner said the penalties had nothing to do with the new offense.
"There's no blame other than the players doing it have to be locked in more about that part of it," he said.
They've also had an emphasis on practicing in noise this week, heading to the indoor facility with the noise cranked up.
"We have our system of communicating silently we have to utilize," Warinner said. "They have a nice home-field crowd. That will be one of the challenges — it's really loud where the students are (at Wisconsin)."
The offensive line heads to Michigan's Big Ten opener feeling better about the overall depth after Hayes' performance the first two games. How he factors in the offensive line going forward, Warinner said, will be considered after what he called the, "Jon Runyan Era."
Hayes arrived at 255 pounds and is up to 295, and falls into that category of what Warinner says is the perfect model for an athletic tackle.
"I liked his trajectory," he said. "Really, though, at the end of spring his trajectory took off, and I thought, 'We got something here.' I didn't think we'd have to count on him to be a major player with the fact we had Mayfield and Stueber and Runyan, and I thought he would be the fourth guy and he might not have to play much. All of a sudden, things happen and you're down two guys and the next thing you know, you call the next man up, and he gets his job done and plays at a high level. We saw things in spring and training camp that led us to believe he was headed on a trajectory where he was going to be what we thought when he was recruited here."
Warinner said he's had a handful of tight ends he's converted to tackle, and had his eyes on Hayes making that move from the time he was recruiting him. The pitch to switch positions? That's easy.
"I just tell them, look at what they pay left tackles, and look up what they pay tight ends (in the NFL)," Warinner said, laughing.
achengelis@detroitnews.com
Twitter: @chengelis