Michigan at Wisconsin: View from the other side
Angelique S. Chengelis
The Detroit News
Michigan at Wisconsin
► Kickoff: Noon Saturday, Camp Randall Stadium, Madison, Wisconsin
► TV/radio: Fox/950
► Records: Both teams 2-0
► Line: Wisconsin by 3
Jim Polzin covers Wisconsin football and basketball for the Wisconsin State Journal. He breaks down the Badgers for The Detroit News, answering five questions heading into Saturday's Michigan-Wisconsin game at Camp Randall Stadium. You can follow him on Twitter at @JimPolzinWSJ.
► Question: Two words: Jonathan Taylor. Michigan coach Jim Harbaugh raved about him Monday, basically said he can do everything, and now he's added catching out of the backfield. How complete a back is he now and how much better can he get?
► Polzin: Taylor has it all: good size, speed, smarts (could have gone to Harvard), vision, patience. But his best trait might be his humility. He ran for 4,171 yards and 29 touchdowns his first two seasons at Wisconsin and decided that wasn't nearly good enough, that he wasn't close to being a complete back. I think he saw the way Saquon Barkley was used at Penn State two seasons ago — and subsequently was drafted No. 2 overall — and decided there was plenty of room to grow in his own game. It's not like the Badgers have thrown to Taylor a ton — only five catches thus far — but three of those have gone for TDs, and he's shown how dangerous he can be in space.
► Question: Wisconsin has shut out its first two opponents and has some gaudy defensive statistics to show for it. Just how good is this defense?
► Polzin: We'll begin to find out Saturday. I don't want to ignore back-to-back shutouts because it's not easy to hold an offense — even a bad one — without a point. But South Florida and Central Michigan are both in the infant stages of new offensive systems, and that may have had something to do with their struggles against the Badgers. That said, Wisconsin's defensive line is much better this season, and I think another (improvement) is that senior outside linebacker Zack Baun has emerged as a playmaker on the edge.
► Question: Michigan hasn't had a dazzling offensive performance yet with its new "speed-in-space" offense, but the receivers are talented. Can the Badgers' secondary hang with Michigan's receivers?
► Polzin: I'm skeptical. Wisconsin's secondary hasn't been tested deep much in the first two games. South Florida had open receivers on two occasions in the opener, but both attempts resulted in drops. Central Michigan didn't have the personnel to test Wisconsin on the back end. Cornerbacks Faion Hicks, Deron Harrell, Rachad Wildgoose and Caesar Williams went through a lot of growing pains in 2018, and it appears they've learned from those experiences. But Michigan's going to be a true measure of how much growth remains.
► Question: Jack Coan is completing 76 percent of his passes, and Harbaugh this week praised his "presence" and competitive nature. What can you tell us about the way he has run the offense through two games?
► Polzin: Coan has been really good, but I think some of it comes down to competition (again) and the fact Paul Chryst has put him in a position to succeed. I wrote this earlier in the week, but most of Coan's damage has been done on short throws: he's 35 of 40 for 347 yards on passes that travel 10 or fewer yards, and 10 of 19 for 217 yards on attempts longer than that. The return of Quintez Cephus to the receiving corps has been huge. Cephus is a true No. 1 receiver, something the Badgers lacked last season. He and Coan connected on 36- and 46-yard touchdown passes vs. Central Michigan, which was a boost of confidence because the deep game was non-existent in the South Florida game.
► Question: It seems like this matchup of No. 11 Michigan and No. 13 Wisconsin should be a night game at Camp Randall, but kickoff is at 11 a.m. local time. It's the first time since 2016 two top-15 teams are playing there — what's the level of anticipation and excitement for this game?
► Polzin: I can sense a pretty good buzz. I think a lot of Wisconsin fans are in the same mind-set as myself: OK, this Wisconsin team might be better than we thought. But it's too early to say this season could be special. Beat Michigan, and then you can start dreaming of big things.
Players to watch
► Jonathan Taylor, RB: There's so much to say about the Badgers' Doak Walker Award winner last season. He has opened his junior year with consecutive 100-yard rushing games and taken on a bigger role in the Badgers' passing game. Taylor leads the nation with eight touchdowns and is averaging 119 yards rushing per game. He's the first FBS player since at least 2000 to start a season by scoring four-plus TDs in consecutive games. Taylor needs 592 yards to join Georgia's Herschel Walker (5,596), Wisconsin's Ron Dayne (5,091) and Oregon's LaMichael James (5,082) as the only players to rush for more than 5,000 yards through their junior season. No player has rushed for more yards his first two seasons than Taylor — he has the FBS records for most yards as a freshman (1,977 in 2017) and as a sophomore (2,194 in 2018).
► Jack Coan, QB: The junior has won his last four starts, with Wisconsin averaging 48 points in those games. Coan set career highs in completions, attempts, yards and touchdowns in the Badgers' last game against Central Michigan, going 26-for-33 for 363 yards with three touchdowns and no interceptions. He opened the season throwing for a then career-high 201 yards on 19-for-26 passing (73.1 percent) — including a string of 11 straight completions — with two touchdowns and no interceptions at South Florida. Coan's 363 passing yards against CMU marked the fifth-highest single-game total in school history and helped the Badgers hit the 400-yard passing mark as a team for just the third time in school history. He is 4-2 as the Badgers' starting quarterback, Coan ranks ninth nationally (among QBs with at least 50 attempts) with a pass efficiency rating of 184.5 and seventh nationally with a completion percentage of 76.3 percent.
► Zack Baun, LB: Baun is a senior captain and linebacker who currently leads the team with two sacks. The 6-foot-3, 235-pounder played sparingly during his redshirt sophomore year in 2016 and then missed the next season with a broken left foot. Baun started every game last season and has become a leader for the Badgers' defense this year. Wisconsin has worked hard to become more consistent pass rushers and had four sacks in the opener at South Florida, their highest total since Nov. 11, 2017 against Iowa. Baun had a sack in the opener and added another against Central Michigan.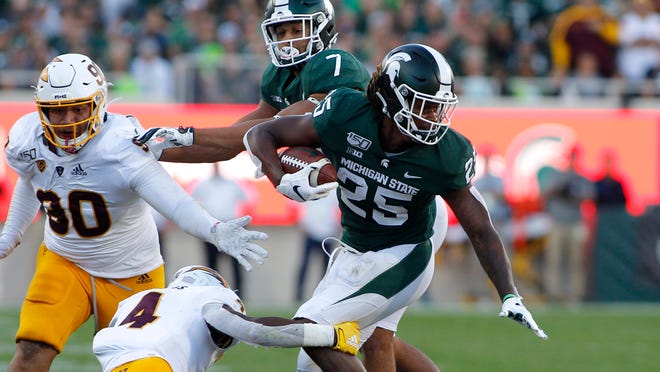 Facts and figures
► No, no, no points: Wisconsin has outscored its opponents 110-0 this season, becoming the first FBS team since South Carolina in 1980 to score at least 100 points and allow no points in its first two games of a season. The Badgers are the only FBS team that has yet to allow a point this season. Wisconsin's defense is allowing just 107.5 yards per game and leads the country in every major statistical category.  That's quite a start for the Badgers, which rank highly among Power Five teams with the highest winning percentages the last five seasons. Only Alabama (58-4, .935), Clemson (58-4, .935), Ohio State (51-6, .895) and Oklahoma (49-8, .860) own higher winning percentages than Wisconsin (44-12, .786) from 2015-2019.
► Going for five: Wisconsin has won four straight at Camp Randall against Michigan — the Wolverines last won in Madison in 2001. The Badgers are in the midst of a streak of five consecutive home games, its longest such stretch since opening the 1981 season with five consecutive home games. The Badgers began that five-game run with a season-opening 21-14 win over No. 1-ranked Michigan. This is the Big Ten opener for both teams and Wisconsin looks to win its conference opener for the fourth straight year.
► Lots and lots of points: The Badgers are averaging 55 points per game, tied with LSU for the third-highest scoring output in the FBS and trailing only Baylor (59.5) and Oklahoma (55.7). They are averaging 517 yards per game after racking up 599 yards against Central Michigan. Wisconsin leads the nation in time of possession (37:13), third-down conversions (65.4%) and third-down defense (14.3%) and ranks No. 2 in the FBS in fewest penalties per game (2.5).
achengelis@detroitnews.com
Twitter: @chengelis