Oh brother: Michigan State springs the upset over No. 13 Michigan
Matt Charboneau
The Detroit News
Ann Arbor — No one will ever wonder if Mel Tucker understands the Michigan-Michigan State rivalry.
To be clear, there wasn't exactly a whole lot of doubt, especially considering Michigan State's first-year leader began his coaching career as a graduate assistant with the Spartans in 1997 under Nick Saban.
But by the time Michigan State had finished off a 27-24 victory over No. 13 Michigan at Michigan Stadium on Saturday and took home the Paul Bunyan Trophy, the verdict was cemented.
BOX SCORE: Michigan State 27, No. 13 Michigan 24
"This game means so much to so many people," Tucker said. "Our current players, our former players, our fans, our alums. This is for the Paul Bunyan Trophy and we're very proud to bring that trophy back East Lansing where it belongs.
"State fans, this one is for you."
The Spartans (1-1) entered the game as three-touchdown underdogs to the Wolverines after losing the season-opener to Rutgers while Michigan was coming off a convincing win at Minnesota. But from the outset, Michigan State looked like the better team, scoring on its second drive and never trailing.
"First of all, we expected it," Michigan State quarterback Rocky Lombardi said. "I know we were three-touchdown underdogs, but everybody on this team knew going into the game that we had a chance and we had a good chance. That was part of the reason why we played with so much confidence and ended up getting the win."
An upset, it was, merely on paper. That was proven from start to finish as Michigan State got huge individual performances while not committing a turnover.
Lombardi was 17-for-32 for a career-high 323 yards and three touchdowns while freshman wide receiver Ricky White had eight receptions for 196 yards and a touchdown. His 196 yards were the second-most by an MSU receiver against Michigan, trailing only the 255 for Plaxico Burress in 1999. Connor Heyward also scored twice, the second one the winner, while linebacker Antjuan Simmons and Noah Harvey each had 11 tackles.
"We had a good week of practice, and I think that's the most important thing," Simmons said. "Just getting ready for big rival games like this and having a great week of practice and to be focused and locked in. You also need to have a physical week of practice because the most physical team wins this game, and I feel like we out-physicalled them today.
"So I can't be any happier with the outcome. Paulie B is back with us."
It touched off a celebration that wasn't nearly as raucous on the field as the teams quickly headed to the tunnel, but one that included a dancing coach and plenty of fun in the locker room.
"We haven't had Paul in the locker room for about two years now," Tucker said. "So we really wanted that game, and on top of that, to get the first one of the season and Coach Tucker's first one of the season, and Coach Tucker's first Michigan win — it was just a lot of emotions piled on top of each other."
Michigan State took advantage of 10 Michigan penalties for 86 yards, including some critical pass interference calls as the Spartans targeted the Wolverines cornerbacks early and often. White had a 50-yard catch while Jalen Nailor had one that went for 53 yards.
It was an issue for Michigan's defense the entire game.
"Getting behind our defense and getting the big play was a huge difference in the game," Michigan coach Jim Harbaugh said. "We were making adjustments and they got by us a couple times on a double move, as well. Maybe five times, two in the first half, three in the second half or three in the first half and two in the second."
As effective as Michigan State was offensively, Michigan (1-1) had its issues after putting up 49 points last week. Quarterback Joe Milton was 32-of-51 for 300 yards and no touchdowns. Freshman running back Blake Corum had two touchdowns and Hassan Haskins one.
"Congratulations to Michigan State, but we've got to own the loss and come back and find out where we can improve," said Harbaugh, who is 3-3 against Michigan State. "This is a high-character team and I'll believe they'll do just that. Each person looking at themselves, player, coach, all of us and strive to be a lot better, try to find the places we can make improvements."
Michigan State led 14-10 at halftime thanks to Lombardi's 30-yard touchdown pass to White, the first of his career, and a 2-yard scoring pass to Heyward. Michigan got an 8-yard run from Corum and a 23-yard field goal from Quinn Nordin after Simmons batted away a third-down pass in the end zone.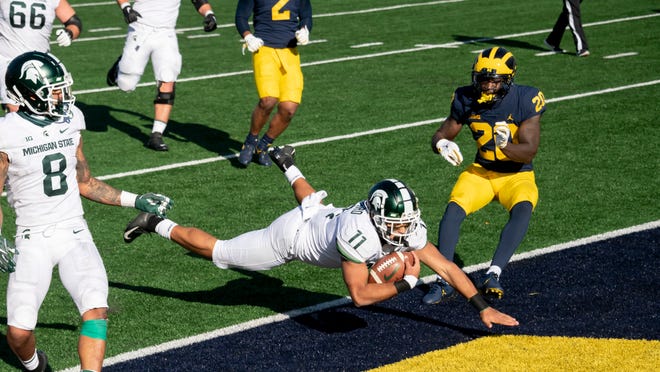 On that play, Haskins took the direct snap and tossed a jump pass toward Carter Selzer in the end zone, a bit of a trick play that Simmons sniffed out.
"He's so relentless," Tucker said of Simmons. "He's just a relentless football player, and I'll tell you what, he's an even better person. He's a great young man, and I know that I'm proud of him."
Michigan State pushed the lead to 17-10 early in the second half on a 27-yard field goal by Matt Coghlin. Michigan responded with its best drive of the game, going 75 yards on 11 plays and getting a boost from an unsportsmanlike penalty on Michigan State's Shakur Brown. Corum scored from the 1-yard-line to tie the score.
Michigan State immediately rebounded and regained the lead, 20-17, on a career-long 51-yard field goal by Coghlin  The Spartans built a 27-17 advantage on a 13-yard touchdown from Lombardi to Heyward, a 92-yard, 11-play scoring drive. Michigan pulled within 27-24 on Haskins' 2-yard run with 37 seconds to play, but after Michigan State recovered the onside kick, it was able to convert on fourth-and-2 and put the victory away.
"It's a different feeling," said Lombardi, whose quarterback sneak clinched the victory. "But this one this one meant a lot. I know they all count as one, but this was a big one."
It ended Michigan's winning streak in the series at two, it showed Michigan State isn't throwing in the towel on the season after an ugly start, and it showed that Tucker knows how to get it done in the Spartans' biggest rivalry.
"I'm just really excited and happy for our team," Tucker said. "For our players and for our coaching staff and everyone involved; our administration, all of our supporters, our fans, our alums. It's not about one person. Michigan State is a great place, and it's about our fans and our alums and former players and I'm just really happy for them."