Michigan can't hold off Ohio State in 2-OT heartstopper
Angelique S. Chengelis
The Detroit News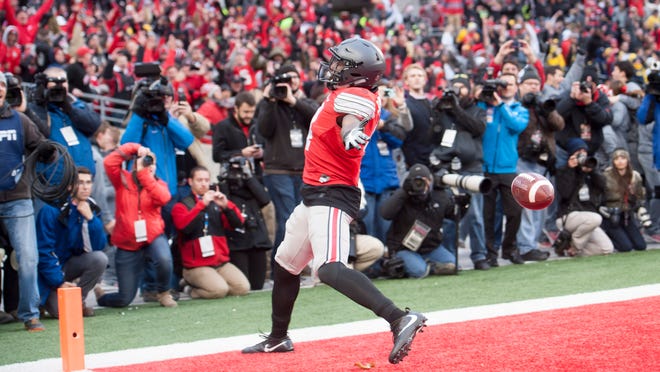 Columbus, Ohio – There was so much hype this week heading into The Game, this time featuring No. 2 Ohio State against No. 3 Michigan with Big Ten and national championship implications, and it lived up to it.
Michigan could not overcome three turnovers by quarterback Wilton Speight, whose availability to play was not known until game time, but Ohio State overcame a third-quarter 10-point deficit to win, 30-27 in double overtime. It was the first overtime in the history of the series and it was played before an Ohio Stadium-record 110,045 on Saturday.
The Buckeyes have now won five straight and 12 of the last 13 in the rivalry. Michigan has not won in Columbus since 2000.
"This is what you go to Michigan for, this is what you go to Ohio State for -- to play that team the last regular-season game," Michigan defensive lineman Chris Wormley said. "This is the type of exciting game you look back on and talk about with friends and family.
"I wish we could have gotten that one."
Jim Harbaugh furious, 'bitterly disappointed' with refs
Had the Wolverines won, they would have been the Big Ten East representative in the Big Ten championship next week and in the national playoff consideration. The Wolverines are 10-2 and Ohio State is 11-1. The Buckeyes remain in the mix for a national playoff spot, but the Michigan players believe that even with two losses – by a combined four points with both defeats on the road – they should still be considered.
Speight, who missed the Indiana last week with an unspecified injury to his left shoulder – he was hurt late in the game at Iowa two weeks ago – started and played the entire game for the Wolverines after being cleared during the week by doctors.  He accounted for three turnovers, including a pick-six and an interception deep in Michigan territory that led to another OSU score.
"Yeah, I made a couple mistakes in the game," Speight said. "Unfortunate to get my hand hit when I was throwing it out of my end zone, which resulted in a pick six. And trying to force another ball into too tight a window."
BOX SCORE: Ohio State 30, Michigan 27 (2 OT)
In the first overtime, Ohio State scored on a seven-yard run by quarterback J.T. Barrett to take a 24-17 lead. Michigan tied it when Speight, on fourth-and-5, connected with Amara Darboh.
Kenny Allen made a 37-yard field goal for a 27-24 lead in the second overtime.
But on Ohio State's ensuring series, Michigan believed it had stopped Barrett on fourth down. Officials signaled first down and a review upheld the ruling on the field. A play later, Curtis Samuel scored on a 15-yard run to win the game.
"There wasn't a first down by that much," Michigan coach Jim Harbaugh said, holding his hands about a foot apart. Harbaugh spent most of his post-game news conference lambasting the officials for what he thought were bad calls and missed calls.
Wormley also thought the defense had stopped Barrett short of the first down.
"Looked like he was short, but I guess the refs saw something different," Wormley said. "You've got to play through types of calls, that type of adversity."
Ohio State coach Urban Meyer said the play "stopped the heart for a second."
"When the official said, 'They're buzzing me for the spot,' I thought, 'Oh my goodness,'" Meyer said.
In real time he thought Barrett got the first down.
"Yeah, I was standing right there," Meyer said. "I thought he had it."
Harbaugh mentioned the discrepancies in the penalties. Ohio State had two for six yards, while Michigan was penalized seven times for 59 yards.
"Two penalties called all day," Harbaugh said. "Multiple holding penalties let go, multiple false starts. The official on my side is supposed to be watching that (and instead) is concerned about whether our coaches are in the white or not in the white (of the coaches' box). Wants us not on the field. Their coaches were on the field practically in the huddle at times.
"I'm bitter."
Ohio State had 330 yards to Michigan's 310. The Buckeyes had 306 yards rushing, including Barrett's 125 yards on 30 carries. He scored on a seven-yard run in the first overtime. Barrett was 15-of-32 passing for 124 yards.
"It's a very, very good defense we faced," Meyer said.
While Ohio State was 3-of-16 on third down, the Buckeyes made 23 first downs to Michigan's 16.
Speight was 23-of-36 for 219 yards. He threw touchdown passes of eight yards to fullback Khalid Hill, who also had a rushing touchdown, and also a clutch five-yarder to Darboh on fourth down in the first overtime.
In the third quarter, after Jabrill Peppers intercepted Barrett to give Michigan the ball at the OSU 42-yard line, Speight fumbled the snap at the 1-yard line.
"I think there was a little miscommunication with the crowd noise," Speight said. "I should've stayed in there longer knowing that there might be problems with how loud it was. So yeah, that's on me."
The Wolverines took a 10-point lead, 17-7, with 6:37 left in the third quarter on the Speight pass to Hill. They were confident about themselves and the game at that point.
"When you shut down an offense that has so many weapons, that has so many players who make plays and you shut them down for most of the game, you have a 10-point lead, you're feeling pretty good about yourself," Wormley said. "We were feeling pretty good on the sideline."
Barrett said it was a phenomenal feeling know the OSU seniors went through their careers beating Michigan every year.
"We just played the team up north in double overtime and we just won," Barrett said. "I think that's why you play the game of football, for moments like this, because all the training we go through, all the workouts and yelling and screaming. I mean, this is why we play the game for moments like this against your rivals and a great atmosphere for college football and for your teammates."