Wojo: Patricia's plan gets a boost in Lions' stunning rout of Pats
Bob Wojnowski
The Detroit News
Detroit — They needed this in the worst way and grabbed it in the best way possible. Against Tom Brady and the Patriots, in the national spotlight, with utter domination in every facet.
Matt Patricia needed this badly and got it in the most inexplicable way, against his former boss, the great Bill Belichick. For three hard-to-believe hours Sunday night, the Lions showed what they'd envisioned, trying to mirror the team on the opposite sideline. Ford Field was as joyously raucous as it's ever been as the Lions rolled past New England 26-10, and if it can get noisy and calm at the same time, it just did.
More: Niyo: Johnson throws Lions the party of the century
More: Justin Rogers' Lions grades: Lot of high marks, except for special teams
Two weeks ago on another prime-time stage, the Lions got booed off the field after a crushing loss to the Jets. After an 0-2 start, there were murmurs of player discontent — ridiculously premature murmurs, by the way — and more questions whether the Patriot Way could exist outside the Belichick-Brady bubble.
Those issues aren't completely calmed, with the Lions 1-2. But a new direction always needs evidence it's the right direction, and this might have been the most-complete Lions victory in years. They finally produced a 100-yard rusher, their first in nearly five years and 71 games, as rookie Kerryon Johnson hit 101. The offensive line was stout and punishing, and the Lions ran like they rarely do, finishing with 159 yards (4.8 per carry).
Solid in the pocket
We've always wondered what Matthew Stafford could do with protection in the pocket and confidence in the run, and there it was, a smoothly managed game. From the quarterback to offensive coordinator Jim Bob Cooter, the Lions unleashed a brilliant game plan, while taking advantage of a depleted Patriots defense missing three starters.
Stafford made a couple spectacular throws and a lot of solid ones, and only one major mistake. And you know what? That's how it works with sound teams. Stafford was 27-for-36 for 262 yards but every element was utilized, the play-action pass more effective when, you know, there's actually a running game. The offense did its job, although settling for field goals made the night tenser for Lions fans than it should've been.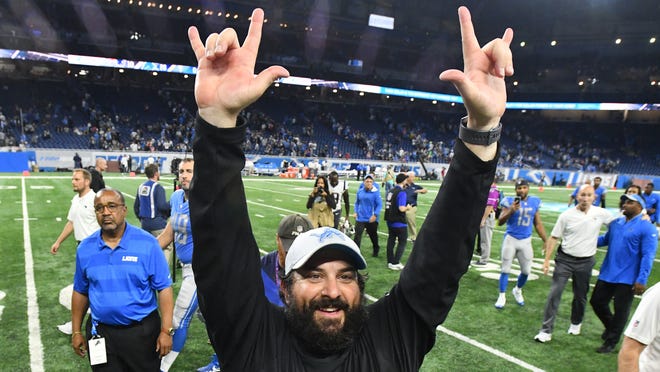 The Patriots never really threatened because the Lions' defense did things no one really expected. That's why this was about Patricia, because defense is his expertise, and whatever he and his staff have pieced together, they held Brady to 133 yards passing. Players said Patricia's knowledge of the Patriots was a major help, and he kept coaching the defense on the sideline during the game, often when the offense was on the field.
In an emotional, celebratory locker room, Stafford gave Patricia the game ball, and in his typically low-key way, Patricia wanted to give it back.
"That was very generous from the team," Patricia said. "Those guys were real excited, and honestly that thing belongs to the players, they're the ones who went out and won. … I think the guys played really well tonight. I think they believed in what they were doing."
That's what a first-year coach has to have, otherwise he has nothing. Along with GM Bob Quinn, this is an entirely new system with unique demands, and there will be more changes coming. If the opening 48-17 disaster against the Jets seemed to be a repudiation of the regime's ways, this looked like much-needed affirmation.
Believe it
This game was won by scheme and by team, not by one individual effort. It felt and looked different, more grind than glitz. Johnson pounded away and so did LeGarrette Blount, and in a narrow snapshot, you could see the type of balance and toughness the Lions are trying to create. You also could see how special Johnson could be.
"When you describe a team win, that's it, right?" Stafford said. "The defense was incredible, stopping the run, stopping the pass, just frustrating their offense. And our guys up front dominated. That was a fun thing for me to watch, handing the ball off and those guys gashing through there. We're a mentally tough group, and we believe in what we're doing."
That was difficult to fully believe, until Sunday night. Again, for perspective sake, these aren't the vintage Patriots (1-2), and they had key injuries on defense. But that doesn't explain the constant pressure Brady felt. It doesn't explain how the Lions could have a two-to-one advantage in every key statistic — time of possession (39 minutes to 21), total yards (414-209), first downs (25-12).
More: Lions defense delivers against Brady, Patriots
It was almost as if Patricia was building for this moment, and his players had to know what it meant for him. Belichick, naturally, declined to discuss the emotions of facing his former defensive coordinator, and Brady was more concerned about getting his own offense fixed. Star tight end Rob Gronkowski caught four passes for 51 yards, and no one did much damage to a Lions defense that was shredded its first two games.
"We've practiced against them a lot, played against them a lot, we just didn't get the job done," Brady said. "It wasn't like they reinvented the defense out there. It was really just us not doing a good job of anything."
The Lions showed a fearless feistiness, highlighted by a Darius Slay interception and two sacks. They now have 10 sacks, a number no one thought possible with Ziggy Ansah sidelined for the second straight game.
But contributions are coming from new sources, including linebacker Eli Harold, acquired in a late-August trade from the 49ers. He had both Lions sacks, and at 24, is an athletic guy who fits the defense.
"It's trusting (Patricia's) scheme, trusting that what he's coaching us is the right thing," Harold said. "And we all believe that, even with the two losses, we still believe that. When we were down 30 points (against the Jets), we still believed that."
There's that word again. The gap between belief and disbelief can be enormous, and the Lions didn't fully close it with one thumping victory. Maybe it was just one of those special performances that pop up in a long NFL season, when desperation collides with a wounded foe, when a new coach faces a huge early evaluation.
Whatever it was, it was remarkable and resounding, the first tangible indication Patricia indeed might be able to build something different here.
bob.wojnowski@detroitnews.com
Twitter @bobwojnowski