Wojo: Wolverines must reveal who they are in hostile Wisconsin
Bob Wojnowski
The Detroit News
Ann Arbor — They don't guess, they don't do finesse. The Wisconsin Badgers know who they are and what they do, bluntly and repeatedly.
It's the type of self-identity Michigan is trying to find. The Wolverines don't yet know who they are, especially on offense, but this is who they are at the moment: Underdogs. It's a rare role, which might explain why they're not very good at it.
It also might explain Jim Harbaugh's curt response about being an underdog when Michigan visits Wisconsin.
"That's irrelevant," Harbaugh said Monday, and in a way, it is. But Saturday's contest should provide compelling context for the Wolverines, as their transition to a new offense has hit a few bumps. It's been two weeks since Michigan edged Army 24-21 in two overtimes, where the tightness showed.
This is the huge test, as No. 11 Michigan (2-0) faces No. 13 Wisconsin (2-0) in a place it hasn't won since 2001, dropping the last four at Camp Randall Stadium. The Badgers are favored by three, and the Wolverines have lost their last 13 games as an underdog, dating to 2013 when they prevailed at Northwestern.
Now or never
That means they don't pull many surprises, and are way overdue for one. You could argue it's the biggest early game in Harbaugh's five seasons, a chance to validate what they're trying to do. In one telling afternoon, they'll face about a half dozen pointed questions, and if they don't answer the majority affirmatively, they're probably not Big Ten contenders.
Can they be mentally tough enough to beat a ranked opponent on the road? (They've done it once under Harbaugh, last season at Michigan State). Can they prevail when the odds say they won't? Can their pro-spread offense under Josh Gattis match up against a traditional power team like Wisconsin? Is Shea Patterson healthy enough after the bye to put the Run back in RPO? Can they stop fumbling (five lost in two games)?
One game doesn't decide everything. But as far as reputation and expectation, this will go a long way toward shaping the narrative.
 "The challenge of this game is big," Harbaugh said. "They're just good every year. Every time we face them, they're a talented, veteran, well-coached football team. And Camp Randall is a tough venue, a tough one to get."
Because of its 0-4 record against Ohio State and 1-3 in bowls under Harbaugh, Michigan carries the label that it can't win the big one. Totally fair. Certainly, the Wolverines haven't won the biggest one, although they're 2-1 against the Badgers, 3-1 against Penn State and 2-2 against Michigan State. They've caught some of those opponents when they were down and beat them up, such as the 38-13 stomping of Wisconsin last season.
But this is different, just as it was in Michigan Stadium three years ago, when the Wolverines edged No. 8 Wisconsin 14-7. That's the only victory over a top-10 foe in 10 tries for Harbaugh.
These Badgers could be just as tough, led by another power runner in Jonathan Taylor and solid junior quarterback Jack Coan. Under Paul Chryst, Wisconsin has eerily mirrored Michigan, with three double-digit-victory seasons along with an 8-5. Chryst is 44-12; Harbaugh is 40-14.
Suffocating defense
Before Michigan can think about competing with the elite, it has to establish itself against contemporaries. The Badgers haven't allowed a point yet, crushing lesser opponents South Florida (49-0) and Central Michigan (61-0), outsized scores that match their outsized style.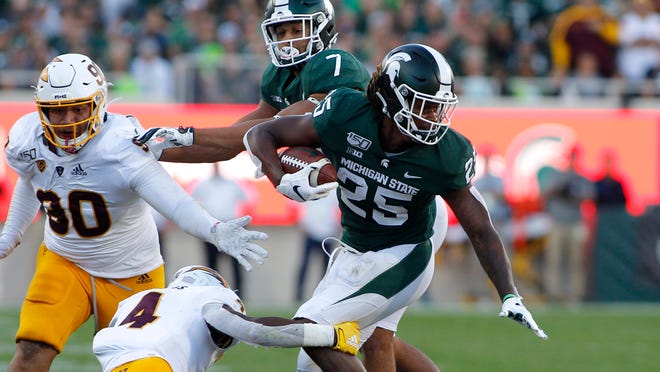 It's a style the Wolverines are positive they still can play, even as they spread the field with multiple receivers. It's a running mindset they tried too hard to hammer against Army and it nearly cost them. Since Patterson threw 25 passes in the first half of the opener against Middle Tennessee State, he has thrown only 33 the next three halves.
Last season, the Wolverines rumbled for 320 rushing yards against the Badgers, a total that's far-fetched now.
"I think we learned a lot from that Army game," senior guard Ben Bredeson said. "If you watch the tape, the explosive plays were all there, there was always just one thing wrong."
More things have to go right for a spread offense to work, and more decisions have to be made by the quarterback. Even Wisconsin has incorporated spread elements with its deep group of receivers, led by Quintez Cephus. Coan threw for 363 yards and three touchdowns against Central Michigan.
Numbers can tell lies early in a college football season, something to remember before Wisconsin is anointed and Michigan is discounted. The Badgers' identity remains the run, and Taylor has 237 rushing yards in two games. The Wolverines are still searching for theirs, and freshman Zach Charbonnet has shown promise. The experienced offensive line could be back to near-full health too, if tackle Jon Runyan returns.
"Last year (against Wisconsin), we won the battle in the trenches," Bredeson said. "This is one of those games I look forward to, simply because speed is a very important part of the game, but as an offensive lineman, you love the smashmouth games. We might have more people spread out, but our demeanor and the way we attack it is gonna be the same. … We know what's coming and we'll be ready for it Saturday."
This would be the time to show it, without being stubborn about it. It's a tricky transition, straddling two identities. With all its dynamic receivers, Michigan should be more explosive, but in a raucous road environment, it has to control the ball and the clock too.
Showing who they can be is not the same as confirming who they are. The Wolverines sit in an unusual spot, as underdogs and unprovens, with a huge opportunity to change both.
bob.wojnowski@detroitnews.com
Twitter: @bobwojnowski
Michigan at Wisconsin
Kickoff: Noon Saturday, Camp Randall Stadium, Madison, Wis.
TV/radio: Fox/950
Records: Both teams 2-0
Line: Wisconsin by 3