Krupa: Wings have leaders, but might hold off bestowing 'C'

Gregg Krupa
The Detroit News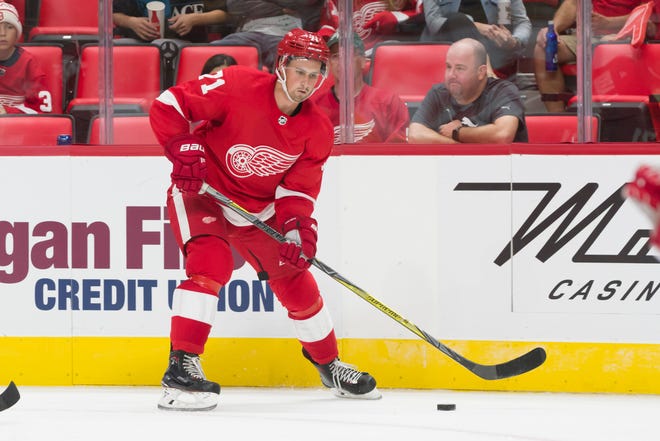 Detroit — Henrik Zetterberg never got to skate off the ice one last time, game sweaty, offering a farewell wave to acknowledge and thank Red Wings fans, plaudits streaming down.
He deserved that.
Zetterberg will get his just rewards, no doubt. But his back deprived him of that sweet moment, though he ended his career by playing in 266 consecutive games.
The only other Red Wings captains in the past 32 years, Steve Yzerman and Nicklas Lidstrom, provided no advanced notice of their intentions.
But when Yzerman left the ice for the last time in Edmonton, and Lidstrom at Joe Louis Arena, fans could watch each departure with the thought it might be their final exit.
Kronwall's role
It is but one reason the Wings skating without a captain this season makes sense: The lack of the "C" on the winged-wheel crested jerseys would be a just tribute to guy a lot of folks around the room are having a little trouble letting go of.
Management has not announced a decision on the succession plan and is unlikely to do so until near the end of this consequential preseason.
More: Red Wings' Rasmussen helps his cause with OT winner vs. Penguins
More: Joe Veleno winning over Blashill, Red Wings with outstanding camp
Designating three alternate captains would also indicate the leadership-by-group the Red Wings think they are likely to experience, in their captain's absence, during a season of diminished expectations.
"I think, for us, he's always been our leader," Jimmy Howard said of Zetterberg. "But, it's one of those things where we've still got great leadership in the room.
"As far as the C goes in the room, I don't think it's really a big concern."
If they do decide to stitch a "C" to a jersey, the Wings' possibilities are several.
Players say Niklas Kronwall has already moved to help provide more leadership, even beyond his considerable contribution entering his 14th season.
"You know, I've already noticed Kronner is stepping up; other guys are stepping up," Dylan Larkin said.
Kronwall is the last regular from the 2008 Stanley Cup team still on the active roster. He is also tied with Marcel Pronovost, a member of the Hockey Hall of Fame, for fourth in career goal scoring among Red Wings defensemen with 80.
The epitome of a stand-up guy around the room, Kronwall has long been among a group of Red Wings who believe there is a Red Wings way of doing things. that culture is not only important — its preservation, at this juncture, might be the most critical task.
He would make a fine captain, and Kronwall is eminently deserving, despite the naysayers around town focused on the immobility that afflicts the 37-year-old defenseman.
Other candidates
Even if his injured, time-ravaged knees allow him only one more season, there is ample precedent in the franchise for one-year terms.
Before coach Jacques Demers made the 21-year-old Yzerman captain in October 1986, there had been 17 captains in 14 years.
Justin Abdelkader is another candidate, given his work ethic, presence and his designation as an alternate captain
"Obviously, we're going to have to fill the void on ice, and off ice, too," Abdelkader said.
"We have to go out and do the right things each and every night as a player. The other decisions are for management and coaches. We can't really control those."
Frans Nielsen, whose presence adds solidity to the roster and whose thinking-man's approach to the game sets a clear example, is also a possibility. Temperamentally, he seems a lot like Zetterberg, and he served as trusted alternate captain for the Islanders.
But if the 93-year-old franchise wants to designate a captain now, it should award the "C" to Dylan Larkin.
He is the future. And that is where the Red Wings commitment lies.
And among the fine, early developments in Larkin's career is his leadership.
Always last or among the last off the ice, he has a work ethic to be emulated. His sober, detailed assessments of the team's play and his own reveal a hockey mind at work.
Larkin has considerable poise and bearing.
Of the possibility of his elevation this season, Larkin said, "Well, I think it's a rough question.
"You know, I don't want to say that I want it so bad it's everything. I just want to play hockey. I just want to get the season started.
"It's something that, if it happened, just wearing a letter, I wouldn't change who I am. I wouldn't change how I play the game. It means you have that letter because of who you are and what you've done."
Larkin's keen sense of game action and the performance of the team makes media scrums with him valuable.
"It's starts with being realistic with yourself, and then what's going on around you," he said.
"Z does that real well. I've listened to all his interviews, all the postgame comments. You learn from guys like that."
But the Wings should wait.
This is likely to be an enormously difficult year. Much is, quite plainly, already on the shoulders of the young man from Waterford.
Let him have a season as an alternate, while he strives — as the keen competitor, Larkin, certainly will — to fill Zetterberg's role as playmaker, goal scorer and defensive forward.
It is a Herculean task. Larkin likely will invest fully.
But one step at a time.
A cautious franchise, some say overly cautious, like the Red Wings seems likely to want to allow Larkin some space to grow.
He must take one giant stride this season. There will be another season next year.
And, Larkin has time.
gregg.krupa@detroitnews.com
twitter.com/greggkrupa